Commodities: The Bottom Is Looking Mighty Ugly

by: Andrew Hecht


- The commodity bear is not hibernating.

- Prices are above 2000 levels with divergence.

- Contagion from raw material markets - the dollar ain't helping.

- Stocks and currencies are watching raw material prices.

- China returns from holiday - uh oh.

Last week was an odd one in the commodity sector. While the bear market continues to cause low prices in the energy and industrial commodity sector, precious metals exploded higher.
Divergence is the name of the game in the wild markets of 2016. Volatility tends to create divergence in terms of historical price relationships between assets. However, the current level of volatility and divergence within the commodity sector could be flashing a real warning sign for industrial commodity prices as well as other assets including equities, debt and currencies.
Before you continue reading this piece, I forewarn you - the takeaway is not a pleasant one.
While precious metals lurched higher, other industrial raw material prices continue to move lower. In one case, an important commodity posted a new multi-year low.
The commodity bear is not hibernating
Industrial and agricultural commodities as well as shipping rates were all ugly last week. The world's most liquid and watched commodity, crude oil, turned in what was the worst performance of the week.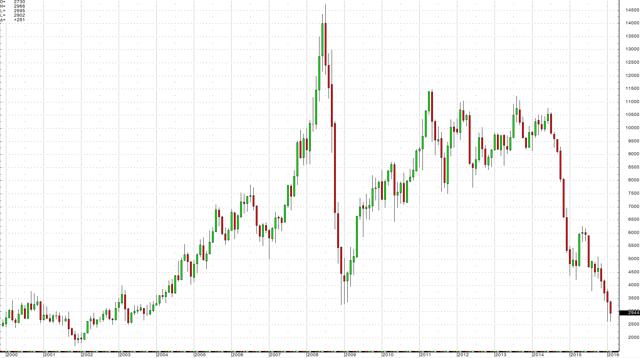 Last Thursday, crude oil traded down to $26.05 per barrel on the active month March NYMEX futures contract. That was a new low and the cheapest the energy commodity has been since way back in May 2003. While the energy commodity rallied by over $3 per barrel on Friday, it still posted losses of over $1 on the week. Oil product prices remain weak with heating oil and gasoline both straddling $1 per gallon level. It is ironic that on a day when gold posted a gain of over $50 per ounce and silver rallied by more than half a buck, crude oil tanked. However, it was not the only commodity to feel the pain of the commodity bear. Gold and silver were the exceptions.
The price of natural gas fell as the EIA reported a small withdrawal of 70 billion cubic feet from inventories. Natural gas, which had recovered to almost $2.50 per mmbtu in early January, slumped once again below the $2 level and closing last week at $1.97.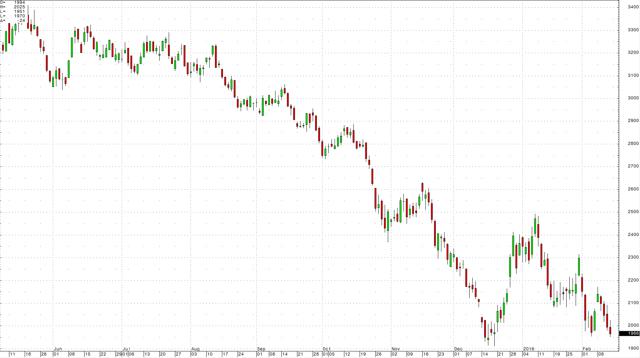 Copper had a feeble attempt at a rally two weeks ago when it traded just above the December 31, 2015 closing price of $2.1255 per pound. Last Thursday, the red metal, which is often a diagnostician for global economic health, briefly traded below the $2 level once again, it closed last Friday at $2.0335 per pound.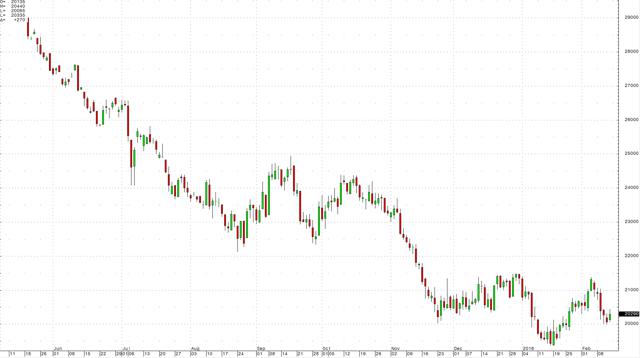 The price of coffee moved to the bottom end of its trading range in a continuation of a pattern of lower highs and lower lows, although it bounced Friday.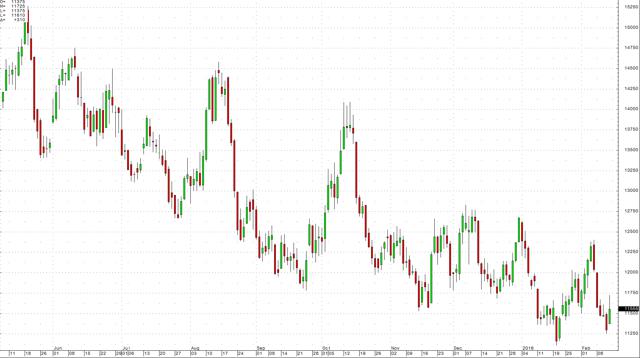 Wheat fell to the bottom end of its trading range...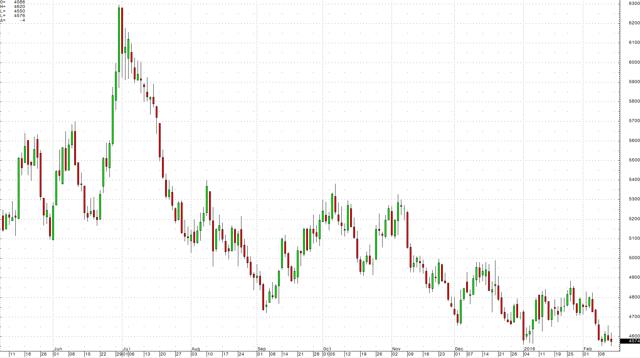 Corn was also weak...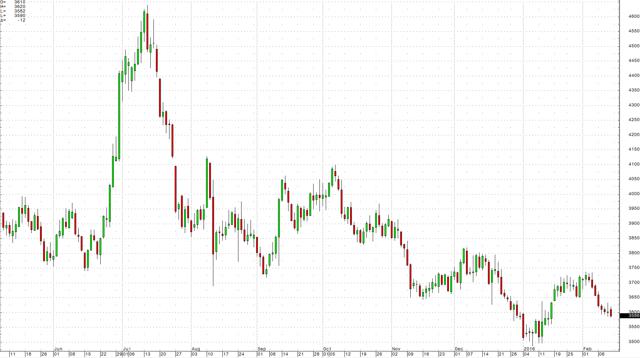 There are more examples of the ferocity of this commodity bear, however, I think you get the ugly and graphic picture. The commodity bear is not hibernating this winter, but last Thursday was a day of fear and a day of divergence. Stocks fell with the Dow Jones Industrial Average registering a decline of over 250 points. The only bright spot came from the safe havens of high-quality government bonds and precious metals. On Friday, the DJIA posted a gain of 313 on the back of the big rally in crude oil; the stock market has been following oil like a lost puppy.
Prices are above 2000 levels with divergence
While commodities and equities continue to decline, a flight to quality has launched some markets higher.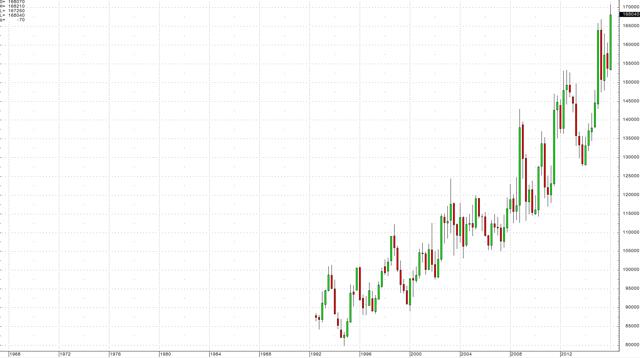 As the monthly chart highlights, U.S. 30-year bonds are trading at the highest price ever.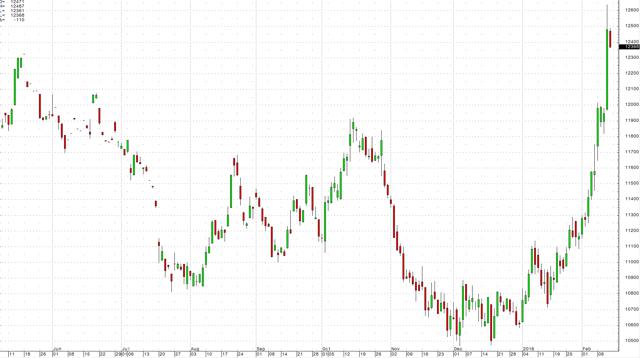 The daily chart shows that the price of gold has exploded in 2016.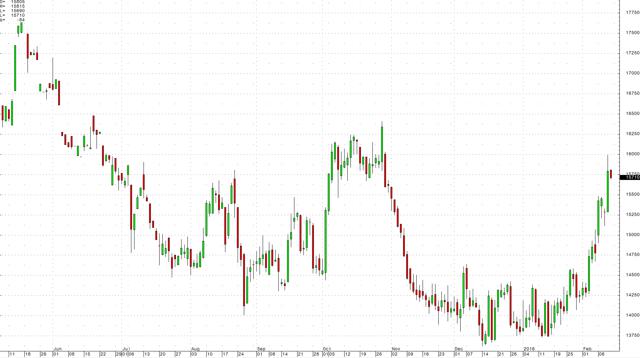 Silver is following the yellow metal.
These are signs that all is not well in markets. The fear markets are exploding higher and the markets that generally thrive during periods of certainty and growth are in, what feels like, a state of perpetual decline.
The problem for commodities is that even though we are seeing prices fall to levels not seen in years, there is more potential downside if we look at the lows of this young century. In 2001, the price of crude oil was as low as $16.70 per barrel. In 2001, the price of copper's nadir was at 60.5 cents per pound. Corn traded to lows of $1.74 per bushel in 2000; wheat was as lows as $2.32 per bushel that same year. Coffee traded to 41.5 cents per pound in 2001. Prices of many commodities remain well above early 21st-century values but divergence has reared its ugly head. The price of precious metals could be telling us that we are in for a rough and volatile road over the coming months.
Contagion from raw material markets - the dollar ain't helping
I find it particularly disturbing that commodity prices have received absolutely no relief at all from the recent move in the U.S. dollar.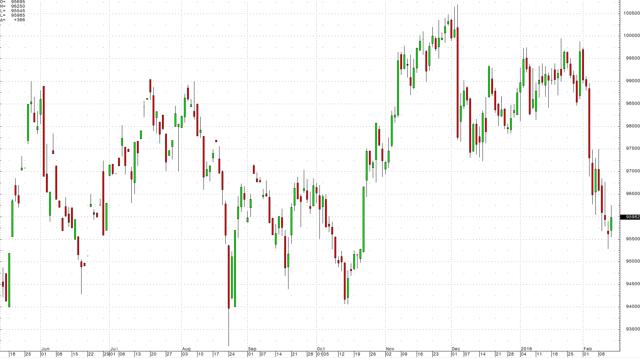 The daily chart of the U.S. dollar index shows that the greenback has declined some 3.9% since the last trading day of January. The inverse relationship between commodity prices and the dollar has only affected precious metals. All other raw materials have moved lower despite the sizeable correction in the dollar. In an ironic move, crude oil actually recovered on Friday, the one day last week when the dollar posted gains.
Another surprise is that U.S. equity markets continue to show weakness in the face of the dollar correction. A lower dollar makes U.S. exports more attractive, which is good for corporate profits. These asset markets have ignored the falling dollar. They continued to plunge alongside the currency. 2016 has started out as a year in which old-school relationships and correlations are meaningless. Perhaps world events, cheap money policies and rationality are all catching up with markets.
There is price to pay for the flood of cheap money and stimulus that followed the financial crisis of 2008. Danger in the world has increased. Debt levels are through the roof. At the same time, lower demand for raw materials has affected the economies of producing nations. Currency values have plunged in Brazil, Russia, South Africa, Australia, and Canada, not to mention the financial havoc the current oil price is wrecking on nations that depend on petroleum revenue for survival in some of the most volatile regions of the world.
Contagion from lower commodity prices could just be part of the problem. Action in markets over recent months is starting to look like a vicious cycle of contagion where the economic flu is spreading from one economy or sector to another. As each central bank short-term remedy is applied, another remedy-resistant dose of the flu infects everyone. It is not a pretty picture in markets these days and it could get a lot worse before it gets better.
Stocks and currencies are watching raw material prices
While the bear market in commodities has caused these assets to take a backseat to other markets from an investment perspective, they are still very much "mainstream" when it comes to the overall world economy. The recent earnings reports from European banks highlight that loan portfolios are in trouble. Lending to oil and commodity related businesses around the globe is likely the next shoe to drop if raw material prices continue on their current course lower.
The Baltic Dry Index is at the lowest level ever. That is telling us something important about demand for commodities and the prospects for production. This has a chilling effect in terms of loan portfolios and global economic health. Stocks and currencies are watching commodity prices with a keen eye and they do not like what they see. The fact that the Federal Reserve Chairperson entertained questions from Congress on Thursday about negative interest rates in the U.S. is a frightening symptom of the overall economic woes facing the U.S. and the rest of the world.
China returns from holiday - uh oh...
In 2015, many blamed market volatility on contagion from China. On August 24, China shocked markets by devaluing the yuan and markets around the globe plunged in response to the action. Last week, we saw some crazy volatility across all asset classes. However, last week China was on holiday for the lunar New Year as it was Golden Week in the Asian nation. This week, China returns and the holiday and rest did not cure or even temper the issues faced by the giant nation that is experiencing an economic slowdown of epic proportions.
I had thought that a holiday week in China would provide markets with the rest they needed; however, market volatility during their holiday tells us that the problems transcend China.
More bad news from China will likely exacerbate problems and open a floodgate of selling across many asset classes. While this article reads like a Steven King novel, it is not fiction. The global economy is in real trouble and volatility in markets is something that is not going away anytime soon.
The Fed and other central banks around the world have used their toolboxes since 2008 and some of the stimulus measures come at a high price. We are likely to feel the toxic effects for years to come. There is no guaranty that central bank tools will be effective in the future or if they even have any left other than negative interest rates. When one central bank gets into trouble, stronger monetary authorities have come to their aid in the past. What happens when they all have problems at the same time? Gold and silver rallies are telling us something important - be scared and protect your assets,
cash is king
. Chances are asset prices have not seen their lows and markets will face plenty of volatility and problems in the months ahead.