What Will Gold And The Dollar Do Next?


- Gold will fall below $1,000 an ounce.
- The dollar will move past 100 to 120.
- Why didn't the Fed holding off on raising rates help gold this time?

The story going around of late has been if the Fed raises rates, it's bad for gold The last Fed meeting the Fed held off on raising rates, and gold moved higher.
For the subscribers of my ETF Leveraged Daily Trading Service I wrote the following Tuesday leading up to Wednesday's Fed interest rate decision.
It's kind of strange actually. All the while gold was moving lower, interest rates were falling. Now all of a sudden the threat of interest rates rising is bad for gold and no rate rise is good? Seriously? I'll stick with my stronger dollar weaker gold theory thank you very much. But I don't ignore what main street thinks for the short term and trade it accordingly.
It's not just gold but also the stock market that is affected by the Fed's interest rate decisions. The threat of higher rates is thought to be negative for stocks. This is what I wrote in my Current Thoughts on Wednesday about what stocks and gold did after the Fed rate decision.
Today we got a taste of Fed policy and we see what it means for the stock market as that's all the stock market knows to do is follow the Fed. It reminds me of that silly song that came out awhile back; "What does the fox say?" Of which no one knows the answer. In this case, "What does the Fed say?" is what the market waits for with baited breath. It's ridiculous the market behaves this way and it will come back to haunt those invested in it at some point just like it did in 2009. But for now we lean long the markets.
Gold didn't take the news as well as the stock market. It sold off and gave back all it gained and then lost $14 more dollar before settling at $10 down for the day. It's less than $100 from it's 52 week low and everyone is out buying mining stocks like it's the bottom, but I have stuck with and still will stick with my lower low calls below $1,000 for gold. It was a $33 drop from high to low on Wednesday.
(click to enlarge)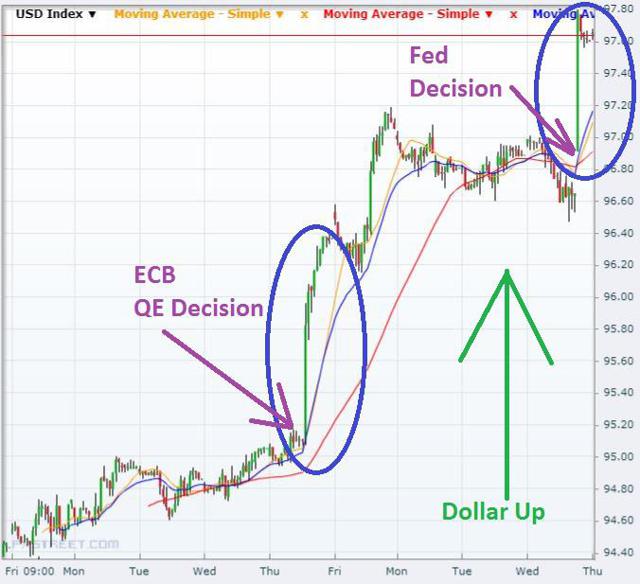 Gold fell because the dollar shot up. The first rise after the ECB decision to increase QE didn't affect gold but I had been writing that eventually something would break. The inverse relationship of the gold and dollar since 2011 has been pretty clear and in this case, with the Fed holding off on raising rates, the dollar shot up and gold fell.
Does Debt Matter?
I've said this before but I think it needs repeating as many are not on the same page as me, especially those who sell gold for a living. How can a country that is mired in debt to the tune of almost $20 trillion, has future obligations of $70 trillion for Medicare, Social Security and other government programs, including the retirement of millions who have served their country in the Armed Forces, civil service political arena, have such a strong currency in the dollar? Anyone who can do simple math knows this is unsustainable, right?
What you have to remember is our GDP as a nation is also rising every year and is over $16 trillion. But here's the difference. Through the end of 2014 and actually beginning during that year, Europe and Central Asia began contracting as their Debt to GDP ratios keep increasing.
(click to enlarge)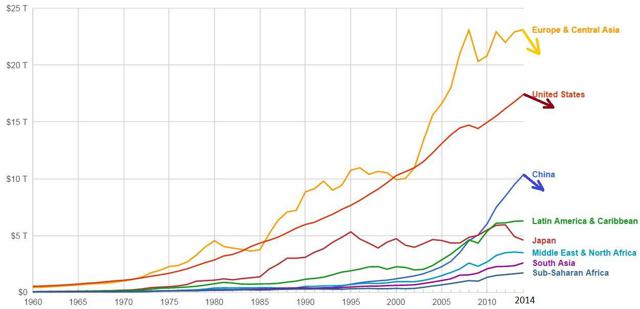 In most of our lifetimes we have not experienced a deflationary credit contraction like what I think is still coming our way and has actually been occurring all year long if you look at the data.
We're still growing at present but I think future growth will be stymied more as the world goes through this contraction cycle. You already see it in the chart with Japan, which has weathered over 20 years of deflation. We're now seeing it with Europe and I see this escalating in the next year as they deal with their Volkswagen scandal which saw the company report their
first loss in 15 years
.
Germany's economy
is
sputtering
but don't tell
German businessmen
this as they have to stay positive and keep the backbone to the Euro charging forward.
Japan can print it's own money and has, but the "forgotten by the media" problem child Greece had to ask Germany and others for help and if you look at the problems with other European countries debt to GDP issues, you can see they are much worse off than the U.S.
(click to enlarge)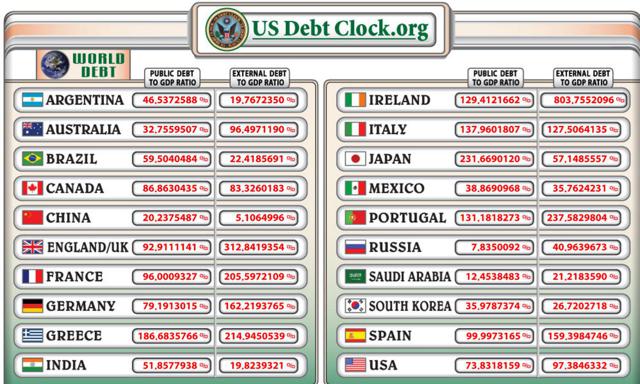 As you can see, the U.S. still is lower in debt to GDP than Germany, France, England, and Japan and viewed (perception) as a safe place to put your wealth. Why else would the dollar be going up?
Because those countries make up 83.1% of the dollar. The dollar simply cannot "crash" as many gold bugs say it will unless by default, these nations with much worse debt to GDP situations than the U.S. were to skyrocket. Is that possible? If so, explain in the comments below as I'd like to hear the reasoning.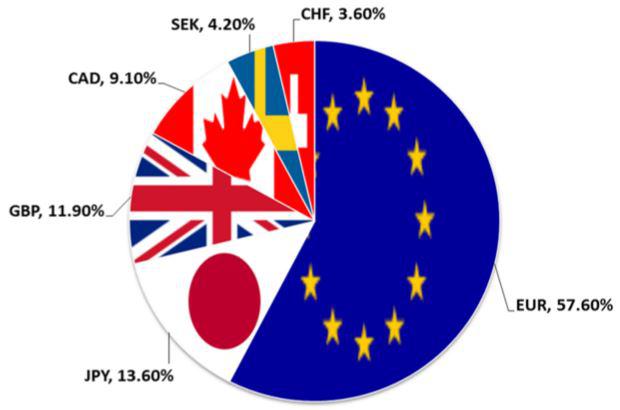 Even treasuries that pay investors virtually nothing have done nothing but get stronger the last 10 years. How can this be so?
(click to enlarge)

With all our problems in the U.S., the world looks at the U.S. as the last bastion of safety.
Maybe it's because the U.S. has the largest military in the world and is willing to use it. Maybe.
What About Gold?
But here's what you that own and are planning on buying gold need to know. None of the above is sustainable. The reason you own gold is insurance against governments and central banks eventually messing things up. The Federal Reserve almost messed up leading to the 2009 with the help of Congress and shady banking that included subprime loans and derivative gambling.
The last crisis
the Fed and Congress threw $9 trillion
at it. Other countries aren't as proactive as the Fed and I think they can crack up first let by Japan (not counting African, South America and other countries that are not part of the dollar index. China itself has their own shadow banking crisis to experience and we can't count on them to lead the world out of the mess it got itself into.
Gold has had a nice bounce higher but we have been through this before. Gold is only $80 away from it's July 2015 closing low of $1,180. Is it far fetched to think that with a rising dollar gold can't go below $1,000?
That said, I have been recommending investors dollar cost average into a position and hope their last purchase is at the lows. I also have many waiting for my "all in" article and that's ok too. I am confident I will be early in writing that article but I am also not concerned about the future price of gold moving much higher.
To take advantage of riding the gold wave up and cost averaging into a position, I do recommend buying the physical metal like the American Eagles, Canadian Maple Leafs or the 1 ounce bars and holding it yourself. But some may not want to do that and prefer the liquidity of an ETF like (NYSEARCA:
GLD
) or (NYSEARCA:
PHYS
). And when I say gold in my articles I refer to silver also without having to write "gold and silver" every time I speak of precious metals. For silver I recommend the 1 ounce rounds and 1, 10 and 100 ounce bars as they are the lowest cost to spot. My last article
Is Silver Really In Short Supply?
I recommended the 1000 ounce bars too which are
great for IRA's
. Or one could buy the ETF (NYSEARCA:
SLV
) or (NYSEARCA:
PSLV
).
The Fed and Clueless Commentators
The Fed knows it has problems and yes, helicopter Ben will come out of retirement and drop money on everyone's homes or the Fed will resort to negative interest rates, more QE or some other rabbit they pull out of a hat to get the economy going. Why else haven't they raised rates like those at CNBC have been calling for? CNBC commentator Melissa Lee the last time the Fed didn't raise rates said they "chickened out." No, they didn't chicken out. They see the problems abroad and they know it will come to our shores soon enough. More on that in my next article which will dive into the deflationary credit contraction and how I see things unfolding a bit more.