Market Outlook: Is The Stock Market Making A Head And Shoulders?

by: Fundamental Capital



- As the stock market approaches all-time highs, some traders and investors are wondering if the stock market is making a head and shoulders pattern.

- The problem with these patterns is that they are only obvious with 20/20 hindsight. These patterns have too many false signs.

- In this article we examine the medium term bullish and short term bearish case for stocks.


The stock market's relentless rally continues. The S&P 500 (excluding dividends) is just 1% from a new all-time high, while the S&P 500 Total Return Index (including dividends) is already at an all-time high. While the chart may "look like" a bearish head-and-shoulders pattern, these patterns are only clear with the benefit of 20/20 hindsight. Too many potential head-and-shoulders patterns don't work out in real-time (i.e. false bearish signals). And by the time you wait for a "bearish confirmation" break of the neckline, the S&P is already down -20%.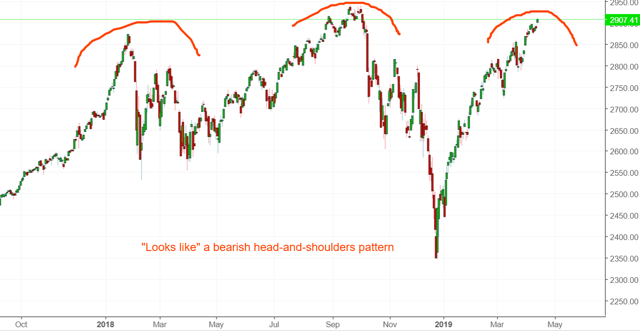 Source: Investing.com
The stock market's long term risk:reward is no longer bullish.
The medium term direction (e.g. next 6-9 months) is mostly mixed, although there is a bullish lean.
The stock market's short term leans bearish
We focus on the long term and the medium term.
While the bull market could keep going on, the long term risk:reward no longer favors bulls.
Towards the end of a bull market, risk:reward is more important than the stock market's most probable direction over the next 12+ months
A few leading indicators are showing signs of deterioration. The usual chain of events looks like this:
Housing – the earliest leading indicators – starts to deteriorate. This has occurred already
The labor market starts to deteriorate. Meanwhile, the U.S. stock market is in a long term topping process. The labor markets have not deteriorated significantly yet.
Other economic indicators start to deteriorate. The bull market is definitely over, and a recession has started. A U.S. recession is not imminent right now
*All economic data charts are from FRED
Initial Claims is trending sideways/downwards while Continued Claims is trending sideways.


In the past, these 2 figures trended higher before bear markets and recessions began.


You don't need to be worried about the most recent drop in Job Openings.

Month-to-month changes in economic data are notoriously noisy, which is why we focus on the trend.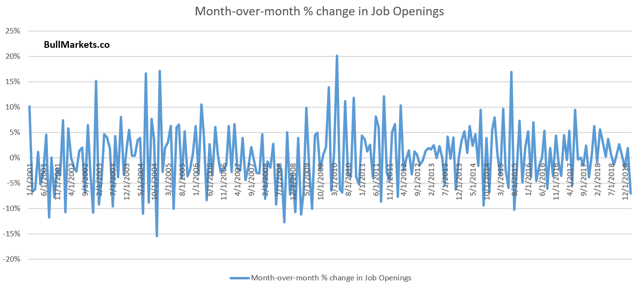 Here's what happens next to the S&P when Job Openings falls more than -7% in a single month.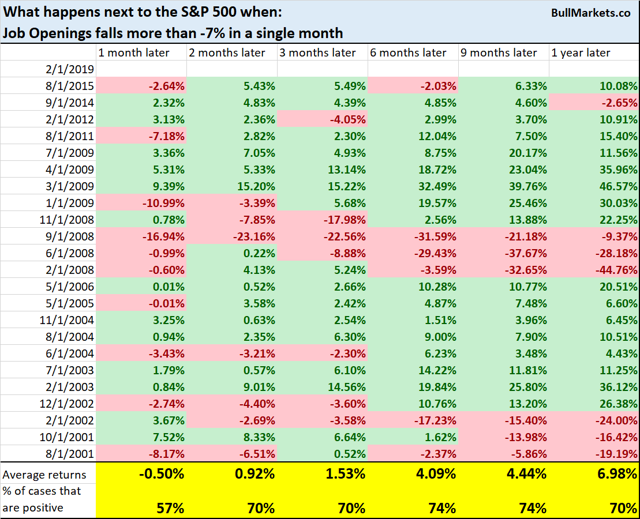 The labor markets could deteriorate in the coming months, so pay close attention to the data as it is released. For example, the KC Fed Labor Market Conditions Index is trending downwards. (This is not yet a long term bearish sign for stocks. In the past, this index fell to zero when bear markets and economic recessions began.)

Heavy Truck Sales is mostly trending sideways right now. The key point is that Heavy Truck Sales has not trended downwards. In the past, Heavy Truck Sales trended downwards before bear markets and recessions began.

Inflation-adjusted New Orders for Consumer Goods is still trending sideways/upwards. In the past, inflation-adjusted New Orders trended downwards before bear markets and economic recessions began.

Financial conditions
Credit
Risk
Leverage