My Bank Fired The Federal Reserve - Should Yours?

by: Stephen Rosenman



- The vast majority of banks with over a billion dollars in assets are holding companies.

- As holding companies, these banks fall under the purview of the Federal Reserve.

- These holding companies own their banks, which usually are regulated by a combination of the FDIC, OCC, and state banking commissions.

- By discarding their holding company status, most banks would end their regulation by the Federal Reserve.

- Without the Federal Reserve, cumbersome regulatory burdens would lessen - important for bank efficiency, compliance head count, and ease of M&A.


Bankers rightly complain they are over-regulated. One week, they meet with the FDIC and state banking; the next, in comes the Federal Reserve Bank. And, that merger they've worked so hard on?
Has the state signed off but you've been waiting for months for the FRB's approval?
We want to tell these bankers a little secret. You can fire your FRB regulator.
Just dump your bank's holding company structure. Without existing as a bank holding company (BHC), you no longer receive FRB supervision. We believe most banks gain little from their BHC status. Sure, holding companies make sense for complex financial firms with overseas and domestic subsidiaries, but for the run-of-the-mill plain vanilla regional and community bank? Outside of the TBTF banks, we believe most financials would do better without being bank holding companies.
It's a big problem because it involves so many banks and so much inefficiency and wasted time and money. Too many financials went down the BHC rabbit hole. We believe we are the first to identify this gaffe. If there ever was an industry in need of reorganization, it is the regional Banks.
Most
regionals and community banks have structured themselves as bank holding companies.
Over 88% of commercial banks with at least $1 billion assets are owned by their holding companies. Even tiny community banks have adopted the BHC structure: More than 80% of small banks ($100 million to $1 billion) exist under BHCs. The added complexity of a BHC invites extra supervision.
All BHCs receive Federal Reserve oversight. Yet, most regional and community bank holding companies own banks with state charters and are therefore also regulated by the FDIC and their state banking commissions. If this sounds complicated and hard to understand, it is. By existing as BHCs, the majority of regional and community banks receive both FRB and FDIC supervision - something we find redundant and wasteful.
We are not against bank regulation. In fact, we welcome it. As investors, we wouldn't want to own the stock of any financial lacking government supervision. The FDIC and the Federal Reserve do important work monitoring our nation's banks. What we don't love is duplicative government review - and for most of our regional and community banks, that is unfortunately what we have.
Both the FDIC and the FRB are regulating the same banks - and it is the banks that have created this regulatory nightmare for themselves. The FRB is just an innocent bystander in this. Banking is a tough enough business without self-inflicted wounds. We think the holding company creates needless complexity for most regional and community banks.
We understand the need for a holding company if the corporation holds disparate investment, insurance, banking domestic and international businesses, but most regional banks tend to be generally straightforward businesses. Whether it's Commerce Bancshares (
CBSH
) or Home Bancshares (
HOMB
) or Texas Capital Bancshares (
TCBI
) (to name a few), most state chartered bank holding companies house only one bank subsidiary. Apart from ownership of their bank, most holding companies don't engage in any other significant activities.
Ditching their holding company status would save time and money - fewer compliance personnel required, reduced accounting costs, streamlined infrastructure, fewer boards, fewer audits, and quicker M&A approvals. Bank of the Ozarks (
OZRK
) estimates the review by the FRB
added
an extra 2 to 3 months to complete its most recent acquisitions. We wonder whether New York Community Bank would have succeeded in purchasing Astoria Financial without their Federal Reserve regulator.
Have Any Large Non-BHC Banks Succeeded?
Yes, Signature Bank (
SBNY
) with over $40 billion in assets and First Republic Bank (
FRC
) with over $70 billion in assets. Both have greatly outperformed their bank index (
KRE
). To our knowledge, these are the only two banks of size operating without a BHC.
FRC and SBNY benefits from superior management. Last quarter, FRC ran a high-quality loan book with NPA of 0.07% and charge-offs an almost unheard of 0.01% despite the loan portfolio's growth of 19% year-over-year. Remarkably, tangible book value per share rose 20% YoY - far exceeding its peers.
SBNY's loan portfolio increased 20% YoY. Nonperforming loans came in a bit high at 0.66%.
More than 90% of nonperformers were those pesky taxi medallions that plague so many New York banks. We would avoid SBNY until the medallion "smoke" clears.
These 2 banks benefit from strong leadership that has delivered year after year. Over the last 5 years, FRC and SBNY trounced the weak management at Old National Bancorp (
ONB
) and New York Community Bank (
NYCB
). (We continue to be mystified the boards at ONB and NYCB have tolerated
such
weak
execution.)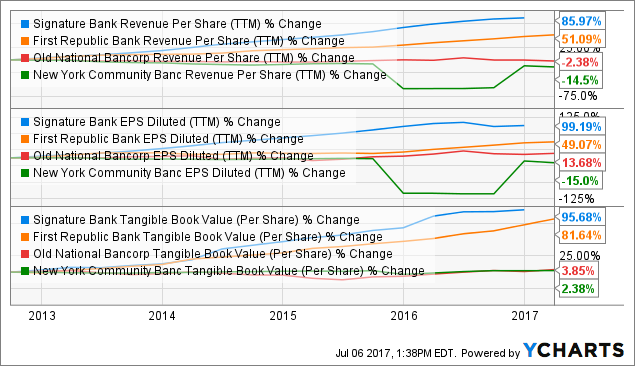 SBNY Revenue Per Share (TTM)
data by
YCharts
Can A Bank Holding Company Go Back To Being Just A Bank?
Recently, Bank of the Ozarks did just that! The Southeastern regional
merged
its bank holding company into its bank, reissuing shares under its bank. No FRB approval is needed. There are no tax consequences of the change. The bank expects substantial operational efficiencies - fewer compliance meetings, faster M&A approvals, streamlined organization to name a few.
By taking a page from SBNY and FRC's playbook, expect Ozarks to outdistance its competition.
Most banks will improve efficiency by eliminating their holding company structure, thereby removing redundant corporate infrastructure and the associated duplicative Federal regulatory supervision. We have a simple solution. Merge the bank holding company into the bank subsidiary.
We wish more banks followed the wise heads at Bank of the Ozarks.
Instead of complaining about burdensome government oversight, state chartered banks should act. Our advice to NYCB, TCBI, CBSH and countless other regionals: Fire the Federal Reserve. Drop the holding company and embrace a more straightforward corporate approach.
Your shareholders will thank you.
Don't expect your bank to fire the FRB. Bank boards tend to fight change, no matter how sensible. Still, eliminating the BHC structure can be done and done quickly. Ozarks' reorganization took under 3 months.
For investors tired of weak management, own Ozarks. The bank runs so efficiently it seems to be operating in a different industry.