We Think This Upcoming Catalyst Could Change The Fortunes Of Precious Metals Investors

by: Hebba Investments

- Precious metals have stumbled over the past month as the Fed's hawkishness has investors selling gold and silver.

- Silver (represented by SLV) has fallen for 13 straight sessions.

- Friday's upcoming jobs report is the next major event on the economic calendar.

- Based on Federal tax receipts, economics predictions of 185,000 new jobs seems reasonable.

- The one issue is that Non-Withheld tax receipts are down YoY and that could signify economic weakness and a surprise miss this Friday.


After a Federal Reserve statement that was interpreted by markets as bullish statement (and thus hawkish for interest rates), gold continued its recent weakness. While gold's performance has been weak this last month, silver's performance has truly been horrific. Wednesday marked the 13th straight day of losses for the iShares Silver Trust (
SLV
), which can be seen below in all its glory: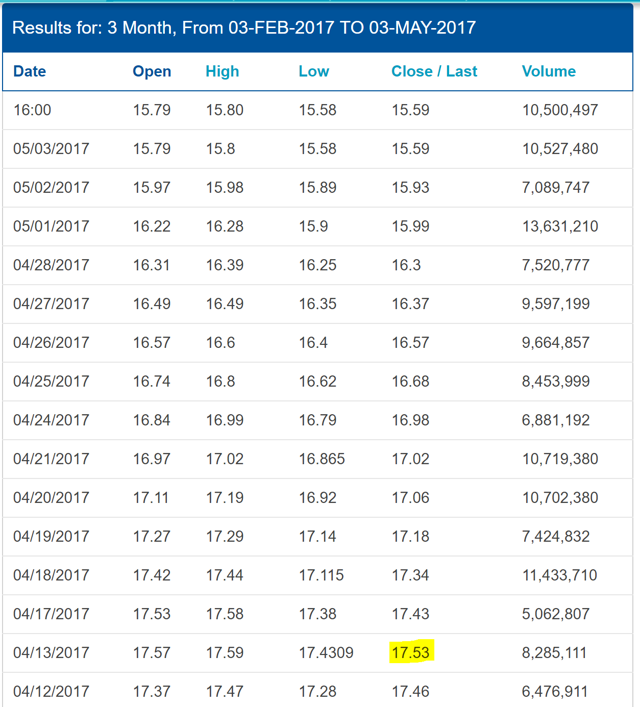 While it is pretty clear to us this week's COT report will show speculative gold and silver positions at much lower levels, we think there might be an opportunity for some short-term bullishness based on Friday's upcoming US Nonfarm Payrolls report.
Friday's US Nonfarm Payrolls report.
While the Fed's statement was interpreted as hawkish because the Fed viewed the economy's weak first quarter numbers as "transitory", we think things might change with this upcoming jobs report if it shows significant weakness.
The US Treasury
publishes its "Daily Treasury Statement" every weekday
which summarizes all the government's deposits and withdrawals for the day, month, and YTD. One of the things that this report shows is "Individual Income and Employment Taxes" the withheld & not withheld numbers - essentially the taxes US employees pay on their salary.
While this number doesn't exactly correspond to the upcoming Nonfarm Payrolls report (which is based on surveys), we think that in general this is a much more real number (you can't escape taxes) and thus we think investors would be wise to use it as a possible barometer of Friday's jobs report.
We did some number crunching and here's what we got:

What this data shows is that according to government tax numbers, income and employment taxes for the "Not Withheld" category dropped by 2.3% YoY, while income and employment taxes that were withheld rose by a chunky 8.2%. This shows a bit of the current dichotomy of the US economy as employees that do not withhold their taxes are usually small businesses and individuals, while employees employed at larger business tend to fall into the "Withheld" category of employees.
So what does this mean for Friday's jobs report?
The net growth in tax witholdings of a little over $10 billion dollars shows that there seems to be jobs growth. But investors need to remember that the base case for the jobs report is growth as economists are predicting 185,000 new jobs growth in April. Based on these numbers, that estimate seems to be fairly attainable.
But we do have to note that there is that dichotomy we mentioned earlier between small businesses and larger corporations, with the former experiencing a seeming decline in employment taxes paid. That is not what you see in a healthy economy as small businesses tend to be the backbone of economic growth.
Market expectations are for a decent Nonfarm Payrolls report this coming Friday, and based on the Fed's statement, we also think that the Fed believes that first quarter weakness will be replaced by second quarter strength. If one looks at the Federal tax receipts then that conclusion makes sense as they seem on target for a slight increase over last year's tax receipts.
But we do not like the fact that it seems that small business receipts are actually declining. In our view, that suggests that the economy is not particularly healthy as small businesses are like the canary in the coal mine when it comes to recessions - larger businesses tend to react much slower to economic changes.
While precious metals have suffered handily over the past month, we think that market expectations of a good Nonfarm Payrolls report are the economic base case, while weakness in non-withheld tax receipts suggest that we could see a weaker than expected report. While that isn't our base case either, we think this risk-reward situation favors a strategic short-term investment in the precious metals.
Thus short-term speculators may want to take advantage of this and take a bullish wager on a weaker than expected jobs report. For those who have sold positions in precious metals over the past month, we think now is the time to start nibbling at re-establishing short-term gold and silver positions (SPDR Gold Trust ETF (NYSEARCA:
GLD
), iShares Silver Trust , and ETFS Physical Swiss Gold Trust ETF (NYSEARCA:
SGOL
), etc).