The Market Churn Before The Storm?

by: Orange Peel Investments



- Markets held together nicely last week, despite geopolitical tensions and an ugly jobs number.

- The market appears to be consolidating, leading us to believe volatility is eventually on its way.

- We think the market can go any which way, except much higher.

What a week, and what a market reaction. To recap last week, here are a few headlines.
North Korea.

Syria.

Non-farm payrolls.

Doesn't exactly seem like the type of environment where markets should be trading sideways, does it? Although it is no surprise to us, that is exactly what markets did over the last week even on news that the United States was bombing Syria, reviewing options to deal unilaterally with North Korea and posting a jobs number that missed estimates horribly. Yet, for the most part, the markets remain resilient.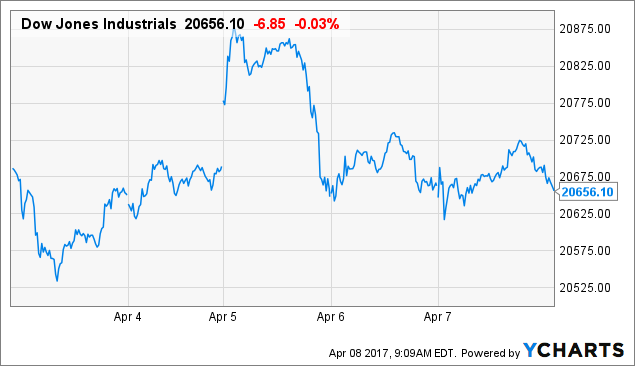 In fact, markets finished the week as though nothing had happened.
If you want to know why this hasn't been too much of a surprise to us, you should read
an article
that we posted last week talking about why the Federal Reserve might prevent a crash from ever happening again and why the market, during the next recession, could actually just trade sideways for several years to come. You can read that entire article
here
, but the gist of it was,

"...we do think that there is a real case for stocks simply trading sideways over the next few quarters and maybe even over the next few years. The equity market trading sideways while earnings ostensibly continue to increase would almost be the equivalent of a bear market, as valuations would compress, but the optics of the scenario wouldn't be as bad as a full-scale recession. This is the situation we think that the Federal Reserve might actually allowed to happen.
We continue to have numerous events globally that could cause volatility, but the markets just simply don't seem concerned. The continued investigations into the Trump administration regarding Russia and new conflict arising with North Korea don't seem to be of any concern to equity markets. We are not sure what it will take to create some volatility in the markets, and there's part of us that doesn't even want to know what this point."
The point of this article today is to point out that things happening in the world do not seem to fall in line with what equity markets are doing and we think that this is eventually going to cause a stir in US equity markets. Make no doubt about it: although it may not be a massive recession, we do think markets are eventually going to make a move lower, before perhaps parking themselves at about 19,000 or under 20,000 where they may trade sideways for several quarters.
Escalating geopolitical tensions continue to have no affect on the market. While equity futures sold off slightly on the news that President Trump had launched missiles into Syria, those futures were hastily bid back up heading into the trading session on Friday, where the market eventually finished near unchanged. In addition to this, Friday morning's nonfarm payrolls miss also had Dow futures down about 50 or 60 points, but they too were eventually bid back up before the opening of trading. We don't really want to speculate as to the cause of this constant dip buying, but we do want to point out that the more the surrounding environment changes while the market stays the same, the more chance there is going to be of some stormy weather coming at some point in the future.
For every day that goes by that the markets don't react somewhat sensibly to news that should be causing some volatility, we believe it is just getting worse for when the straw that breaks the camel's back finally arrives. Just like what happened in 2008, we didn't know there was a problem until it was too late. This adage could be used not only for the state of our global economy, but also for the state of geopolitical tensions. It appears as though our conflict with Syria will continue. It appears the administration is set on dealing with North Korea unilaterally. It appears as though consumer credit is overextended. And finally, on top of all of this, interest rates are set to continue ticking higher.
With a market that has rallied significantly over the last eight years due to interest rates being low and the geopolitical tensions being almost completely eliminated, we now a step into a new era.
Except, instead of changing, the market simply continues to think that it is OK to keep moving higher. While the market will definitely move higher over the very long term, as earnings rise and inflation occurs, right now we believe there is a disconnect between what is happening in the world and how the public markets are responding.
This, of course, creates opportunity and we continue to be carefully positioned at about 60% long and 40% short heading into the middle of 2017. We would encourage market participants to review a little bit of history and look at the effects on markets in the past due to interest rate hikes and heightened geopolitical tensions. As a reminder, the rally that has taken place under the watchful eye of the current administration took place in anticipation of tax reform. Not only has tax reform not happened yet, but the Trump administration has been unable to put forth any type of meaningful legislation or healthcare reform. That is not to say that won't happen in the future, it's just to say that on top of ignoring current events, the rally that the market has had over the last four months may in fact also be a fallacy.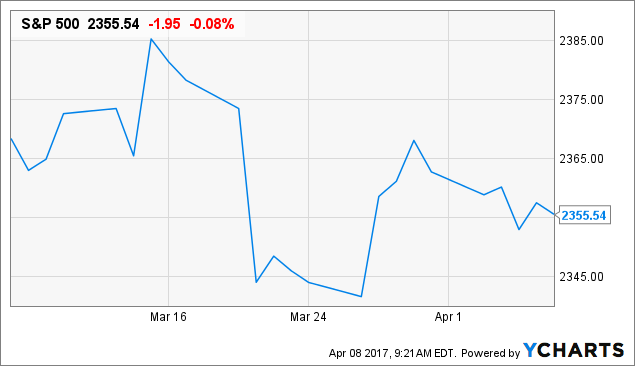 As you can see from the above chart, the market simply continues to churn sideways over the last month. Technicians know that when a stock or an index consolidates like this, a large move usually comes out of it eventually. What direction this move is going to be in and when it is going to happen, if ever, remains to be seen. One thing is for sure though, we don't see the market moving higher from here. Given the geopolitical tensions worldwide and the slowing of growth and in the United States, combined with rising interest rates, we see the market as potentially staying sideways or eventually pulling back up to 10% over the coming quarters.
We have prepared ourselves accordingly.