Russia's January Gold Purchase Suggests Some Deeper Global Problems

by: Hebba Investments


- Russia reversed course in January as it purchased 1 million more ounces for its gold reserves.

- This was in stark contrast to its December statement when it purchase no gold.

- We believe this move was very political in nature and signifies that Russian-US relations are breaking down.

- Not only do Russian gold purchases mean political distrust, but they also represent a very large chunk of global mine production of 12-15%.

- The short-term picture may still be cloudy for gold, but for the long-term these are all very bullish factors.


The Russian central bank recently released its gold reserve data for January and investors should take note as it was an abrupt reversal of the central bank's December gold reserve move.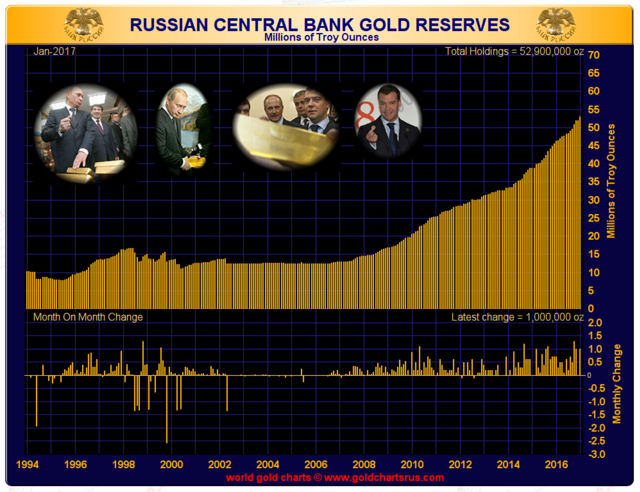 In January, the Russian central bank decided to purchase 1.0 million ounces of gold, which was a stark contrast to its January purchases of ZERO ounces.
We have been saying for a while now that these Russian gold purchases are not simply financial moves, but also quite political. Gold is a reserve currency and is really the only true reserve currency that can act as an alternative to the US Dollar, thus countries wishing to undermine the US Dollar for whatever reason, would look to diversify into gold.
This is not logical theorizing, it is what happened. In the run-up to the US election, Russia made
the biggest monthly gold purchase that it has made in decades
when it looked like a Clinton victory (and a possible anti-Russian US regime) was probable. Then in December, when gold was well under $1200 per ounce (and thus attractive from a purely investment point-of-view), Russian purchases no gold during the month - a striking change in behavior. Maybe some optimism on Russian-US relation based on an incoming Trump regime?
If we are right and Russia is buying gold reserves based on the political climate, then it looks like they have had a pessimistic change of heart with their latest purchase. The one million ounces purchased in January (at a higher gold price than they could have purchased in December), matched some of the larger Russian purchases over the past decade.
What does that mean for investors? When it comes to gold, sovereign relations make a huge difference as they are a leading indicator for what will happen with monetary reserves. When countries distrust each other, then they tend to purchase gold as it represents a safe way to diversify reserves without purchasing the bonds/bills of the offending countries. With the US Dollar, there is a stronger case to purchase gold as it is still the only realistic alternative reserve currency.
That is what we believe Russia is doing here - purchasing gold to replace US Dollar reserves and the fact that their January purchase was so large signifies that maybe there will not be a new positive paradigm-shift in US-Russian relations.
Russian Purchases Versus Annual Gold Production
Investors need to remember that even though world gold markets trade billions of dollars' worth of gold per day, the vast majority of this gold is traded in the paper markets - physical gold trading is a very small percentage of that. When it comes to these central bank purchases, these are all physical gold purchases, so the impact can be very great especially if other central banks or entities follow this example.
Takeaways for Gold Investors
While we have been bearish on gold in the short-term
, these types of events continue to strengthen our view that gold is an excellent investment for the mid-to-long term. Not only are recent Russian purchases soaking up 12-15% of total annual mine production, but more importantly, they signify a world that growing apart rather than together.
Reversing globalization has consequences not only in producing cheap widgets, but to the global financial structure and the associated currencies - especially when it comes to reserve currencies. A lack of trust buoys gold as it remains the only true reserve currency without a sovereign benefactor, unlike the US Dollar. Thus gold does well in times of distrust and nationalism, and these Russian purchases may be a signal that we will not see a global Kumbaya anytime soon.
Thus, long term investors should take this as a bullish factor and keep in mind the big picture when it comes to gold. We do not see a reason investors should not consider having a large exposure to gold with positions in physical gold and the gold/silver ETF's (SPDR Gold Shares (NYSEARCA:
GLD
),
PHYS
,
SLV
). Additionally, the miners that have been underperforming gold over the last few months may offer investors considerable leverage to any rise in the gold price. Investors looking for this leverage may want to consider evaluating gold miners such as Goldcorp (NYSE:
GG
), Agnico-Eagle (NYSE:
AEM
), Newmont (NYSE:
NEM
), or even some of the explorers and silver miners such as Tahoe Resources (NYSE:
TAHO
) (we're not suggesting these companies specifically - only suggesting them for further investor research).
Investors need to be patient and realize that there is a lot of value in holding gold despite the negative price sentiment.