Ready For The Next Big Gold Catalyst? Here's What We Are Looking At In The Gold Market For Next Week

by: Hebba Investments
.

- Speculators added to their net long positions in gold last week prior to Thursday gold drop.

- Silver speculators also added to their own positions taking the net-long silver position close to all-time highs.

- The Federal Reserve is almost certain to raise rates in March and the gold market doesn't seem to be fully pricing it in.

- Next week's jobs report would have to be very disappointing to be gold-bullish, and thus it may make a good opportunity for bears to push the gold market down.

- The silver market is very over-bought and with weak silver retail sales, we think its primed for an even greater potential drop.


The latest Commitment of Traders (COT) report showed a huge jump in gold speculator positions - just in time for Thursday's drop in precious metals. Silver speculators were no slouches either as they increased their own positions to close to record highs in this COT report, which of course, probably wasn't a wise move in hindsight.
The major news in the gold market this week was the number of Fed speakers that came out in favor of an interest rate increase during the March meeting. New York Fed President William Dudley said earlier this week that the case for tightening had become a lot more compelling, while John Williams of the San Francisco Fed said he sees serious consideration for a rise at the March 14-15 meeting.
We will get more into some of these details but before that let us give investors a quick overview into the COT report for those who are not familiar with it.
The COT report is
issued by the CFTC
every Friday, to provide market participants a breakdown of each Tuesday's open interest for markets in which 20 or more traders hold positions equal to or above the reporting levels established by the CFTC. In plain English, this is a report that shows what positions major traders are taking in a number of financial and commodity markets.
Though there is never one report or tool that can give you certainty about where prices are headed in the future, the COT report does allow the small investors a way to see what larger traders are doing and to possibly position their positions accordingly. For example, if there is a large managed money short interest in gold, that is often an indicator that a rally may be coming because the market is overly pessimistic and saturated with shorts - so you may want to take a long position.
The big disadvantage to the COT report is that it is issued on Friday but only contains Tuesday's data - so there is a three-day lag between the report and the actual positioning of traders. This is an eternity by short-term investing standards, and by the time the new report is issued it has already missed a large amount of trading activity.
There are many ways to read the COT report, and there are many analysts that focus specifically on this report (we are not one of them) so we won't claim to be the exports on it.
What we focus on in this report is the "Managed Money" positions and total open interest as it gives us an idea of how much interest there is in the gold market and how the short-term players are positioned.
This Week's Gold COT Report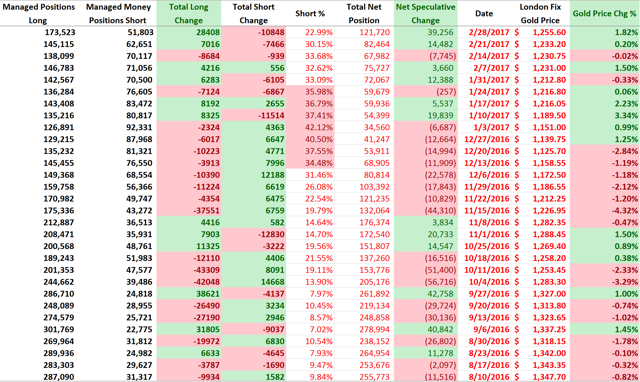 This week's report showed another increase in speculative gold positions as longs increased their positions by 28,408 contracts, while speculative shorts cut their own positions by 10,848 contracts.
This was actually a huge increase and once of the biggest net speculative increases (39,256 contracts) since September of 2016.
Moving on, the net position of all gold traders can be seen below: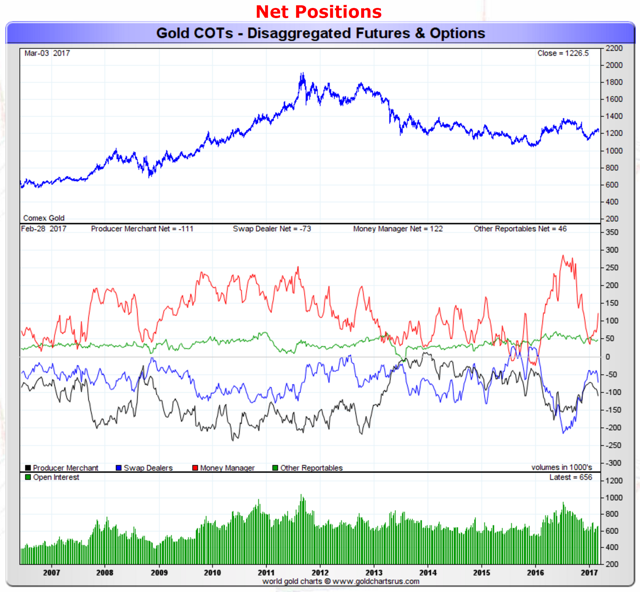 The red-line represents the net speculative gold positions of money managers (the biggest category of speculative trader), and as investors can see, we saw the net position of speculative traders grow by a chunky 39,000 contracts to 122,000 net speculative long contracts.
As for silver, the action week's action looked like the following: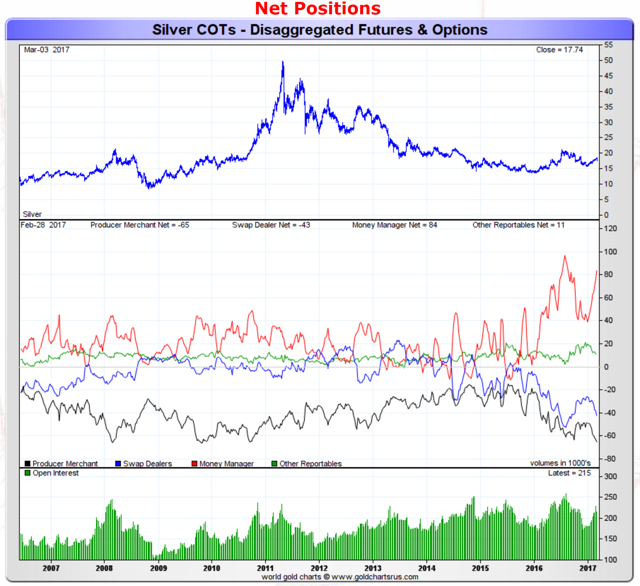 The red line which represents the net speculative positions of money managers, showed an increase as speculative silver traders added 8,500 contract to the net long position. Silver speculators are now approaching all-time high levels as they currently sit around 84,000 net long contracts, while silver producer/merchants are approaching some of their most bearish positions since 2010 - right before silver hit its all-time high close to $50 per ounce.
Next Week's Nonfarm Payrolls Report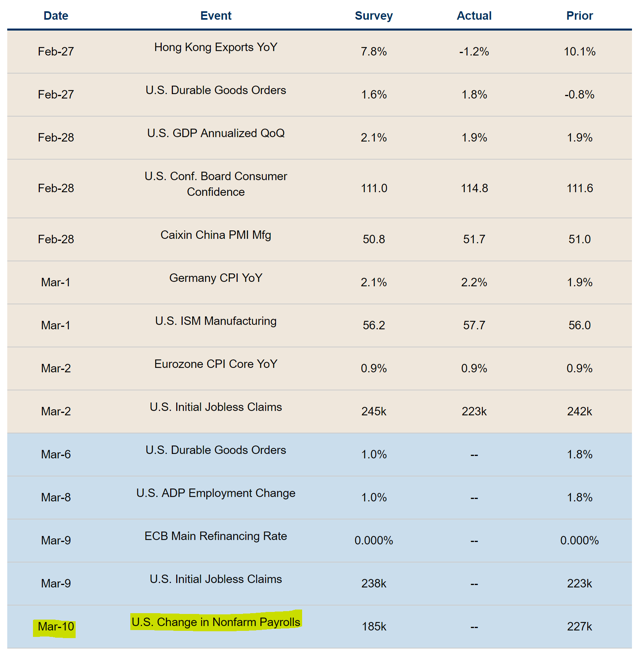 We have been emphasizing our belief that March's Fed meeting will lead to a .25% hike in interest rates, and right now that belief seems to be uniform across the market. Unless we have a major market crash between now and then (unlikely), we would need to see extremely poor economic data to change that Outlook.
That last economic data hurdle is next week's US Nonfarm Payrolls report (i.e. the Jobs report). Even with a weak report, we still see rates rising at the March meeting as the Fed will probably view the report as an outlier, and since the market is already pricing in a hike, we don't think the Fed will want to lose this opportunity to hike rates. But the importance of this week's jobs report will be in ascertaining future fed rate hikes - a strong jobs report means potential rate hikes sooner than the June meeting.
Our Take and What This Means for Investors
While a March rate hike is already priced in and pretty much a certainty, gold investors should be looking at this jobs report as an indicator if we'll see more rate hikes sooner. Based on speculative positioning in gold (which is higher than average) and silver (which is extremely high), we see the possibility of additional downside risk in the precious metals if the jobs report is not completely disappointing.
We are now a little more bearish on gold in the short-term than we were last week because we feel there is still some pricing in of March's rate hike that needs to be done in the gold market.
Investors need to remember that gold has risen over the past month despite the rise in rate-hike expectations, which suggests to us that there is more bullishness than is probably warranted - at least in the short-term.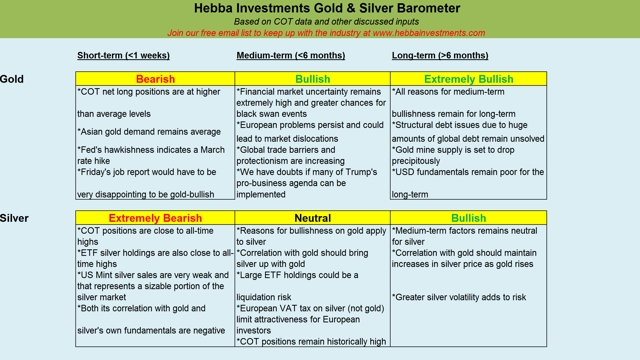 As for silver, we are not buyers in the short-term despite the recent fall. First, its correlation with gold (which we believe has room to fall) would bring it down. Secondly, COT positions are much higher than gold historically and are close to all-time highs despite what we feel is a less bullish backdrop. Third, ETF silver holdings are also close to all-time highs and any reversal in investors sentiment that causes the ETFs to sell silver holdings could overwhelm the physical market.
Finally, US Mint sales of silver bullion coins have fallen significantly over the past few months.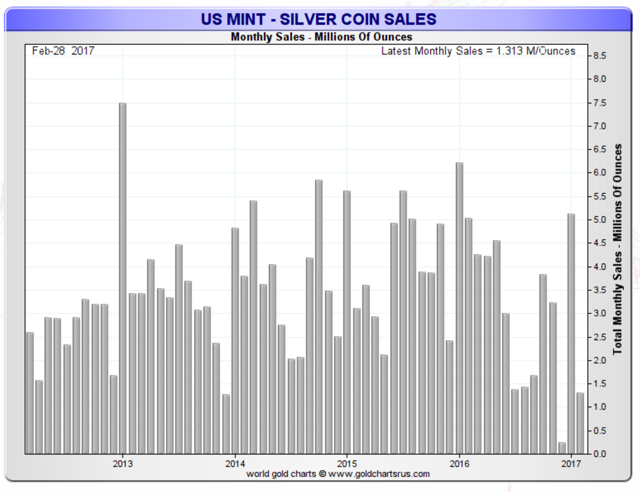 Unlike gold, US Mint silver sales make up a sizable percentage of total worldwide silver demand at around 5% or 40 million ounces. That means that falling US mint silver sales, could have a negative effect on total silver demand. We have seen resilience as ETF's have gobbled up physical silver, but with retail investors seemingly on the sidelines, we have concerns that silver ETF's may slow down or cease their own buying.
Thus, our short-term position on both gold and silver is more negative than we were last week, though we do like both metals when looking at a longer-term horizon. But in the short-term we see little in the way of bullish factors for the metals, and a number of bearish factors that make use hesitant to buy into this precious metals market. Next week's jobs report (and the run-up to it) can provide the catalyst some shorts need to
do one of their signature gold-market raids
- so precious metals investors need to be extremely careful here.
Thus we think investors should continue to lighten up on their positions in the miners and gold ETFs, like the SPDR Gold Trust ETF (NYSEARCA:
GLD
), and ETFS Physical Swiss Gold Trust ETF (NYSEARCA:
SGOL
). For silver, positions in the iShares Silver Trust (NYSEARCA:
SLV
), ETFS Silver Trust (NYSEARCA:
SIVR
), and Sprott Physical Silver Trust (NYSEARCA:
PSLV
) are all ways to invest.