While There Was Little Action Last Week With Speculative Traders, These Moves In Germany Should Interest All Gold Investors

by: Hebba Investments
.

- COT speculators add to both short and long positions during the COT week.

- Over the past month, the German Gold ETF has surged in its physical gold buying.

- While Trump's upcoming tax announcement was USD-positive and gold-negative, we think that could actually be positive for gold.

- In the short-term, we expect a pull-back in gold as it is a bit overbought and we see no market-moving negative catalysts in the near-term.

After a Down Week for Gold These Three Events Loom Large Next Week for the Precious Metals
The latest Commitment of Traders (COT) report showed an increase in both speculative longs and shorts during the COT week (Tuesday to Tuesday) with gold responding with a 1.5% rise.
For the week, bullish gold sentiment was clearly in charge as other than weakness on Thursday, gold rose every day last week.
The big event concerning gold last week was the announcement by US President Trump
that he will make a major tax plan announcement
within 2 or 3 weeks. You heard that right - the announcement of the announcement was the big news. Evidently, this announcement caused the US dollar to rise and thus caused gold's pullback on Thursday
according to traders
.
We will get more into some of these details but before that let us give investors a quick overview into the COT report for those who are not familiar with it.
The COT report is
issued by the CFTC
every Friday, to provide market participants a breakdown of each Tuesday's open interest for markets in which 20 or more traders hold positions equal to or above the reporting levels established by the CFTC. In plain English, this is a report that shows what positions major traders are taking in a number of financial and commodity markets.
Though there is never one report or tool that can give you certainty about where prices are headed in the future, the COT report does allow the small investors a way to see what larger traders are doing and to possibly position their positions accordingly. For example, if there is a large managed money short interest in gold, that is often an indicator that a rally may be coming because the market is overly pessimistic and saturated with shorts - so you may want to take a long position.
The big disadvantage to the COT report is that it is issued on Friday but only contains Tuesday's data - so there is a three-day lag between the report and the actual positioning of traders. This is an eternity by short-term investing standards, and by the time the new report is issued it has already missed a large amount of trading activity.
There are many different ways to read the COT report, and there are many analysts that focus specifically on this report (we are not one of them) so we won't claim to be the exports on it.
What we focus on in this report is the "Managed Money" positions and total open interest as it gives us an idea of how much interest there is in the gold market and how the short-term players are positioned.
This Week's Gold COT Report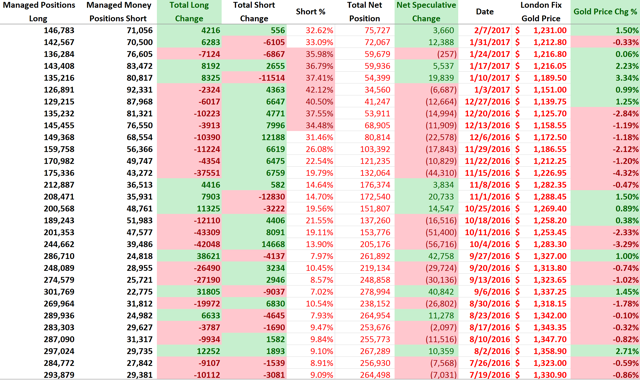 This week's report showed another rise in speculative gold positions for the fourth time in five weeks as longs increased their positions by 4,216 contracts on the week. On the other side, speculative shorts slightly increased their own positions by 556 contracts on the week. Not too much action in speculative positioning despite gold rising by 1.5% on the COT week.
Moving on, the net position of all gold traders can be seen below: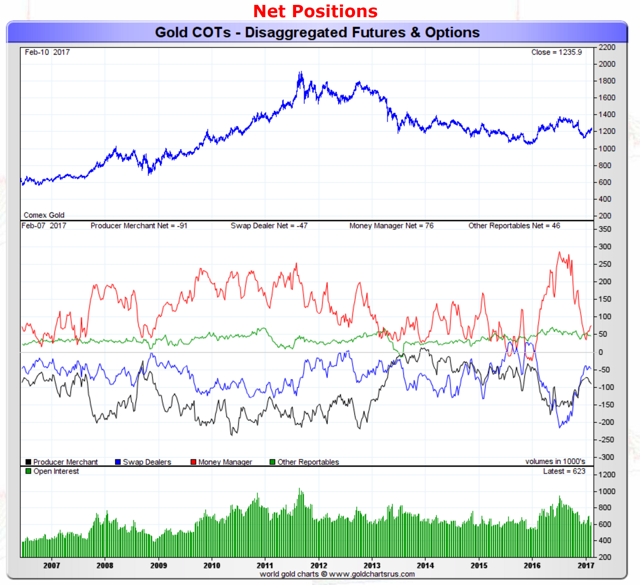 The red-line represents the net speculative gold positions of money managers (the biggest category of speculative trader), and as investors can see, we saw the net position of speculative traders increase by around 5,000 as it ended the COT week at 76,000 net speculative long contracts. As we mentioned last week, despite the rise we are still fairly low in terms of the historical net long position.
As for silver, the action week's action looked like the following: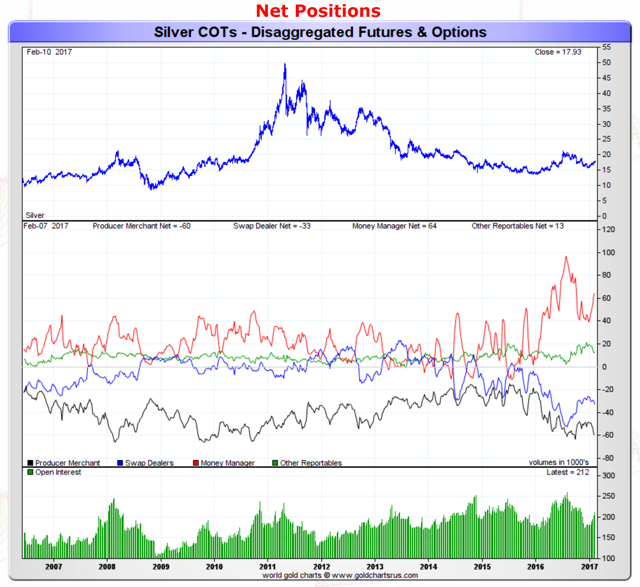 The red line which represents the net speculative positions of money managers, showed a slight decrease in speculative positions for the week of less than 100 contracts. This was despite silver's rise during the COT week, which is a bit unusual. Despite the decrease, we remain at an elevated level in terms of historical long positions.
Official and Unofficial Gold Going to Germany
One of the items that didn't get too much press was the announcement from Germany
that it was ahead of schedule on its gold repatriation
and had already moved 583 tonnes of gold back to Germany. By the end of 2017 it expected to have half of its gold back, which is ahead of the 2020 plan. We couldn't find any official reason given for the speedier repatriation, but we think it may have to do with a lack of confidence in the Euro as French presidential candidate Marine Le Pen and Italy's 5-Star Movement are openly calling to pull out of the euro.
What may be even more interesting is the action from the German Xetra Gold ETF as it has seen a surge in buying interest.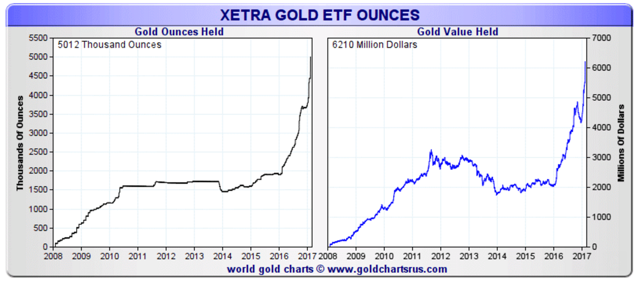 Over the past four week it has seen a 27% increase in gold holdings (or slightly under 1.1 million ounces), which brings the value of its total holdings to $6.2 billion. That makes it the sixth largest global gold ETF, and puts it total gold holdings at 20% of those held by the massive SPDR Gold Trust ETF (NYSEARCA:
GLD
) - with most of those gains coming in a little over a year.
It is obvious that many German investors are seeking the safe-haven of gold. We think it is completely rational as there are concerns about the Euro, Trump, and a host of other issues that we have mentioned before. In fact, we would not be surprised to see further growth in this ETF moving forward as we have French elections in a few months and the surging anti-Euro sentiment across the continent. It looks like GLD is not the only gold ETF that is worth monitoring for investors considering the massive increase in gold holdings in this German ETF.
Our Take and What This Means for Investors
Before we give our take on gold and silver, we wanted to quickly give our thoughts on President Trump's tax announcement. As we mentioned earlier, evidently the US dollar and gold markets moved on Mr. Trump's announcement about a future "
phenomenal announcement on taxes
" sometime in the next two weeks.
First, we understand why some traders think that this is bullish for the USD as the reasoning is that it will help strengthen the economy and thus US foreign investment will rise. But we think that ignores the other side of the equation where lowering taxes will lower government revenues and increase deficits, thus weakening the USD. So in our view, lowering taxes in the US is not necessarily USD-positive - we think any certainty by traders in either direction is a bit premature.
Additionally, we think this "announcement of an upcoming phenomenal announcement" is really going to turn out to be nothing more than pomp and fluff. When it comes to major tax changes, nothing happens quickly and there will need to be a lot of congressional approval from both sides of the aisle - the president cannot make unilateral decisions here without Congress. If there was already some major plan that was ready to be implemented, there would be no need for a surprise announcement as we would already be hearing initial details of the plan. In our view, this sounds like the administration has no concrete tax plan and is trying to buy time to create something - no reason to have anything more than a short-term algorithm-driven move.
Coming back to gold, we think it has no effect on gold and until we see more concrete details, it is all talk in our view.
Here is our gold and silver barometer moving forward: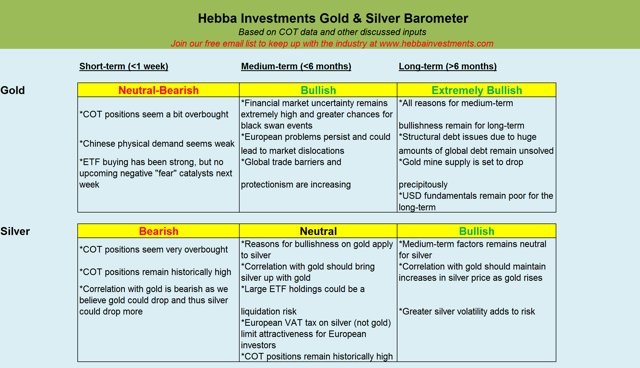 For the short-term (week-long timeframe), we were wrong last week as gold rose, but we remain neutral to bearish on gold for the upcoming week. We think a lot of the recent rise due to ETF buying (rather than COT's speculators), and while we don't see that really reversing (especially in Europe), we think gold is a bit overbought here. Especially considering Trump has toned back some of his rhetoric over the past week (e.g.
One-China policy will evidently be maintained
), assuming no extraordinary announcement from the administration, we think weaker physical demand from Asia (see the drop in Chinese gold premiums below) will start asserting itself in the price.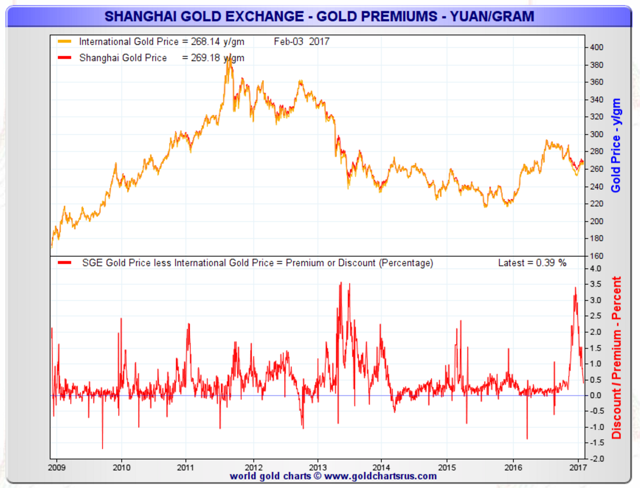 It is only a bearish leaning though, because the medium and long-term picture for gold still looks extremely bright, so the bearishness is only short-term. As for silver, we think it is very over-bought and the risk for a large silver drop is much greater than gold, thus we are more bearish on silver.
Compared to Kitco's gold survey, our short-term view of gold remains a contrarian position as most of the Kitco respondents believe that gold will again rise next week: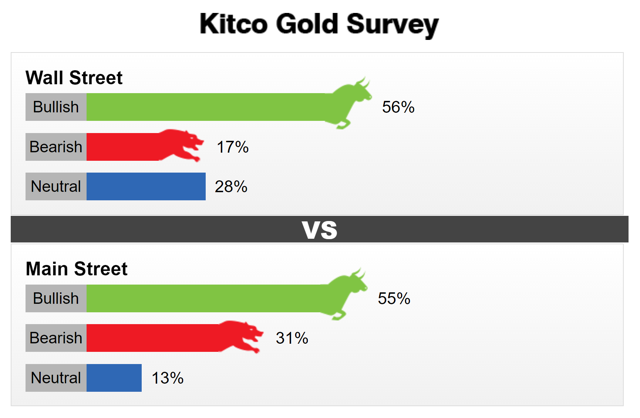 These are our short, medium, and long-term views on gold and investors wishing to trade or invest in these prediction (or invest against) them can take the appropriate positions in physical gold (for longer term investors) or the SPDR Gold Trust ETF (NYSEARCA:
GLD
), and ETFS Physical Swiss Gold Trust ETF (NYSEARCA:
SGOL
). For silver, positions in the iShares Silver Trust (NYSEARCA:
SLV
), ETFS Silver Trust (NYSEARCA:
SIVR
), and Sprott Physical Silver Trust (NYSEARCA:
PSLV
) are all ways to invest.