- Net speculative gold positions dropped for the seventh straight week.

- Gold ETFs finally added to physical gold holdings after 33 days of sales which Bloomberg data says was the longest streak since 2004.

- Negative sentiment abounds in the speculative gold market, thus for investors that see value in gold, now makes a good contrarian time to buy.


After starting the year with a bang, the last Commitment of Traders (COT) report shows gold ends 2016 with a muffle, as for a seventh straight week, speculative traders lowered their gold positions. But despite the trader negativity, gold rose on the week, which is not unheard of - but it usually portends a short-term turnaround for the metal.
Also, we saw something else very interesting last week as gold ETF holdings broke its 33-day losing streak, the longest since 2004, as ETFs finally increased physical gold holdings.
We will give our view and will get a little more into some of these details, but before that let us give investors a quick overview into the COT report for those who are not familiar with it.
The COT report is
issued by the CFTC
every Friday to provide market participants a breakdown of each Tuesday's open interest for markets in which 20 or more traders hold positions equal to or above the reporting levels established by the CFTC. In plain English, this is a report that shows what positions major traders are taking in a number of financial and commodity markets.
Though there is never one report or tool that can give you certainty about where prices are headed in the future, the COT report does allow the small investors a way to see what larger traders are doing and to possibly position their positions accordingly. For example, if there is a large managed money short interest in gold, that is often an indicator that a rally may be coming because the market is overly pessimistic and saturated with shorts - so you may want to take a long position.
The big disadvantage to the COT report is that it is issued on Friday but only contains Tuesday's data - so there is a three-day lag between the report and the actual positioning of traders. This is an eternity by short-term investing standards, and by the time the new report is issued, it has already missed a large amount of trading activity.
There are many different ways to read the COT report, and there are many analysts that focus specifically on this report (we are not one of them) so we won't claim to be the experts on it. What we focus on in this report is the "Managed Money" positions and total open interest as it gives us an idea of how much interest there is in the gold market and how the short-term players are positioned.
This Week's Gold COT Report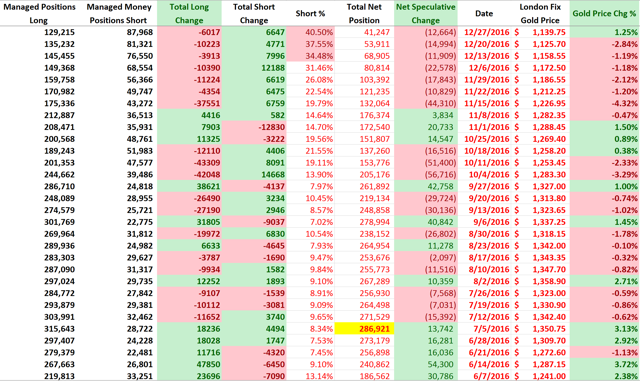 This week's report showed a drop in speculative gold positions for a seventh straight week, as longs decreased their positions by a chunky 6,017 contracts on the week. On the other side, speculative shorts increased their own positions by 6,647 contracts on the week.
Moving on, the net position of all gold traders can be seen below:
The red line represents the net speculative gold positions of money managers (the biggest category of speculative trader), and as investors can see, the decline in speculative traders continues.
As we said last week, we are now at some of the lowest speculative levels of the past decade, though we haven't yet hit the lows we saw at the end of 2015 before gold's spectacular rise earlier this year.
Sentiment wise, speculators want nothing to do with gold and are stampeding out. Money managers are only net long 41,000 contracts, while producers and merchants are steadily increasing their positions.
As for silver, the week's action looked like the following:
The red line, which represents the net speculative positions of money managers, showed a drop in speculative positions for the week which should be no surprise since silver tends to track gold.
Silver speculative positions remain relatively high compared to gold speculative positions while producers/merchants have not been increasing their own positions nearly as much as those same entities on the gold side. This suggests to us that, at least per the COT report, gold remains much more oversold than silver. We still like silver for other reasons, but silver speculative trader positions remain relatively high compared to their gold counterparts.
Gold ETF Holdings Finally Rise
For more than a month, ETF gold holdings have been sold off, and according to Bloomberg, experienced their longest gold disbursement streak since 2004.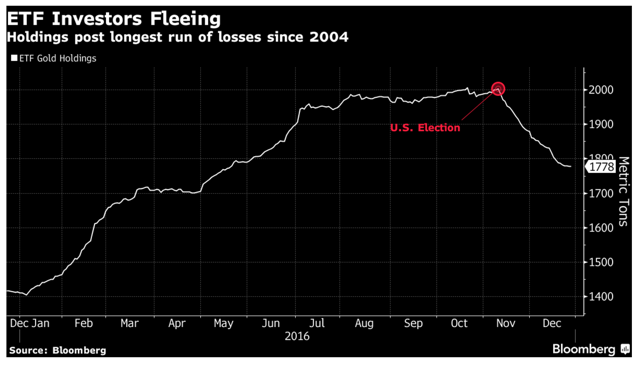 Source:
Bloomberg
Our data is a bit more inclusive than Bloomberg's as we include mutual funds and gold repositories, but it shows the same massive decline in gold holdings.
The correlation with gold ETF holdings is very clear from the chart above, and even though it is not a major increase over the last week, it is something for gold bulls to monitor as transparent gold holdings increased.
Our Take and What This Means for Investors
We are working on our "Gold Looking Forward" piece to detail why we think gold is an excellent investment as we close 2016, but strictly based on the COT report gold looks extremely oversold after seven consecutive weeks of speculative traders lowering their net long position. With speculative traders holding a little over 41,000 net long gold contracts, we are at some of our lowest levels since early February - gold has truly retraced most of its 2016 gains.
Additionally, when compared to the net speculative position over the last 10 years, we are close to some of the lowest net speculative long levels that we have seen in gold.
This makes it simple when it comes to gold because if you are an investor who believes that any of the following could occur in 2017:
Rising interest rates could cause a crisis with over-levered governments, companies, or individuals.
Donald Trump's policies may not pan out as optimistically predicted by stock markets.
The reversal of globalization continues as per populist political rhetoric and nations enact protectionist policies that hurt global trade.
The European Union begins to fall apart as the UK, Italy, France, or others elect anti-EU parties.
The rift between the US and China grows and causes China to continue to sell US Treasury holdings.
The rift between the US and Saudi Arabia grows and causes Saudi Arabia to sell US Treasury holdings.
The market turns its attention to the US fiscal picture and realizes that with $1 trillion of new debt accumulated in 2016 and trillions more of entitlements moving forward, the picture does not look good.
All the quantitative easing enacted by global central banks reignites inflation.
Then now makes an excellent time to buy gold as speculators are at some of their lowest net long levels over the past decade.
We believe much of these are not priced in by markets, and if one or more of these things occur, then gold should have another good year in 2017. Thus, based on the extremely negative sentiment by gold speculators, this makes it a very good time to buy gold strictly based on it unpopularity.