Gold's Blistering Gain This Week Rewarded Contrarian Traders - But Can The Rally Continue?

by: Hebba Investments


- Over the past week speculative longs build positions while shorts covered for the first time in eight weeks.

- Despite the move in gold, short positions remain at high levels while many speculative longs remain on the sidelines.

- The gold ETFs that have historically bought as the gold price has risen have not significantly added to physical positions during the past rally.

- Speculative silver positions remain much higher on a historic basis, thus we believe gold makes a better investment here than silver from a contrarian point of view.

- Since there are plenty more momentum shorts left to cover while longs remain on the sidelines, we wouldn't be surprised to see gold's rally continue.


The latest Commitment of Traders (COT) report showed gold traders establishing new long positions, while speculative gold shorts covered the most positions since early November. Gold speculators increased gold long positions for the first week in eight weeks, but their net gold position remains fairly low so there is still a good chance of gold rallying further.
As for gold producers and merchants (i.e. non-speculators), there was little change in positions last week as all the activity was on the speculative side. Which strengthens the opinion that we are seeing right now is a short-covering rally with other entities reluctant to take a stand bullishly or bearishly on the gold price.
One more thing to note is that despite the move in the gold price we have seen very little in terms of physical metal being added back into the gold ETFs.
We will get more into some of these details but before that let us give investors a quick overview into the COT report for those who are not familiar with it.
The COT report is
issued by the CFTC
every Friday, to provide market participants a breakdown of each Tuesday's open interest for markets in which 20 or more traders hold positions equal to or above the reporting levels established by the CFTC. In plain English, this is a report that shows what positions major traders are taking in a number of financial and commodity markets.
Though there is never one report or tool that can give you certainty about where prices are headed in the future, the COT report does allow the small investors a way to see what larger traders are doing and to possibly position their positions accordingly. For example, if there is a large managed money short interest in gold, that is often an indicator that a rally may be coming because the market is overly pessimistic and saturated with shorts - so you may want to take a long position.
The big disadvantage to the COT report is that it is issued on Friday but only contains Tuesday's data - so there is a three-day lag between the report and the actual positioning of traders. This is an eternity by short-term investing standards, and by the time the new report is issued it has already missed a large amount of trading activity.
There are many different ways to read the COT report, and there are many analysts that focus specifically on this report (we are not one of them) so we won't claim to be the exports on it. What we focus on in this report is the "Managed Money" positions and total open interest as it gives us an idea of how much interest there is in the gold market and how the short-term players are positioned.
This Week's Gold COT Report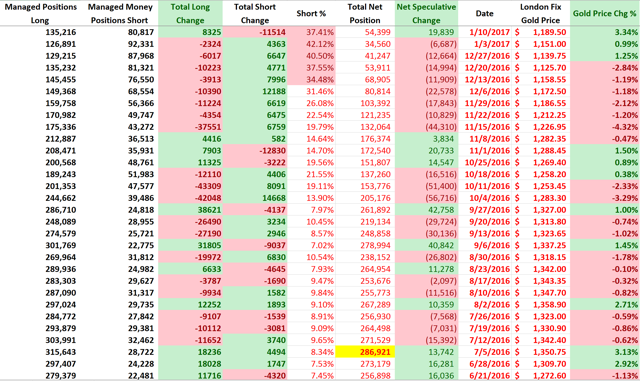 This week's report finally showed a rise in speculative gold positions for the first time in eight weeks as longs increased their positions by 8,325 contracts on the week. On the other side, speculative shorts decreased their own positions by 11,514 contracts on the week.
While not unheard of, it is unusual to see such a large number of shorts cover while fewer longs build positions, which suggests to us this recent rally is much more about short-covering than anything else. What we think is going on is that we are seeing some of the momentum traders that started gold short after the election starting to cover those positions. Since we are still fairly short historically with a 37% of speculative contracts sold short (under 20% is more normal), we may have further to run simply based on momentum traders covering positions.
Moving on, the net position of all gold traders can be seen below: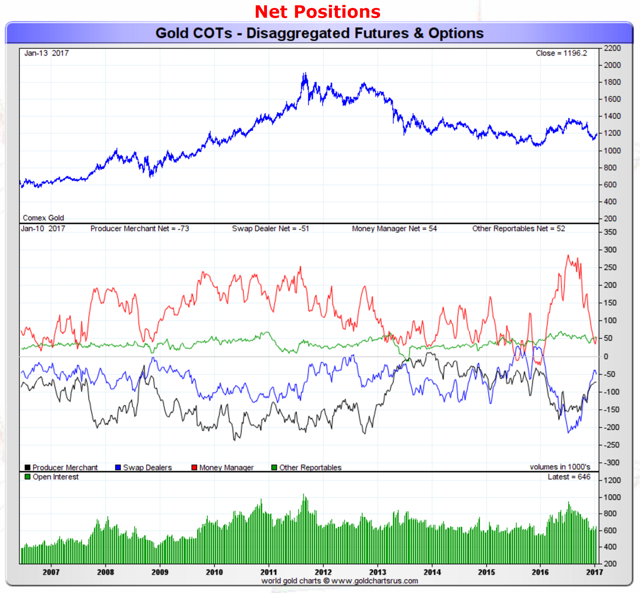 The red-line represents the net speculative gold positions of money managers (the biggest category of speculative trader), and as investors can see, we finally saw the net position of speculative traders increase as the net long position jumped from 35,000 contracts to 54,000 net speculative long contracts. As we mentioned earlier and is clear from the chart, we are still below historical net speculative long positions so despite this rally we may see further gains simply to get back to more normal net speculative long levels.
As for silver, the action week's action looked like the following: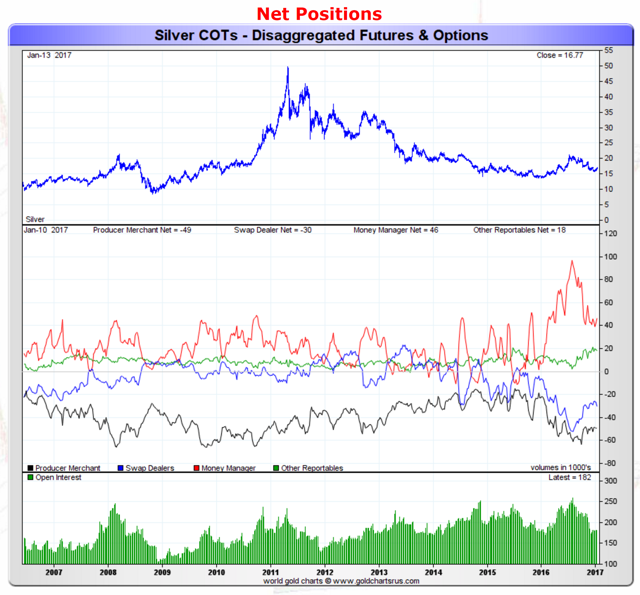 The red line which represents the net speculative positions of money managers, showed another slight increase in speculative positions for the week of around 5,000 contracts. Despite the drop in speculative gold positions, silver speculators remain at much higher net long levels than their gold counterparts. As contrarians that is a negative and is the reason why at this point we prefer gold over silver.
Gold ETF Holdings Diverge from the Gold Price
Despite the rise in the gold price we saw an interesting divergence between it and the gold ETFs.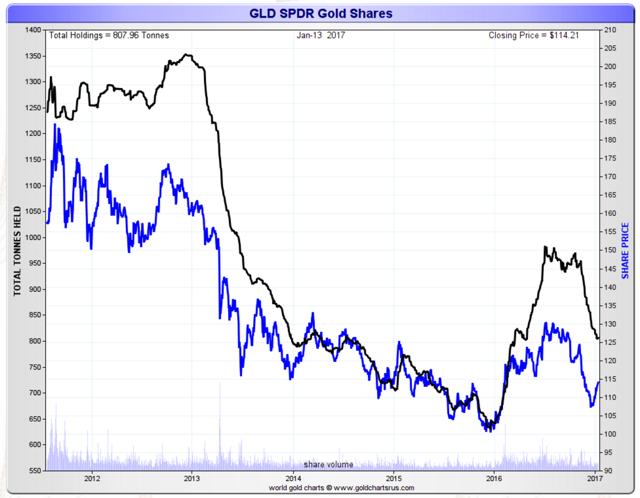 Usually gold ETFs build their physical gold positions as the price rises and sell physical gold while the price falls - almost in lock-step with the gold price. However, this recent rally saw gold ETFs continuing to sell-off physical gold even as the price rose with those sales only stopping very recently.
Again, this signifies to us that there are still many investors on the sidelines not buying this rally as with most other rallies we see ETF holdings rise with the gold price. That furthers our belief that right now we are witnessing momentum traders covering their short positions as the money has already been made off the drop in the gold price.
Our Take and What This Means for Investors
To us that means that most of this recent rally has been short covering with longs reluctant to rebuild gold positions. That is further emphasized by the fact that with 37% of speculative contracts short, we remain much higher than the average speculative short position over the past year. With longs still not buying the rally and plenty more short positions to cover for speculative shorts, that suggests to us we have further to run with this gold rally.
As for silver, it looks much less attractive comparatively as speculative positions are much higher and silver ETF holdings have not fallen as much. However, the silver market is much smaller and since it usually tracks gold, there are reasons to own silver if the gold market has further room to rise. For the average investor seeking low to moderate risk than gold makes more sense here, but for a more aggressive investor expecting a larger rise in gold, silver's correlation with gold should keep it moving higher if the gold price rises.
While the COT report is not as bullish as last week, we believe that despite the rise in gold the lack of longs joining the rally keeps the metal attractive to us. Additionally, the downward trend seems to be over for gold, and if that is the case, there are plenty of momentum shorts that are going to seek to cover their gold positions and move on the greener pastures elsewhere where the commodity is clearly trending down. That should cause further upward pressure in the gold price. Thus we do not believe it is too late for investors to accumulate gold and the ETFs such as the SPDR Gold Trust ETF (NYSEARCA:
GLD
), and ETFS Physical Swiss Gold Trust ETF (NYSEARCA:
SGOL
). Silver remains less attractive to us, but it does provide much more upside, thus more aggressive traders would want to own the silver ETFs such as iShares Silver Trust (NYSEARCA:
SLV
).
Of course, this reasoning is all based on short-term speculative positioning. For those seeking more long-term investments, we think gold and precious metals are a must-have for all portfolios as there are plenty of factors that suggest that we will see much higher gold and silver prices in the future that we have outlined in our
Uncomfortable Truths piece
- that's why a big portion of our personal holdings remain in gold and silver regardless of the short-term price momentum.