Russia Just Released Its Gold Purchases For November - And It's A Doozy!

by: Hebba Investments
.

- Russia followed up its October gold purchase with another 1 million ounces bought in November.

- This significant purchase signifies that the country was not just purchasing gold in October to hedge the possibility of an anti-Russian US president.

- The Russian central bank thinks there is value in owning gold as we move forward, and we believe the same.


A few days ago, the Russian central bank released its gold reserve data for November, which is something we have been anxiously waiting for since the country's record-breaking September purchase that we detailed in our

last piece.
To rehash, the reason November gold purchases were so important to us was because it would give very important insight into what the Russian central bank thought of the global financial system moving forward.
If Russia followed up its strong October gold purchases with a relatively small purchase in November, that could signify October's massive purchases were simply U.S. election hedging with the expectation that an anti-Russia regime (Clinton) would come into power. Of course, since Trump was elected, there would be little reason to buy gold as a U.S. political hedge, as he is expected to be pro-Russian.
If Russia followed up its October purchase with a large November purchase, that would signify to us that October's purchase was not merely U.S. election hedging, but rather something related to Russia's view of the financial world.
In this case, the reasoning in quickly purchasing so much gold could be to hedge/replace its bond holdings. It would be a logical move, as the recent rise in bond yields lowers the value of existing bond holdings - and Russia holds a lot of bonds. Thus, with the massive rise in bond yields in November, we would expect the country to purchase even MORE gold in November, if that was its reasoning.
So let us look at what Russia did with its gold holdings in November.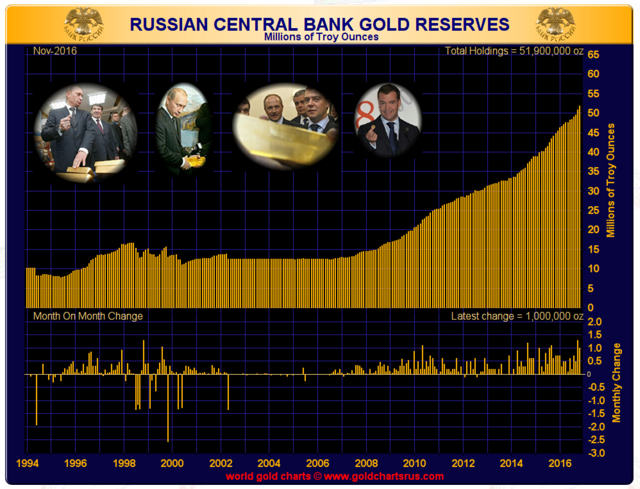 (Source:
Gold Charts R US
)
It turns out that during the month of November, Russia decided to add another 1 million ounces of gold to its reserves (around 34 tonnes). That suggests the massive buying of gold in October was not necessarily related to hedging a Clinton presidency.
It seems the Russian central bank views gold as a very attractive asset and is willing to continue to buy large amounts of the metal despite the overwhelmingly negative sentiment surrounding gold.
Last month, Russia bought around 48 tonnes of gold, and adding that to this month's 34 tonnes, it has bought around 2.5% of total world gold production over the past two months. That is significant.
Takeaways for Gold Investors
Russia's purchase of 1 million ounces of gold for its reserves tells us quite a bit about the country's view of the future of the financial system, and that gold seems to be an important part of it - this wasn't just U.S. election hedging.
This supports our view that despite the current negative sentiment in gold, there may be a very bright future in owning the shiny yellow metal. Could it be that the great bond market run is over and large bondholders (think central banks) are starting to diversify their holdings? Or is the financial system in much worse shape than equity markets are pricing in? Or will we start to see some inflationary consequences of the trillions of dollars of QE that worldwide central banks have unleashed?
For all the above-mentioned scenarios, gold makes an excellent bond hedge and would explain Russia's willingness to add significant amounts to its reserves over the past few months. We also would not be surprised to see some major buying from the Chinese central bank
after the bank's comments that it might make "tactical adjustments" to its U.S. bond holdings
.
Remember, when it comes to central banks, it doesn't take much in the way of reserves to purchase significant percentages of total world gold supplies - especially when it comes to the physical gold market.
Thus, long-term investors should take this as a bullish factor and keep in mind the big picture with regard to gold. Additionally, the miners that have been underperforming gold over the last few months may offer investors considerable leverage to any rise in gold price. Investors looking for this leverage may want to consider evaluating gold miners such as Goldcorp (NYSE:
GG
), Agnico Eagle (NYSE:
AEM
), Newmont (NYSE:
NEM
), or even some of the explorers and silver miners such as Tahoe Resources (NYSE:
TAHO
). (We're not recommending these companies specifically - only suggesting them for further investor research.)
In sum, investors need to be patient and realize that there is a lot of value in holding gold despite the negative price sentiment.