Russia Does Something It Has Not Done In 2 Years With Its Gold Reserves As Speculators Remain Uncertain On Gold

by: Hebba Investments


- Speculators added to both their long and short positions in gold during the past week.

- The result was a second-straight week of increases in the gold net long positions.

- Despite the increase, the gold net long position remains fairly low compared to its historical average.

- The Russian central bank decided not to purchase any gold in December for the first time since early 2015.

- The short-term gold picture may be slightly bearish, but long-term we remain very bullish.


The latest Commitment of Traders (NYSE:
COT
) report showed another positive week for gold as the net long position increased for the second straight week. We saw an increase in both long and short positions as speculators remained uncertain regarding gold direction after the strong rally to start the year.
We also saw the latest gold reserve report from Russia and it was certainly interesting. In the month of December Russia purchased no gold, which was the first time since early 2015 that they didn't choose to add to their gold reserves.
We will get more into some of these details but before that let us give investors a quick overview into the COT report for those who are not familiar with it.
The COT report is
issued by the CFTC
every Friday, to provide market participants a breakdown of each Tuesday's open interest for markets in which 20 or more traders hold positions equal to or above the reporting levels established by the CFTC. In plain English, this is a report that shows what positions major traders are taking in a number of financial and commodity markets.
Though there is never one report or tool that can give you certainty about where prices are headed in the future, the COT report does allow the small investors a way to see what larger traders are doing and to possibly position their positions accordingly. For example, if there is a large managed money short interest in gold, that is often an indicator that a rally may be coming because the market is overly pessimistic and saturated with shorts - so you may want to take a long position.
The big disadvantage to the COT report is that it is issued on Friday but only contains Tuesday's data - so there is a three-day lag between the report and the actual positioning of traders. This is an eternity by short-term investing standards, and by the time the new report is issued it has already missed a large amount of trading activity.
There are many different ways to read the COT report, and there are many analysts that focus specifically on this report (we are not one of them) so we won't claim to be the exports on it.
What we focus on in this report is the "Managed Money" positions and total open interest as it gives us an idea of how much interest there is in the gold market and how the short-term players are positioned.
This Week's Gold COT Report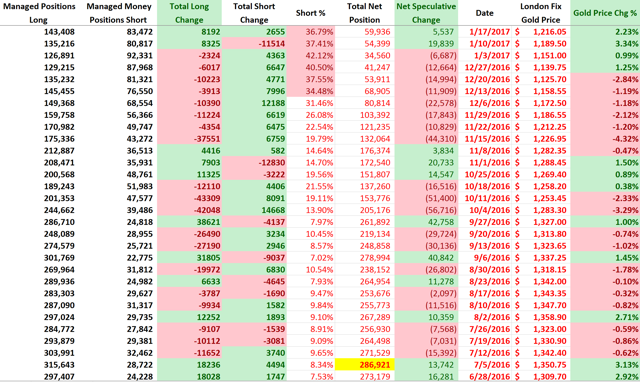 This week's report showed a rise in speculative gold positions for the second week in a row as longs increased their positions by 8,192 contracts on the week. On the other side, speculative shorts increased their own positions by 2,655 contracts on the week.
It is a bit unusual to see both longs and shorts add to their positions during a week, but it does happen. For us that tends to signal that there is some major uncertainty in the market so traders aren't confident what happens next so both sides either add or close positions. With a new US president and a lot of uncertainty on future policy decisions, to us it makes a lot of sense that traders want to watch and see.
Moving on, the net position of all gold traders can be seen below: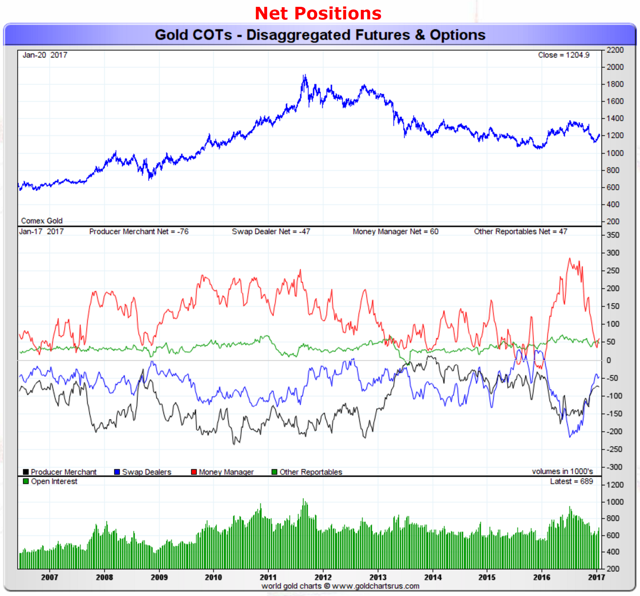 The red-line represents the net speculative gold positions of money managers (the biggest category of speculative trader), and as investors can see, we saw the net position of speculative traders increase as the net long position increased from 54,000 contracts to 60,000 net speculative long contracts.
Despite the rise we remain fairly low in terms of the historical net long position.
As for silver, the action week's action looked like the following:
The red line which represents the net speculative positions of money managers, showed another slight increase in speculative positions for the week of around 4,500 contracts. The net speculative long position in silver remains fairly high in terms of its historical average, so from this data point gold looks like a more attractive investment than silver.
Before we conclude for the week we wanted to take a look at the recently released data from the Russian central bank on its gold holdings.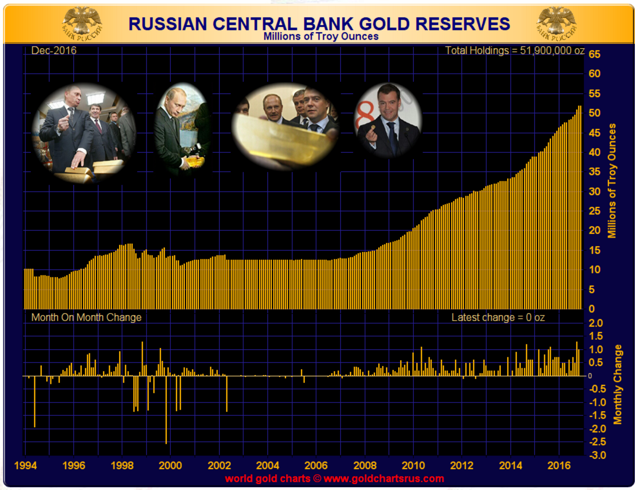 As we mentioned earlier, Russia chose not to add any gold to its reserves during the month of December which was a significant move to the previous two months where it bought more gold than in any period since our data began in the early 1990's.
While we have no comment from the Russian central bank, the most obvious reason for this abrupt stop in Russian gold purchases would be the potentially warming of relations between Russia and the United States. President Trump has mentioned numerous times his desire to create closer national ties with Russia, and we would imagine that the Russian government is taking a wait and see approach with the Trump administration. That means that, at least politically, the US Dollar may have gained some attractiveness for the Russians, so gold's attractiveness as a dollar alternative may have lost some shine.
We emphasize that it is one month of data (that was proceeded by two extremely large months of gold purchases) so it is early for confident conclusions, but it certainly is worth monitoring for investors.
Our Take and What This Means for Investors
In a week highlighted by the US presidential inauguration, gold traders continued to add to their net long position in gold for a second straight week as the metal continued its strong 2017 run. But despite the increase in the speculative net long position, we did also see an increase in total shorts (both longs and shorts increased their gold positions on the week) which tells us that traders are not confident in where gold is going next.
This week we also saw the release of Russia's most recent gold holdings data. It showed the Russian central bank's lack of gold purchases during the month of December, which is the first month since early 2015 where it did not make any gold purchases. After two strong months of Russian gold purchases, it may be the central bank has hit its desired gold purchase target for 2016. Or maybe the Russian government has decided to take a wait-and-see approach with the new US administration, and if US-Russian relations warm-up, then the central bank has less incentive to diversify away from the US Dollar. It is still too early to tell though.
But from a COT perspective, our short-term view is as lackadaisical as that of gold traders as the total net long position in gold remains fairly low (bullish) but after four weeks of rising gold prices (bearish) and two weeks of net speculative additions, a pull-back would be very normal.
For short-term traders, it makes sense to lighten up on the more speculative gold positions (e.g. leveraged miners) or use one of our favorite strategies to switch out of higher-beta silver into lower-beta gold.
Either way for short-term traders it may make sense to book some early 2017 profits on some gold positions such the SPDR Gold Trust ETF (NYSEARCA:
GLD
), iShares Silver Trust (NYSEARCA:
SLV
), and ETFS Physical Swiss Gold Trust ETF (NYSEARCA:
SGOL
). Silver remains less attractive to us, but it does provide much more upside, thus more aggressive traders would want to own the silver ETF's such as
Of course, for longer-term traders none of this changes our bullish view on gold. President Trump is a very bullish figure for gold as he has promised major infrastructure spending coupled with lower taxes, which will undoubtedly create higher government deficits. Additionally, the United States seems to be moving away from its 30 years plus stance of being for globalization, into a more US-centric, bring-jobs-home approach to trade. Protectionism begets protectionism, and with less international trust gold becomes a much more desired asset as countries become reluctant to hold reserves.