It Is The Holiday Season And One Present Speculators Are Not Buying Is Gold

by: Hebba Investments


- For the sixth week in a row, gold speculators have sold their positions which is the longest streak since December of 2015.

- Gold is now at some of the lowest net speculative long positions of the past decade.

- Silver speculators have not been selling silver at the same rate as gold and are holding positions at higher relative levels.

- Since we think gold has a very good fundamental picture moving forward, we believe that this is a great contrarian time to buy as negative sentiment is extremely high.

- Silver's picture is less bullish than gold simply based on speculative net long levels, but we believe that silver will still move up with gold.


For a sixth week in a row, investors saw net speculative long gold positions decline and gold dropped for a seventh straight week during the Commitment of Traders (COT) report trading week (Tuesday to Tuesday). During the COT week, gold dropped by a chunky 2.84% and the seven down weeks for gold in a row would be the longest losing streak for the metal since September 2014.
Obviously, speculators are very negative on gold, but we will also look at the Chinese Shanghai Gold Exchange (SGE) and Indian gold premiums to get a feel for what is going on in the physical markets. Strong physical demand would be the best way to reverse speculator negativity, so that is something we pay close attention to.
We will give our view and will get a little more into some of these details, but before that let us give investors a quick overview into the COT report for those who are not familiar with it.
The COT report is
issued by the CFTC
every Friday to provide market participants a breakdown of each Tuesday's open interest for markets in which 20 or more traders hold positions equal to or above the reporting levels established by the CFTC. In plain English, this is a report that shows what positions major traders are taking in a number of financial and commodity markets.
Though there is never one report or tool that can give you certainty about where prices are headed in the future, the COT report does allow the small investors a way to see what larger traders are doing and to possibly position their positions accordingly. For example, if there is a large managed money short interest in gold, that is often an indicator that a rally may be coming because the market is overly pessimistic and saturated with shorts - so you may want to take a long position.
The big disadvantage to the COT report is that it is issued on Friday but only contains Tuesday's data - so there is a three-day lag between the report and the actual positioning of traders. This is an eternity by short-term investing standards, and by the time the new report is issued it has already missed a large amount of trading activity.
There are many different ways to read the COT report, and there are many analysts that focus specifically on this report (we are not one of them) so we won't claim to be the experts on it. What we focus on in this report is the "Managed Money" positions and total open interest as it gives us an idea of how much interest there is in the gold market and how the short-term players are positioned.
This Week's Gold COT Report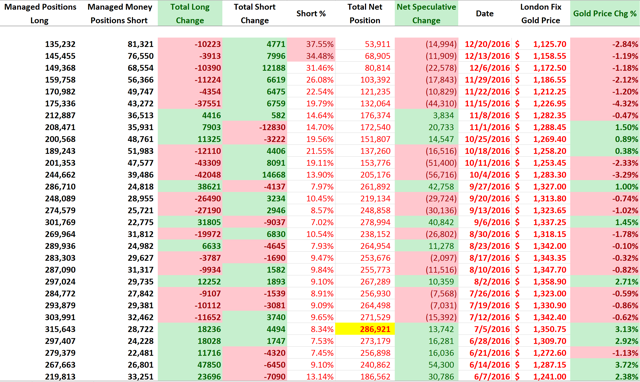 This week's report showed a drop in speculative gold positions for a sixth straight week as longs decreased their positions by a chunky 10,223 contracts on the week. On the other side, speculative shorts increased their own positions by 4,771 contracts on the week.
Moving on, the net position of all gold traders can be seen below: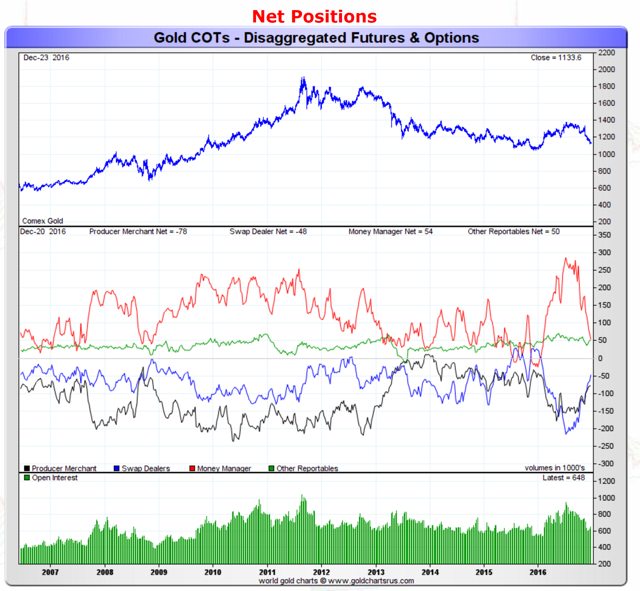 Source:
Sharelynx Gold Charts
The red line represents the net speculative gold positions of money managers (the biggest category of speculative trader), and as investors can see, the decline in speculative traders continues. Wow - what a sudden spectacular drop in speculative positions!
We are now at some of the lowest speculative levels of the past decade, though we haven't yet hit the lows we saw at the end of 2015 before gold's spectacular rise earlier this year. Sentiment wise, speculators want nothing to do with gold and are stampeding out.
As for silver, the week's action looked like the following: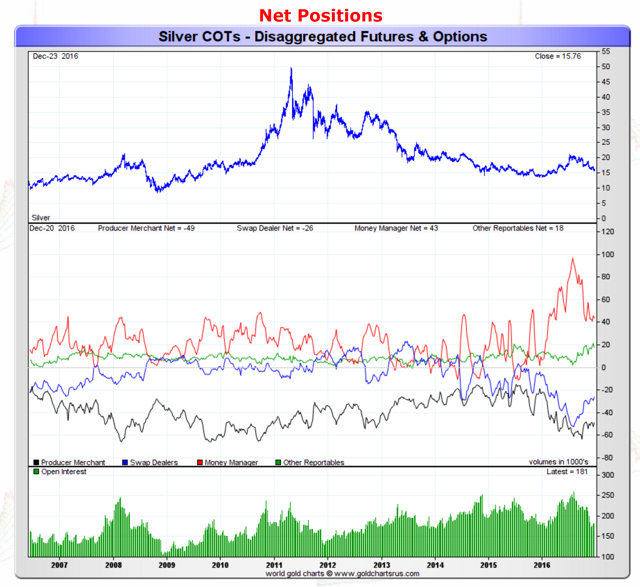 Source:
Sharelynx Gold Charts
The red line, which represents the net speculative positions of money managers, showed a drop in speculative positions for the week which should be no surprise since silver tends to track gold.
But as we have noted over the past few weeks, silver speculators are nowhere near as bearish as gold speculators as the net long position in silver is still relatively high compared to its ten-year chart. As silver investors, that makes us a bit nervous as we would like to see much lower levels of silver speculators, just like we see in gold. But we would still maintain our silver positions as we believe that its gold correlation would bring it up with gold if gold moves up, which we as contrarians believe will happen.
Indian and Chinese Gold Premiums
Gold and silver's weak performance over the past few months can clearly be attributed to speculative selling, just as its strong performance earlier this year was also due to speculators jumping (just look at the rise and fall in speculative positions for 2016). As contrarians, we are looking for reasons why another reversal could occur. One important one is that physical demand would pick up in the traditional gold strongholds, namely India and China.
Now is a very good time to pay close attention to what is going on over there in terms of gold and silver to get an idea what the physical demand picture looks like.
Let us first look at India.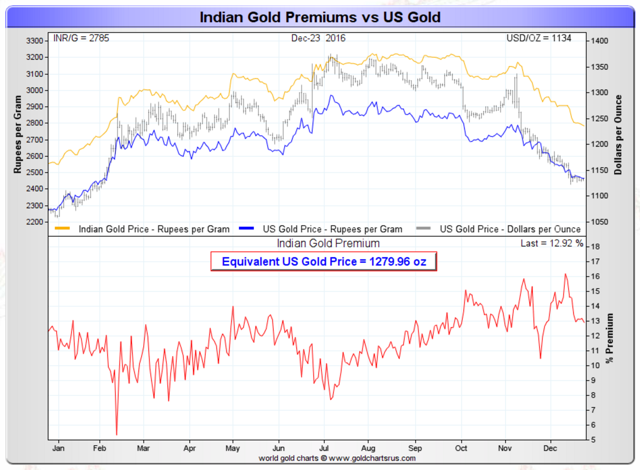 Source:
Gold Chartsrus
As investors can see in the chart above, gold premiums have dropped a bit from the highs seen in early December. Of course, the Indian economy is still adjusting to the demonetization move by Prime Minister Modi so we expect quite a bit of volatility as we move forward and Indians adjust to the demonetization. At this point, Indian premiums are relatively neutral and don't give us too much of an insight into physical gold demand, but
last month's surge in Indian gold demand
does suggest that demonetization so far has not hurt gold demand.
Moving over to China we see gold premiums spiking to some of the highest levels since 2013: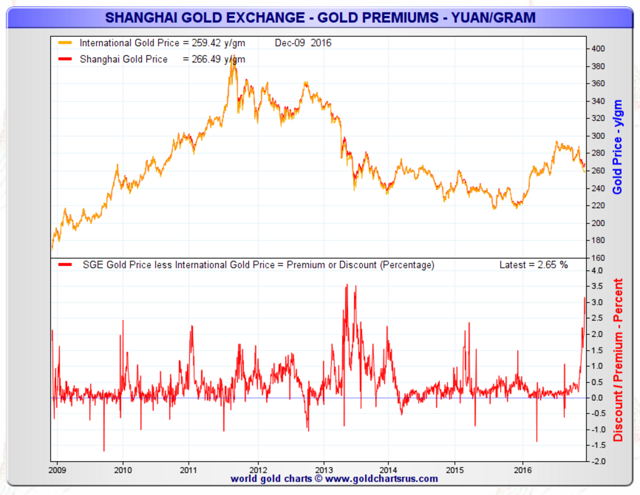 Source:
Gold Chartsrus
We are not sure what is truly going on in China's economy, but whatever it is, it is causing gold premiums to spike and we suspect physical gold demand is fairly strong. We will be eagerly awaiting the Swiss gold import numbers when they come out for November and December - but unfortunately they are a few months behind.
Our Take and What This Means for Investors
One of the great quotes from Rick Rule is "You are either a contrarian in commodities or a victim" in reference to the cyclicality of the commodities and precious metals industry. It is a market full of human emotions that manifests itself in prices, and right now it is clearly based on speculative trader positioning, that we are on the negative side of gold sentiment.
The speculative gold net long position is at some of the lowest levels of the past decade despite what we believe is a very constructive fundamental picture for gold (which we will detail in out 2017 outlook piece).
While gold speculators have been selling hand over fist, silver speculators have been selling at a much lower clip and their positions remain at much higher relative levels to their ten-year averages. That is a bit of a negative, but we still like silver as we believe its correlation with gold (which we believe will move up) will outweigh this fact.
Despite the six weeks in a row of price drops for gold, we are very bullish of gold and think investors should take this opportunity to buy the drop. As a contrarian, investors should be accumulating gold and the ETFs such as the SPDR Gold Trust ETF (NYSEARCA:
GLD
), the ETFS Physical Swiss Gold Trust ETF (NYSEARCA:
SGOL
), and quality precious metals miners and explorers. While silver's speculative positions are less bullish than gold, we still think it will track gold and thus being bullish on gold means being bullish on silver and the iShares Silver Trust ETF (NYSEARCA:
SLV
),