Speculators Finally Start Buying Back Gold Positions And Why Gold Investors Should Ignore Friday's FBI Announcement

by: Hebba Investments

- For the first time in a month, the net speculative gold long position rose.

- Despite this rise it was smaller than the previous moves over the past month.

- Silver speculative net long positions did something unusual and did not track gold as they fell during the week.

- While not back to historically average levels, as a contrarian we are starting to see silver get more attractive.


Friday's FBI statement regarding Hillary Clinton's emails are a non-event in our view and investors may see gold prices pull-back Monday morning as they reverse Friday's gains.

While last week's action in gold will certainly be overshadowed by the
US political events occurring on Friday
as the FBI found new emails that may be pertinent for the investigation into Hillary Clinton, we did see some noteworthy developments in gold speculative positions.
For the first time in almost two months, we saw the latest Commitment of Traders (NYSE:
COT
) report show that gold speculative longs increased their positions by more than a token amount. That
fit quite well with our call last week
that the unusual activity during the COT week seen only twice this year, resulted in positive moves in the gold market the following week.
We will give our view and will get a little more into some of these details but before that let us give investors a quick overview into the COT report for those who are not familiar with it.
The COT report is
issued by the CFTC
every Friday, to provide market participants a breakdown of each Tuesday's open interest for markets in which 20 or more traders hold positions equal to or above the reporting levels established by the CFTC. In plain English, this is a report that shows what positions major traders are taking in a number of financial and commodity markets.
Though there is never one report or tool that can give you certainty about where prices are headed in the future, the COT report does allow the small investors a way to see what larger traders are doing and to possibly position their positions accordingly. For example, if there is a large managed money short interest in gold, that is often an indicator that a rally may be coming because the market is overly pessimistic and saturated with shorts - so you may want to take a long position.
The big disadvantage to the COT report is that it is issued on Friday but only contains Tuesday's data - so there is a three-day lag between the report and the actual positioning of traders. This is an eternity by short-term investing standards, and by the time the new report is issued it has already missed a large amount of trading activity.
There are many different ways to read the COT report, and there are many analysts that focus specifically on this report (we are not one of them) so we won't claim to be the exports on it.
What we focus on in this report is the "Managed Money" positions and total open interest as it gives us an idea of how much interest there is in the gold market and how the short-term players are positioned.
This Week's Gold COT Report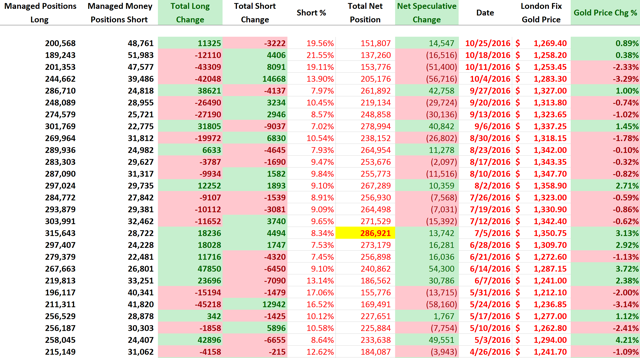 This week's report finally showed a rise in speculative gold positions as longs increased their positions by 11,325 contracts on the week, the first time in four weeks. On the other side, speculative shorts decreased their own positions by 3,222 contracts on the week - again for the first time in four weeks. While both moves weren't particularly large and were the smallest respective increase/decrease over the past month, it was still a move by speculators in the opposite direction.
Moving on, the net position of all gold traders can be seen below: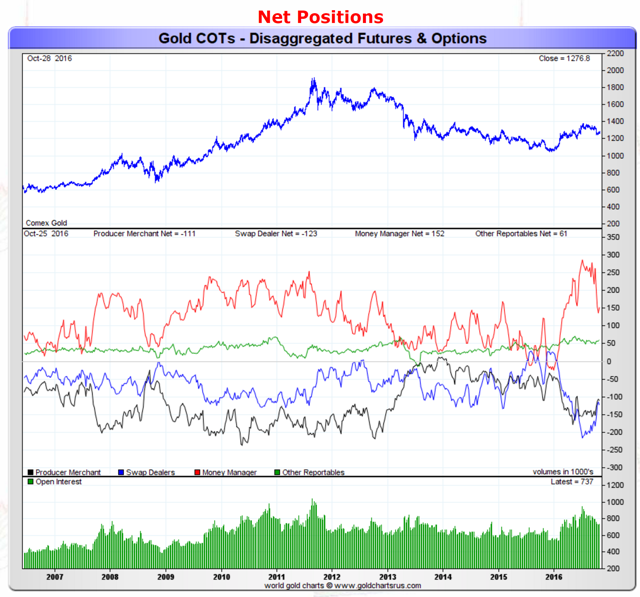 Source:
Sharelynx Gold Charts
The red-line represents the net speculative gold positions of money managers (the biggest category of speculative trader), and as investors can see, speculative traders stabilized the dropping net long position in gold. The jury is still out there if this is a change in mindset in the speculative gold market or simply a hiccup in the declining long position.
As for silver, the action week's action looked like the following: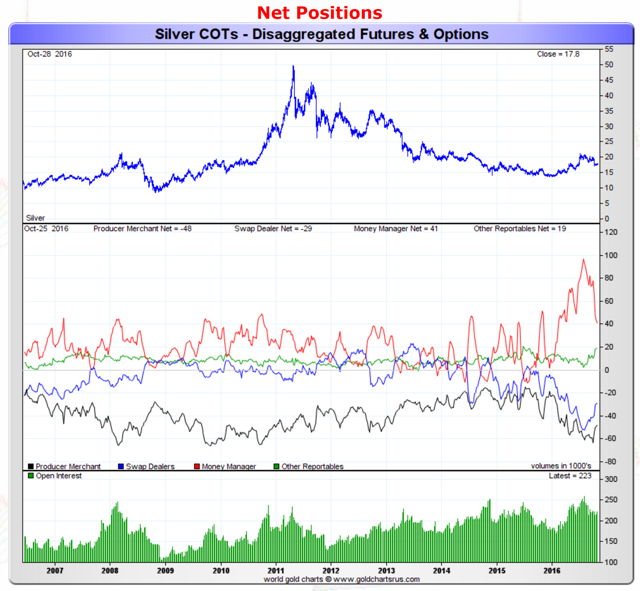 Source:
Sharelynx Gold Charts
The red line which represents the net speculative positions of money managers, continued to decline as speculative silver traders cut their long positions once again as short positions remained on hold for the week. This is an unusual occurrence as silver tends to follow gold, and gold net positions increased last week - this may be a continuation of what we discussed last week about the silver market being a bit more over-extended than the gold market.
Counter-intuitively this is actually good because we did want to see silver net positions pull back to more historically average levels, and we are almost there.
Our Take and What This Means for Investors
We cannot close this piece without offering our take on the FBI announcement regarding the Clinton email scandal. While the US Dollar plummeted and precious metals rose mid-Friday when the announcement was made, they lost a bit of the gains as markets closed at the end of the afternoon.
While gold investors may have been excited about this event, we are extremely cautious about it and we actually expect a bit of a pull-back Monday morning as the issue was made to be much bigger than it actually was. We actually expect the blowback to be more on James Comey, the FBI Director, than Hillary Clinton - and
it seems to have already started
. In fact, despite the widespread claims in the media that this development had prompted the FBI to "reopen" of the case, it did not; such investigations are never actually closed, and it is common for law enforcement to discover new information that needs to be examined. Finally, there is no indication the emails in question were withheld by Clinton during the investigation,
as a law enforcement official told Newsweek
, nor does the discovery suggest she did anything illegal.
While we are not certain that there will be no effect on US election voters, we think this is probably going to be a non-event as far as the gold market is concerned. Thus we see a good chance in a reversal of Friday's rise in the precious metals, and concurrently a rise in the US dollar as soon as Monday.
This may all be a good opportunity for investors to wait out that drop and buy back in previously sold or establish new positions in the gold ETF's such as the SPDR Gold Trust ETF (NYSEARCA:
GLD
), ETFS Physical Swiss Gold Trust ETF (NYSEARCA:
SGOL
), iShares Silver Trust (NYSEARCA:
SLV
), and some of the quality gold miners.