Speculators Sell While Gold Rallies, A Rare Event - Here's What Happened The Following Week

by: Hebba Investments



- Last week gold speculators sold their positions despite the rally in the gold price.

- This is a relatively rare event and has only happened twice this year.

- The week following both of these events led to significant gold rallies.

- Demand seems to be picking up in the East where Indian discounts have reversed to premiums and Chinese gold imports increased to the most since January.

- These are all good signs that it's time for investors to rebuild their gold positions.


Investors saw a slight rise in the gold price last week as gold seems to be trying to find a short-term bottom. While the gold price movements were not particularly interesting, we did see something very interesting happen in the Commitment of Traders (COT) report last week as the net speculative gold position dropped despite a rise in the gold price. That has only happened twice this year, and each time gold showed a substantial gain the following week.
Additionally, the net speculative position dropped once again to the lowest levels since March - which is a positive for the contrarians like us.
We will give our view and will get a little more into some of these details but before that let us give investors a quick overview into the COT report for those who are not familiar with it.
The COT report is
issued by the CFTC
every Friday, to provide market participants a breakdown of each Tuesday's open interest for markets in which 20 or more traders hold positions equal to or above the reporting levels established by the CFTC. In plain English, this is a report that shows what positions major traders are taking in a number of financial and commodity markets.
Though there is never one report or tool that can give you certainty about where prices are headed in the future, the COT report does allow the small investors a way to see what larger traders are doing and to possibly position their positions accordingly. For example, if there is a large managed money short interest in gold, that is often an indicator that a rally may be coming because the market is overly pessimistic and saturated with shorts - so you may want to take a long position.
The big disadvantage to the COT report is that it is issued on Friday but only contains Tuesday's data - so there is a three-day lag between the report and the actual positioning of traders. This is an eternity by short-term investing standards, and by the time the new report is issued it has already missed a large amount of trading activity.
There are many different ways to read the COT report, and there are many analysts that focus specifically on this report (we are not one of them) so we won't claim to be the exports on it.

What we focus on in this report is the "Managed Money" positions and total open interest as it gives us an idea of how much interest there is in the gold market and how the short-term players are positioned.
This Week's Gold COT Report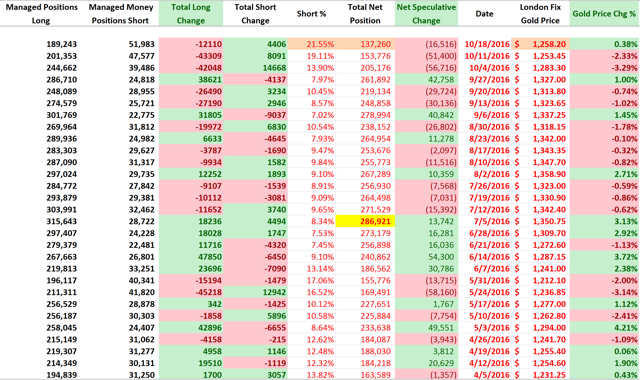 This week's report shows that speculative longs dropped once again for the third straight week (five out of the past six weeks) by 12,110 contracts. On the other side, speculative shorts increased their own positions by 4,406 contracts on the week.
What is also interesting here is that despite the decrease in the net speculative long position, gold actually rallied slightly on the week. This is not a very common occurrence and only happened twice this year, with the last time being the COT week report of 4/5/2016, and that was followed by a big positive week for gold - which on a technical level is bullish.
Moving on, the net position of all gold traders can be seen below: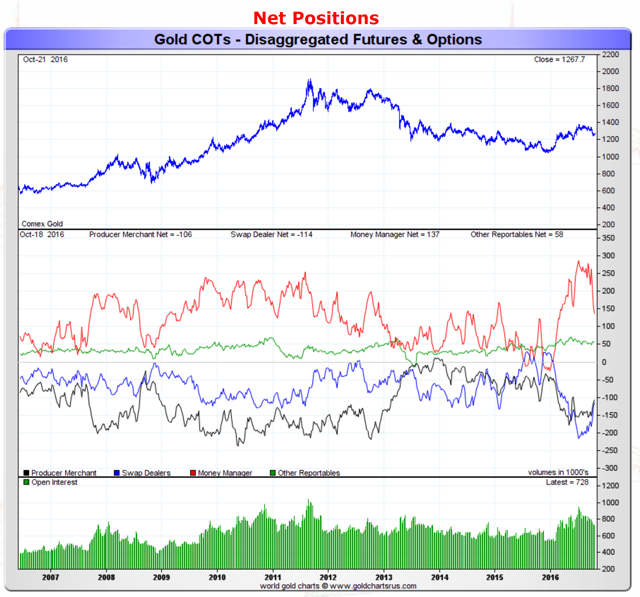 Source:
Sharelynx Gold Charts
The red-line represents the net speculative gold positions of money managers (the biggest category of speculative trader), and as investors can see, speculative traders have continued to pull back their positions to much more historical levels (at least similar to what we have seen during the previous bull market). For us as contrarian investors, that is a very positive sign as that means everyone is not fully invested in gold and it leaves plenty of room for traders to get bullish on gold moving forward and positively impact the price.
As for silver, the week's action looked like the following: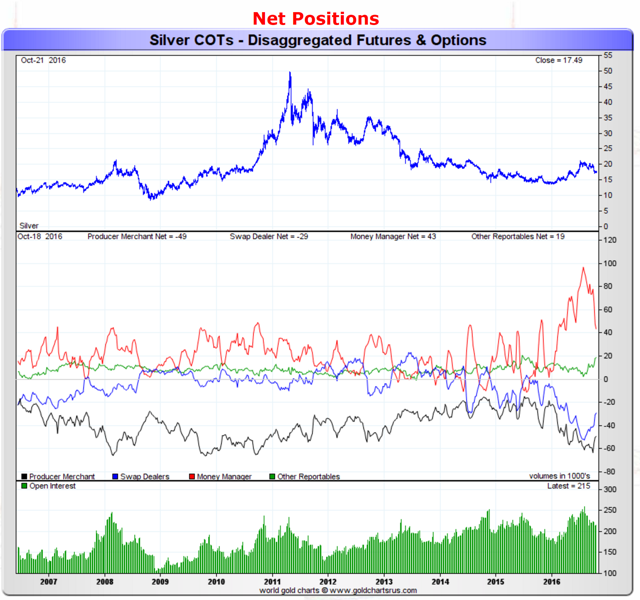 Source:
Sharelynx Gold Charts
The red line which represents the net speculative positions of money managers, continued its pullback as speculative silver traders cut their long positions and increased their short positions.
While that is a positive for contrarian silver investors, we do note that the net speculative silver position remains at higher levels than the historical norms seen during the previous bull market - a bit different than in the gold market.
While we are bullish on silver, this is one of the reasons why we are not as bullish on silver as on gold. Nevertheless, what is good for gold is usually good for silver in a more leveraged fashion, so thus we are not bearish on silver at this time.
Our Take and What This Means for Investors
Last week we went out on a limb and called what we believe is the short-term bottom in gold
for a number of reasons elaborated in this piece
. Based on this week's COT report and the unusual fact that speculative traders sold gold positions yet gold rallied, we feel more confident in that call.
So while speculative traders have been selling, we have been seeing evidence of gold demand increasing on the physical - which was
one of the keys we have been looking for in the gold market
. Thus for those investors who haven't yet rebuilt some of their previous gold positions, we think this is a gift opportunity to increase physical gold and positions in the gold ETFs such as the SPDR Gold Trust ETF (NYSEARCA:
GLD
), ETFS Physical Swiss Gold Trust ETF (NYSEARCA:
SGOL
), iShares Silver Trust (NYSEARCA:
SLV
), and some quality gold miners - which is a topic for another article.