Deutsche Bank: Get Ready For A Bail-In
- A proposed U.S. fine of $14 billion dollars against Deutsche Bank may push the bank into insolvency.

- The bank has already paid billion dollar fines for LIBOR manipulation and has thousands of legal complaints against it.

- Deutsche's capital ratio is extremely thin and it has massive derivatives exposure.


With an election next year, a government bailout is not tenable. Instead, a bail-in will have to take place.

Deutsche Bank (NYSE:
DB
) is frequently in the news, and the news about it is just as frequently bad. On Monday, September 26th, its stock was down over 7% in New York trading (at a price being reported as a record low) after Angela Merkel said over the weekend that the German government wouldn't support state aid for the bank in relationship to a $14 billion U.S. fine involving the sale of defective mortgage products. The bank claims, however, that at no point did it ask Merkel to intervene. A government spokesman said it was a non-issue. It's not the first fine that Deutsche Bank has received a fine, although this is the biggest one by far, nor is it the only problem the bank is facing.
Deutsche Bank Trading 2016 Year-to-Date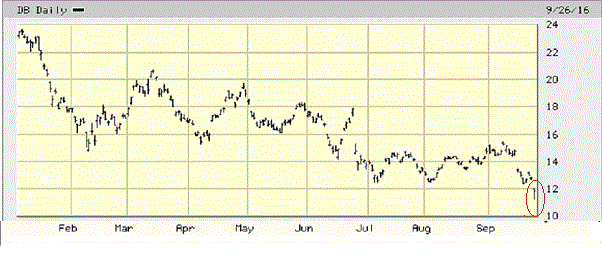 While Deutsche Bank has said it will fight the U.S. Justice Departments levy, considering its record, it may not get far. Deutsche Bank has paid large fines before. In relation to accusations of LIBOR manipulation, it paid almost $1 billion in December 2013 and $2.5 billion in April 2015 (with 29 employees potentially facing criminal charges based on comments by the U.K.'s Financial Conduct Authority). In February 2014, Deutsche paid $1 billion for contributing to the collapse of the Kirsch Media Group. As for fines against Deutsche Bank that have been in the mere millions, they are too numerous to mention.
The problem with expenses for fines was already so bad by 2013, that in February of that year, the bank had to postpone issuing its annual report and call a special shareholder meeting dealing with the company's legal problems. The situation seems to have only become worse since than with the bank currently involved with 7,000 legal complaints against it (according to the Guardian). The bank has approximately $5 billion set aside for litigation, but this doesn't appear to be nearly enough. Since Deutsche Bank's market capitalization is only $18 billion (based on reports in the Financial Times), the upcoming legal costs could be as much as this amount.
It would be serious enough if massive regulatory fines were Deutsche's only problems, but they aren't. Deutsche's capital ratio if often described as "thin." A banking analyst in 2014 privately described it to me as, "statistically indistinguishable from zero." In March 2015, Deutsche Bank failed the Fed's stress test and it did so again in 2016 (one of only two banks to do so). Despite ranking in the bottom 10 of 51 European banks, Deutsche Bank passed the EU's less demanding stress tests this July (the bar is set very low compared to bank stress tests conducted in the U.S.). In mid-September, FDIC Vice Chairman Hoenig stated that Deutsche's status as the riskiest bank among its peers was worsening. The ratio of its lender's capital to its assets was the lowest of the world's major Banks.
Deutsche's capital ratio is not only thin, but the bank also has a problem with derivatives. According to its 2015 annual report the notational amount of derivatives on its books was 41.9 trillion euros (more recently reported as 52 trillion euros). This is one reason that the IMF in late June called it the greatest risk to the global financial system. While the derivatives exposure should be considered serious, it man not be as bad as it appears because EU bank derivatives reporting is different from that of U.S. banks.
The biggest critic of Deutsche Bank, however, is the stock market itself. The stock is trading at least as low as it has since 1983, although some claim it is at an all-time low. The stock has dropped precipitously this year. It is trading well below its lowest point during the 2008-09 Credit Crisis. One source lists its price to book value as 0.22. This is especially indicative of a potential failure in the near future as explained in "
Zombie Banks: Low Price/Book Ratios Characterize The Walking Dead
".
Deutsche Bank Trading Lower Than It Did During the Credit Crisis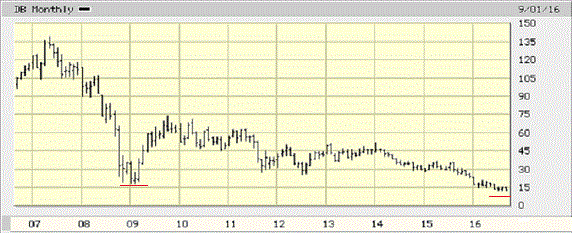 Financial institutions can only operate if other financial institutions are willing to do business with them. They fail once that is no longer the case, and that can happen in a very short period of time.
Bear Stearns failure in March 2008 is a case in point. Deutsche Bank is currently in the zone where something like this can happen. It has been on the edge of this zone for at least two years now. The recent massive fine from the U.S. could easily push it over that edge. Right now, the market is hopeful that the bank will be able to reduce that fine substantially. If that hope disappears, Deutsche Bank may go with it.
Since there is a major election in Germany next year, a government bailout of Deutsche Bank is not a tenable solution. Therefore, there will have to be a bail-in. Stockholders, bondholders and large depositors will likely all have to pay for to resurrect this too big to fail bank. It is not a good idea to be in any of these groups at the moment, at least not on the long side. There is simply too much risk of a major loss. Agressive traders can consider shorting both the stock and bonds.