U.S. Mint Halts Silver Bullion Sales: Here Is The Takeaway For Investors

by: Hebba Investment

- Reports are circulating that the U.S. Mint is halting silver sales to Authorized Participants.

- We think this isn't particularly surprising, since Silver Eagle sales are down 12% YoY and more than 70% in July.

- Investors simply aren't buying Silver Eagles in the same numbers as they had previously, and we think investors should pay close attention.

- Without physical demand, we think we will see further weakness in silver price, as we don't see any other source of demand making up for it.

- We like silver in the long run, but now is not the time to be a new buyer of silver.


There have recently been reports that the
U.S. Mint has halted production of the Silver Eagle bullion coin
, which is the most popular silver bullion coin in the world. The report states that Authorized Purchasers (the only entities eligible to purchase from the U.S. Mint) had previously purchased large amounts of silver bullion in anticipation of selling it to silver dealers and bullion stores, but with lagging physical silver demand for bullion coins, these Authorized Purchasers have plenty of inventory on hand, and currently are not interested in buying more silver from the U.S. Mint.
We are looking to verify these reports from the U.S. Mint, but taking a look at recent silver demand (or lack thereof), we wouldn't be surprised if these reports are accurate.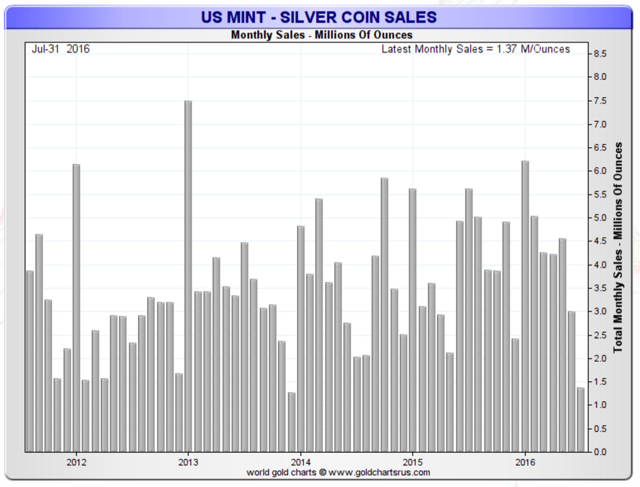 (Source:
Sharelynx Gold Charts
)
As investors can see in the chart above, silver sales in July registered 1.37 million ounces, which was the lowest since December 2013. Also, investors need to note that Decembers tend to be the lowest-selling months, as many buyers hold off purchases in anticipation of the new year's bullion coins - so the fact that we're seeing "December" levels in July is really negative for silver bullion demand. For those interested in the year-over-year numbers, July 2016's sales of 1.37 million ounces are down a stunning 75% from the July 2015 monthly total of 5.5 million ounces!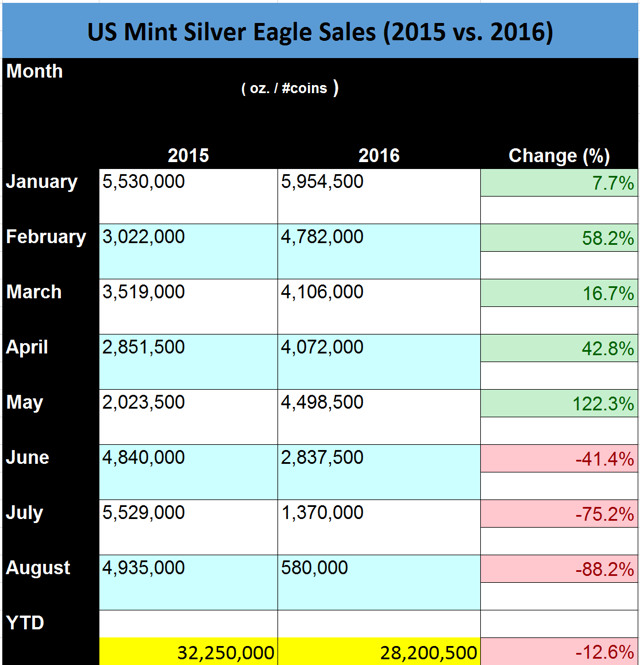 Adding on to this is the fact that so far, we are three weeks into August, and sales are only registering 580,000 silver ounces sold. If that rate keeps up, we are going to have a tough time reaching the 1 million ounce threshold, which would be the lowest in a decade.
Implications for Silver Investors
Of course, we are just reporting on one government mint here, but since it's the largest seller of silver bullion coins in the world, we think any weakness seen in U.S. Mint silver sales will also be seen in the other mints worldwide. Therefore, we think it's fair to say anybody who is looking at the market in an unbiased fashion will have no choice but to say that sales of silver bullion coins are experiencing severe weakness.
So what does this mean for the silver price? After all, we know that we saw record-breaking numbers in silver bullion sales over the past few years, yet the silver price continued to decline despite these sales numbers.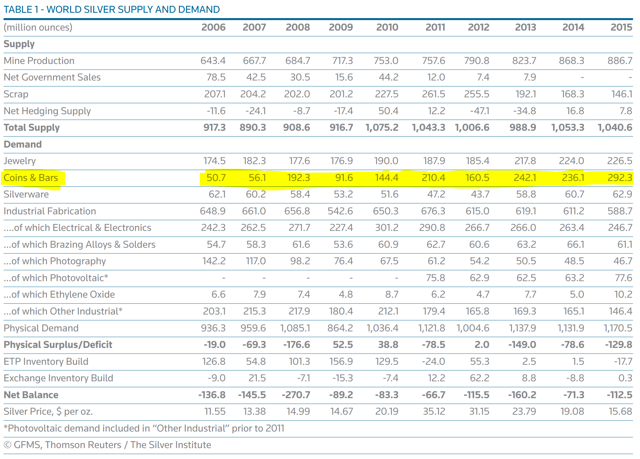 (Source:
The Silver Institute
)
As investors can see in the table above, silver coin and bar sales for 2015 totaled 292 million ounces, which is the highest total in a decade, as investors continued to snap up silver in large quantities. This increase in investment demand more than made up for the weakness seen in industrial demand (589 million ounces).
If we take the U.S. Mint numbers YTD (down 12%) and apply that to silver coin and bar demand for 2016, we would figure that 2016 demand would drop from 2015's 292 million ounces to around 260 million ounces in 2016, or a loss/market surplus of around 32 million ounces. While some of this certainly could be made up by increased ETF demand for physical silver bars, unlike the gold market, silver ETFs didn't lose a lot of silver over the past few years, and thus, their inventories are not particularly low, as show in the chart below:
There simply wasn't a huge amount of silver sold by the ETFs, and so we think it is unlikely that they will make up the demand gap that we are seeing based on very weak silver bullion sales.
Thus, we think this a very dangerous time for silver bulls, as the physical investment market is weak, and
as we recently have shown
, speculative investors have taken ultra-bullish record-setting positions in the metal. Regardless of whether the reports of the U.S. Mint halting silver sales are accurate, weak bullion demand is not a positive sign for the silver market, and we think the clear takeaway here is that investors should be very cautious.
Despite being long-term precious metals bulls (and thus, holding our core position), we are looking to wait for a silver pullback below what we had previously stated. We mentioned that we wanted to see silver pullback to around the $18.50 level before reopening some of our sold silver trading positions.
We wouldn't be surprised to see silver drop below $18 per ounce, especially if paper silver demand starts weakening and that forces ETFs to start selling silver on the open market.
We think investors should hold off on acquiring new physical silver, silver ETF positions (
SLV
,
PSLV
,
SIVR
), or positions in silver miners such as Pan American Silver (NASDAQ:
PAAS
), Tahoe Resources (NYSE:
TAHO
), and First Majestic Silver (NYSE:
AG
) - though we're not suggesting these companies specifically. It is hard to be bullish on silver with these facts sitting in plain view in front of us, and unless we see a major financial calamity, we think there is going to be a better time to buy silver than at current prices.
"After spending many years in Wall Street and after making and losing millions of dollars I want to tell you this: It was never my thinking that made the big money for me. It was always my sitting. Got that? My sitting tight!"
Despite the unprecedented monetary situation that we find ourselves in, and the attractiveness that precious metals provide as a hedge to this uncertainty, we think the prudent move for PM investors is to sit tight.