Despite The Gold Pullback, Investors Need To Prepare For This Upcoming Catalyst That May Drop Gold Further

by: Hebba Investments


- The latest COT report showed both speculative longs and shorts closing out positions.

- We still have an over-extended speculative long position.

- A hawkish Fed and Janet Yellen's upcoming Jackson Hole speech are potential negative catalysts for gold.

- We don't think it's prudent yet to reestablish our gold and silver trading positions until we see more of a pullback.


Investors saw a slight drop in the gold price last week as gold continued its string of early week gains followed by late week weakness. When all was said and done, gold ended the COT week (closing on Tuesday) only slightly down from the previous week, with both speculative longs and shorts both lowering their outstanding positions. We are still not ready to reopen some of our trading gold positions yet as we want to see a bit more of a pullback from still over-stretched long positions, and with the
Fed becoming a bit more hawkish
, we are wary of Janet Yellen's Jackson Hole speech scheduled for this upcoming Friday (8/26/16).
We will give our view and will get a little more into some of these details but before that let us give investors a quick overview into the COT report for those who are not familiar with it.
About the COT Report
The COT report is
issued by the CFTC
every Friday, to provide market participants a breakdown of each Tuesday's open interest for markets in which 20 or more traders hold positions equal to or above the reporting levels established by the CFTC. In plain English, this is a report that shows what positions major traders are taking in a number of financial and commodity markets.
Though there is never one report or tool that can give you certainty about where prices are headed in the future, the COT report does allow the small investors a way to see what larger traders are doing and to possibly position their positions accordingly. For example, if there is a large managed money short interest in gold, that is often an indicator that a rally may be coming because the market is overly pessimistic and saturated with shorts - so you may want to take a long position.
The big disadvantage to the COT report is that it is issued on Friday but only contains Tuesday's data - so there is a three day lag between the report and the actual positioning of traders. This is an eternity by short-term investing standards, and by the time the new report is issued it has already missed a large amount of trading activity.
There are many different ways to read the COT report, and there are many analysts that focus specifically on this report (we are not one of them) so we won't claim to be the exports on it. What we focus on in this report is the "Managed Money" positions and total open interest as it gives us an idea of how much interest there is in the gold market and how the short-term players are positioned.
This Week's Gold COT Report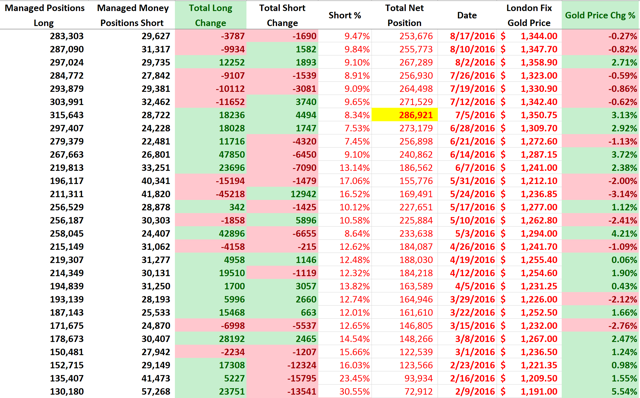 This week's report showed both speculative gold longs and shorts paring back their positions with longs closing out 3,787 contracts and shorts closing out 1,690 contracts on the week. All of this resulted in a slight drop to the net long position bringing it down to 253,676 outstanding contracts.
Moving on, the net position of all gold traders can be seen below: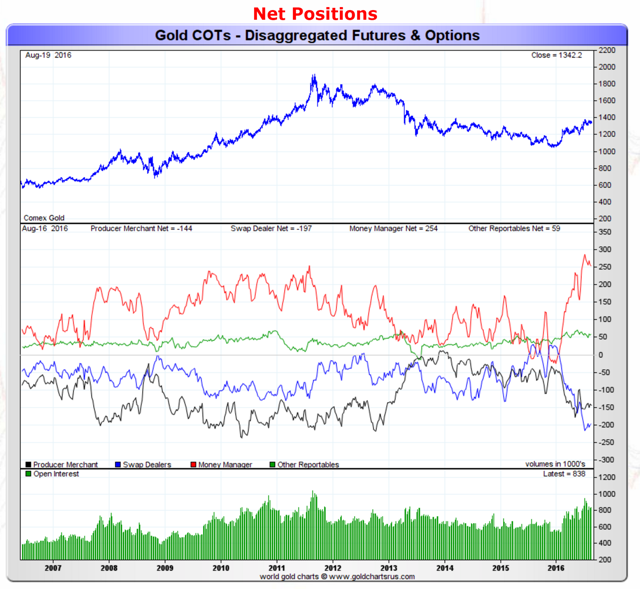 Source:
Sharelynx Gold Charts
The red-line represents the net speculative gold positions of money managers (the biggest category of speculative trader), and as investors can see, speculative traders have slightly pulled back from all-time high positions are now net long by around 254,000 contracts. Right now for our trading positions in gold (our core gold position we are keeping), we still remain on the sidelines and are looking for more of a pullback to closer to the 200,000 net long contract level before we start buying back in.
As for silver, the action week's action looked like the following: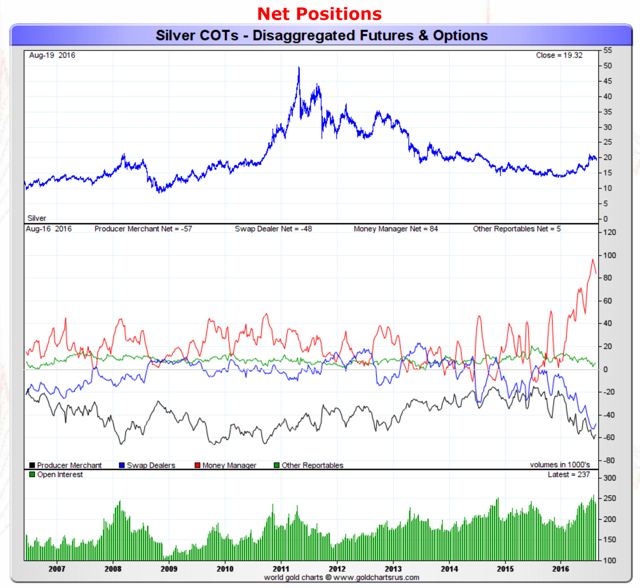 Source:
Sharelynx Gold Charts
The red line which represents the net speculative positions of money managers, continued its pullback as speculative silver traders cut their long positions and increased their short positions. Investors should remember that this report closed on Tuesday when the silver price was $20.03, and since it currently sits around $19.25, we think that the speculative net long position is actually a bit lower than shown above. Since we expect gold to pullback a bit, we think silver will follow it down as they still are very correlated, but we are interested and we will start looking to re-establish our speculative trading position in silver if it drops further to $19 per ounce.
Our Take and What This Means for Investors
As we mentioned earlier, we believe that based on the COT report, gold and silver traders are still over-stretched in their long positions in the metals and we expect a further pull-back than what we saw last week. Additionally, the Fed minutes
were in our view a bit hawkish
and the fact that New York Fed President William Dudley mentioned on Tuesday during an interview on Fox Business Network that the U.S. central bank is "edging closer" to another hike with "the market being complacent", only reinforces our view that the gold market is also a bit complacent about the potential for rates to rise.
Finally, Janet Yellen is giving the annual and widely anticipated "Jackson Hole" speech on Friday, and that puts a potential catalyst on the table for the gold market to react negatively.
Investors need to remember that this annual Fed symposium has sometimes been used by Fed chairs to make important policy pronouncements. If Ms. Yellen uses this platform to try and increase market expectation for a rate increase that would be negative for the gold market, which when paired with a still very high speculative net long position, could create the big gold market drop we have been expecting for a few weeks now.
Thus despite the drop in the gold price we believe investors have to be careful here as there is plenty of room to drop further and the Jackson Hole speech (and the anticipation leading up to it) is a potential catalyst for this pullback.
We still will keep our core positions in gold, as these are long-term holds and we are ultimately gold bulls in this financial environment, but we aren't looking to re-establish any of our sold gold and silver positions just yet until we see more of a pullback in the metals and thus we think investors should hold off or lighten up on gold positions in the ETFs and miners such as the SPDR Gold Trust ETF (NYSEARCA:
GLD
), ETFS Physical Swiss Gold Trust ETF (NYSEARCA:
SGOL
), iShares Silver Trust (NYSEARCA:
SLV
), and miners such as Randgold (
GOLD
) and Barrick Gold (NYSE:
ABX
).