CME Raises Margins Again And Here Is What It Means For Gold Investors

by: Hebba Investments
.

- The CME just raised margins on gold and silver contracts.

- Raising margins makes it more expensive for speculators to keep their positions.

- Since most of this recent rally has been driven by paper market investors, we think the implications of this move are bearish for short-term gold prices.


On Thursday afternoon on July 8th, the Chicago Mercantile Exchange (NASDAQ:
CME
) made an important announcement that was a bit under the radar for most investors. The CME announced that it was raising the minimum requirements for performance bonds for a number of commodities, though for this piece our focus is primarily the gold and silver futures.
Performance Bonds, also known as margins, are deposits held at CME Clearing to ensure that clearing members can meet their obligations to their customers and to CME Clearing (
more details can be found at the CME website
). Essentially this is the margin required to initiate and maintain a position at the CME. Increases in minimum requirements reduce the purchasing power of commodity investors and vice versa.
For many different silver contracts, margin requirements were raised by a little over 9%, with the 1000 ounce contract shown below: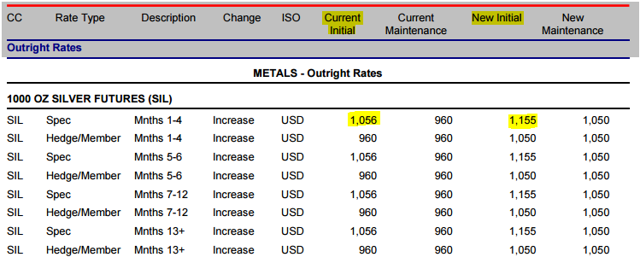 Source:
CME
As for gold, the margin change was only on the kilo contract, but it was a stunning 60% increase: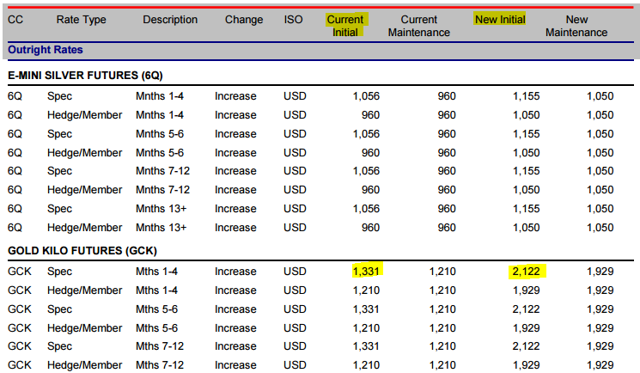 Source:
CME
These new margin requirements will take affect close of business on Friday July 9th.
What this Means for Gold and Silver
Silver investors who have held silver since 2011 will remember the same action by the CME when silver reached its peak of close to $50 per ounce - and the resulting drop in the price.
Essentially, increased margin requirements require investors have more money down to maintain positions and while a $200-$1000 increase per contract doesn't sound like much, it certainly is if investors are leveraged up on the bullish end of the contract.
The key here is this will only affect leveraged and not traditional buy and hold investors - if people aren't buying on margin then this change will have no effect. But with the recent run-up in gold and silver, we're seeing much less in terms of physical demand (Chinese and Indian gold is trading at much lower premiums, and even discounts to what we have seen over the past few years) and much more paper purchasing which is evident in the heavy ETF purchases and the increasing Open Interest on the CME.
Finally, this isn't the first time that the CME has raised margin requirements over the past month - it's the third time. Thus it should be pretty obvious to investors that the CME is concerned about some of the leverage and volatility in the gold and silver markets.
We have been worried about the very lopsided positions in the gold and silver markets
with historical highs in bullish sentiment
. The fact that the CME is raising margins in the market is another worrisome sign for the short-term price action in gold and silver.
Despite our negative sentiment, gold and silver has continued to rise and make new multi-year highs as we have gone from all-time bullish sentiment highs to even greater bullish sentiment amongst investors. At a certain point though, gravity comes back to any investment and without strong physical demand to support the paper demand, we are worried that these new and leveraged gold and silver investors will hit the exits as fast as they came in.
Thus we urge investors to be extremely cautious here as physical demand seems to be lackluster. Of course we wouldn't sell any core gold or silver positions here as the financial world is a mess right now, but we think it's the right move for precious metals investors to take some profits here in the gold ETF's (SPDR Gold Shares (NYSEARCA:
GLD
), PHYS,
SLV
) and gold miners such as Goldcorp (NYSE:
GG
), Agnico-Eagle (NYSE:
AEM
), and Newmont (NYSE:
NEM
). A lot of paper investors with historically high bullish sentiment and now the CME raising margin requirements is usually not a good mix for the short-term price action of gold and silver.
What we would need to see to change our minds is strong physical demand coming back to the markets, or a "black swan" type event that would either cause market chaos. At this point we don't see that so caution is the name of the game here in the gold and silver markets - all the cards are in place for a significant pullback so precious metals investors need to be really careful here.