This Week's COT Gold Report: A Move By Commercial Traders Unprecedented In Report's History

by: Hebba Investments

Speculative traders abandoned gold positions at a tremendous rate over the past week.

While speculative bulls were dropping their gold contracts, larger commercial traders were buying up gold long contracts at the fastest rate in the report's history.

While we have been bearish on gold for the past few weeks, we now think it is a good time for investors to start re-establishing gold positions.

In the latest Commitment of Traders report (COT), we saw something very unusual happen but it wasn't on the speculative side. Speculative traders did what we expected them to do with the price downturn - longs sold hand over fists while shorts increased their own positions. But what was unusual was that Commercial traders (the big buyers of gold) increased their positions by the largest weekly amount in the history of the new COT report.
We will get a little more into some of these details but before that let us give investors a quick overview into the COT report for those who are not familiar with it.
About the COT Report
The COT report is
issued by the CFTC
every Friday, to provide market participants a breakdown of each Tuesday's open interest for markets in which 20 or more traders hold positions equal to or above the reporting levels established by the CFTC. In plain English, this is a report that shows what positions major traders are taking in a number of financial and commodity markets.
Though there is never one report or tool that can give you certainty about where prices are headed in the future, the COT report does allow the small investors a way to see what larger traders are doing and to possibly position themselves accordingly. For example, if there is a large managed money short interest in gold, that is often an indicator that a rally may be coming because the market is overly pessimistic and saturated with shorts - so you may want to take a long position.
The big disadvantage to the COT report is that it is issued on Friday but only contains Tuesday's data - so there is a three day lag between the report and the actual positioning of traders. This is an eternity by short-term investing standards, and by the time the new report is issued it has already missed a large amount of trading activity.
There are many different ways to read the COT report, and there are many analysts that focus specifically on this report (we are not one of them) so we won't claim to be the exports on it.
What we focus on in this report is the "Managed Money" positions and total open interest as it gives us an idea of how much interest there is in the gold market and how the short-term players are positioned.
This Week's Gold COT Report
This week's report shows a huge decrease in gold speculators as longs decreased their gold positions while shorts increased their own positions.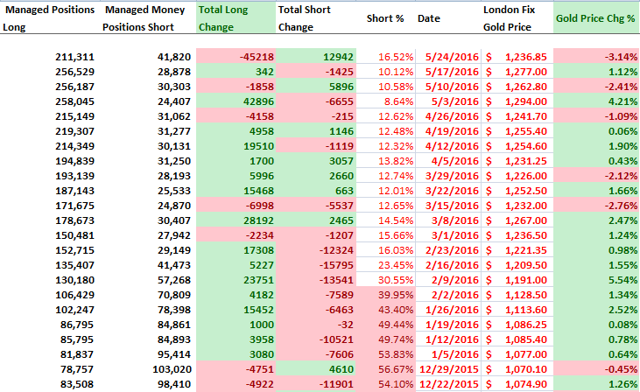 We want to emphasize to investors that this report closed on Tuesday, so it doesn't include any of the subsequent action in gold - and since that action was negative we think the actual current numbers are even more negative than those shown above. As we can see above, gold bulls decreased their positions by a tremendous 45,218 contracts which is the largest we have on record, while shorts increased their positions 12,942 - a good amount but not as much as we expected.
The net position of all gold traders can be seen below: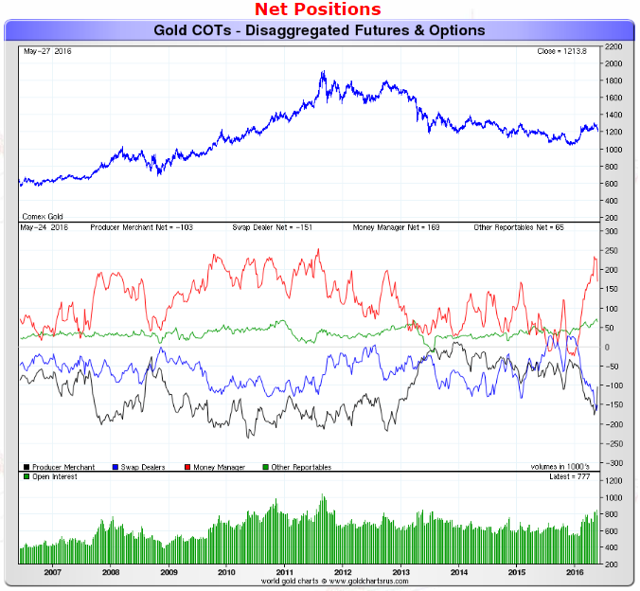 Source:
Sharelynx Gold Charts
The red-line represents the net speculative gold positions of money managers (the biggest category of speculative trader), and as investors can see we saw a huge pullback in the past week as the red-line went vertical (in a negative fashion). We are still fairly high in terms of historic speculative net long positions, but we're getting to much more comfortable levels - at least from our perspective as long-term gold bulls.
Before we move to silver, we wanted to point out the commercial positions in gold: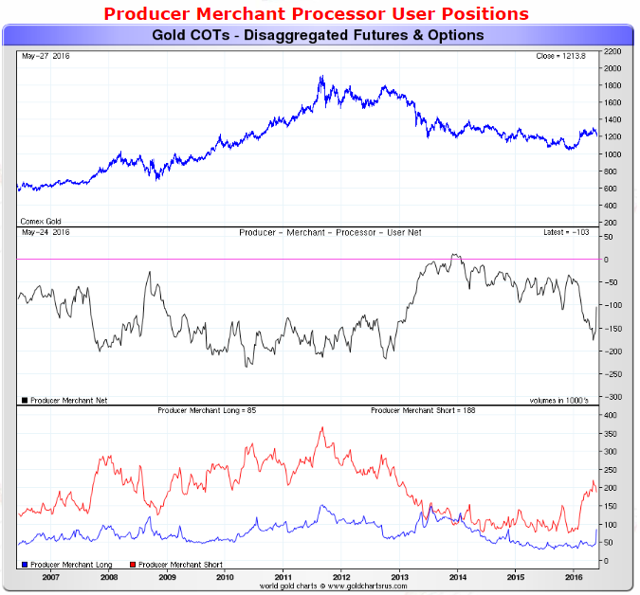 Source:
Sharelynx Gold Charts
What is so surprising about the table above is the huge increase in commercial gold long positions. Investors should look at the jump in the blue line (long positions) as it represents a massive 37,946 contract increase, which is the largest that we have seen in the history of the COT report (at least since 2006). Since these commercial traders represent merchants and bullion banks who tend to be net short gold most of the time as they hedge their physical gold positions, it is extremely bullish when we see them purchase a lot of long gold contracts.
As for silver, the action saw a net decrease in longs for the week, while shorts only increased slightly: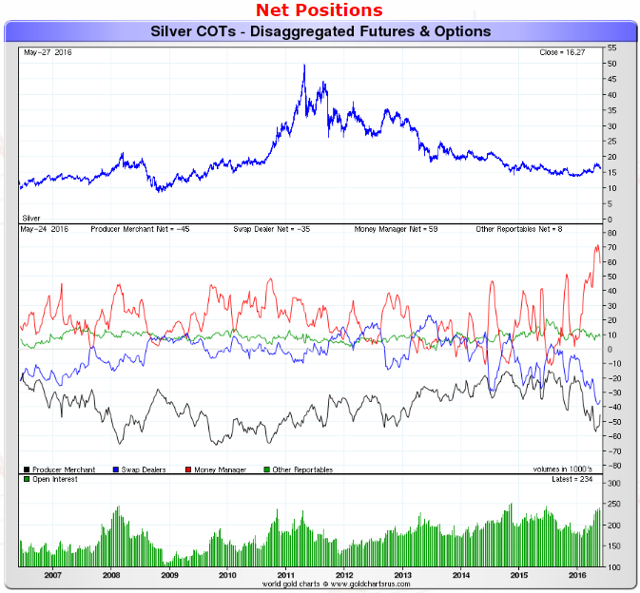 Source:
Sharelynx Gold Charts
While we saw longs decrease for the week, which was expected as the silver price dropped, we saw very little action in speculative shorts as they increased by a mere 978 contracts for the week compared to over 7,000 long contracts closed our during the week. While not bearish, we would rather see shorts building their positions up rather than just decreases in speculative longs because there is much more bullish firepower with larger short positions.
Our Take and What This Means For Investors
This week's report was very interesting as we saw some action that took out previous historical precedents. Speculative longs dropped by over 45,000 contracts, which was the largest in the history of the report. We also saw another record-breaking move in Commercial longs, as they increased their gold positions by over 37,000 contracts during the week - another record-breaker for this report.
So what does this tell us? While we don't know why Commercials decided to rush in and buy long gold contracts, in our view it certainly is very bullish as these are the entities that really know the market much better than the speculative traders. After all, they're the ones that hold large gold inventories, and thus tend to be net short as they use their paper positions as hedges on their physical positions. If they decide to buy up long contracts so significantly it is something investors should note. Additionally, this report was issued when gold was around 2% higher than Friday's close - so current positions are probably even more negative than what was seen in the report (which is bullish for contrarians).
While we won't be surprised to see gold test the $1200 level as the human traders behind it tend to like to test big round numbers, we're becoming much more bullish with gold in the short-term - and it's been a while. Thus we are currently interested in re-establishing some of the positions that we had sold over the past few weeks. Thus we think investors should consider nibbling on gold positions in ETF's and miners such as the SPDR Gold Trust ETF (NYSEARCA:
GLD
), iShares Silver Trust (NYSEARCA:
SLV
), ETFS Physical Swiss Gold Trust ETF (NYSEARCA:
SGOL
), and Randgold (
GOLD
). We still expect gold to fall a bit further and test $1200, but we think the risk-reward now favors at least establishing positions.