The Fortunes Of Gold Change As The Fed Turns
The fortunes of gold have been great since the start of the year and the turn of the Federal Reserve from its hawkish plans in December to caution.

Even now, Fed Funds Futures do not indicate much of a chance of a Fed rate hike until September.

However, the Federal Reserve's most recent forecasts indicate its expectations for at least two more hikes before the end of the year.

I expect the Fed will raise rates in June and will do so again another one or two times more before the close of the year.

As expectations around the Fed's plans change again, so the dollar should again price them in, and so the fortunes of gold must change as well.

As the Fed turns, or as perception of the Federal Reserve's plans for this year change, so should gold's fortunes. Gold has benefited significantly this year from a shift of expectations for the Fed. It is my expectation that those perceptions will turn again, but in a fashion that is detrimental to gold this time.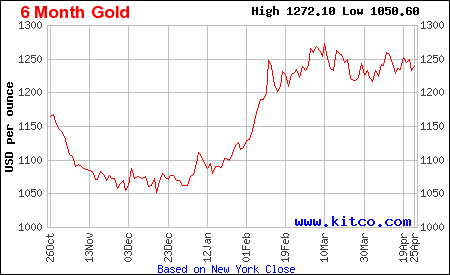 The 6-month chart of spot gold prices illustrates an important change. In December of last year, after the Fed altered its interest rate course via its first hike of the Fed Funds Rate in years, expectations were for four more rate hikes in 2016. The Federal Reserve's own forecasts led us to that expectation, with December dot-plot data showing Fed member expectations for four rate hikes this year. That led gold prices to their trough, but not for long.
At the very start of 2016, data and direction from China started an economic scare that we remain somewhat haunted by today. As a result, by the time the Federal Open Market Committee (FOMC) met in March, nobody expected another rate action and we didn't get one. The Fed had changed its tune due to a slew of issues, including stock market volatility and oil price touchdown in February. Ongoing concerns about Europe and China met soft U.S. economic data that remains in question today.
However, given my expectation for a solidifying U.S. economy as the year progresses, and the recently hawkish tone of some Fed members, the Fed should once again be raising rates this year before long. The FOMC is currently meeting and will issue its latest Monetary Policy Statement on Wednesday afternoon. Though, I expect the next rate hike to come at the June meeting, and another to follow in either September or December. I would not rule out the possibility of three rate hikes this year in total before the year is through.
Given the Fed's latest
economic projections published in March
, the Fed should raise rates at least another two times before the year is through. However,
Fed Funds Rate futures indicate
no chance of a hike in April, a small chance in June, and just a 50% chance in September. Clearly, Fed action in June is not priced into the market, and therefore, it is not priced into the value of the dollar or gold prices.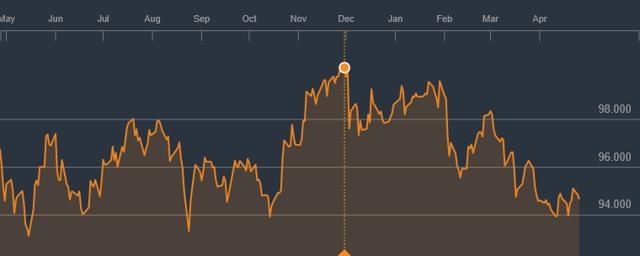 The chart of the dollar index shows how much more value the greenback held in December versus currently. I expect much, if not all, of that value to return as the Fed turns again in the direction of monetary policy tightening. Given that a June rate action is hardly anticipated by the Fed Funds Futures, as the June meeting approaches the dollar and gold should begin to price it in. And then if the Fed acts in June, the market must price in the possibility of one or two more rate hikes for 2016.
That portends poorly for the price of gold and gold relative issues.
| | |
| --- | --- |
| Precious Metal Securities | YTD Gain |
| SPDR Gold Trust (NYSE: GLD) | +17% |
| iShares Gold Trust (NYSE: IAU) | +17% |
| iShares Silver Trust (NYSE: SLV) | +23% |
| Direxion Daily Gold Miners Bull 3X (NYSE: NUGT) | +229% |
| Direxion Daily Gold Miners Bearish 3X (NYSE: DUST) | -87% |
| Market Vectors Gold Miners (NYSE: GDX) | +64% |
| Market Vectors Junior Gold Miners (NYSE: GDXJ) | +73% |
| Goldcorp (NYSE: GG) | +47% |
| Newmont Mining (NYSE: NEM) | +73% |
| Randgold Resources (NASDAQ: GOLD) | +49% |
| Barrick Resources (NYSE: ABX) | +119% |
| Yamana Gold (NYSE: AUY) | +126% |
| Gold Fields Ltd. (NYSE: GFI) | +47% |
| Silver Wheaton (NYSE: SLW) | +48% |
| Coeur Mining (NYSE: CDE) | +177% |
Gold and gold relatives have enjoyed a superb year-to-date, but as the fortunes of gold change, so will the fortunes of gold relative investments. It's time to take profits in gold.