Is The Gold Price Heading To $1,000?
Citi believes that gold could be heading to $1,000 per troy ounce.

While we are undecided on this, we do see limited upside now our two key catalysts to driving gold higher are fading.

We have turned our attention to the U.S. dollar and expect a return of up to 9.4 percent this year if certain conditions are met.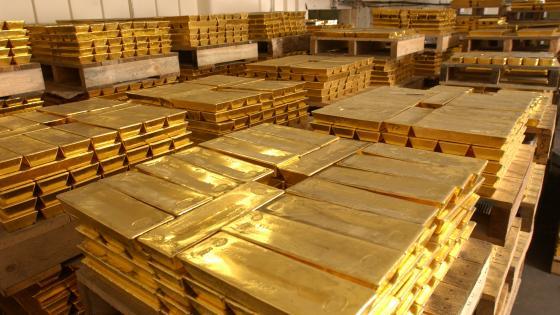 We have been long with gold for some time, getting in at $1,150, but we've now decided to close our position in the SPDR Gold Trust ETF (NYSEARCA:
GLD
) as we're unsure the catalysts which we expected to drive the price even higher will now eventuate. In fact, some market commentators now believe that without these catalysts the price of gold could drop as low as $1,000 per troy ounce.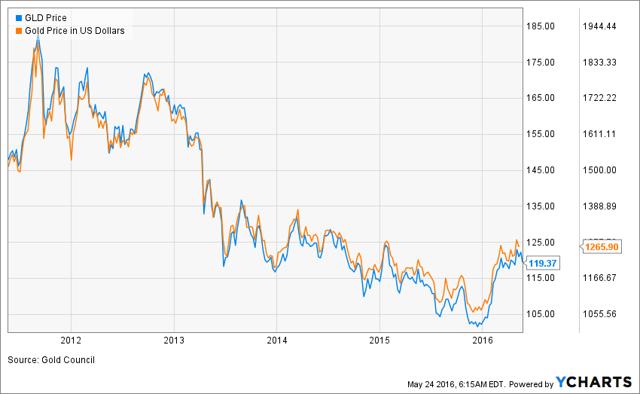 Right now, or at least up until last week, gold was perhaps the number one safe haven for investors. But with the Federal Reserve now looking like it could raise interest rates at its June meeting, the U.S. dollar (NYSEARCA:
UUP
) looks set to retake its throne as the ultimate safe haven. At the start of May when many believed US rate rises were off the table until next year at the earliest, gold was climbing as high as $1,300 per troy ounce and even
had $1,400 in its sights
.
We, like many out there, felt this was the start of even greater gains for the precious metal. As the chart above shows, the gold price was not especially high in comparison to where it had been in recent years. But these were years with zero or near zero interest rates. The price of gold looks very different when we expand the chart to show the last 10 years, which include the years before zero interest rate policies.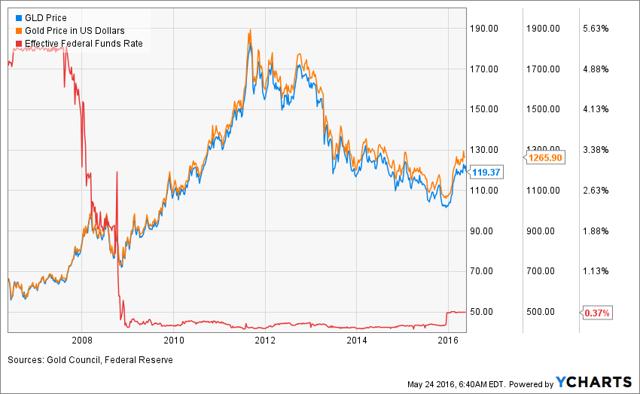 While we think it will take some time for interest rates to rise to ~2%, the mere prospect of it being an eventuality will most likely cause the gold price to trend lower and the U.S. dollar to trend higher. For this reason we believe it is better to go with the herd, if you will, and start topping up positions in the U.S. dollar. Just like the gold price rallied when interest rates dropped, so too will the U.S. dollar when interest rates rise.
The Brexit is looking unlikely.
For a while it was looking like there was a reasonably strong chance that Britain could vote to leave the European Union. But as of May 19, the probability of Britain leaving the European Union decreased according to the
Financial Times poll tracker
.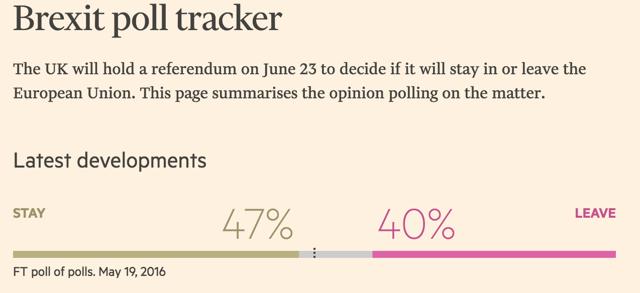 Sourced from the Financial Times
Although there is still a month to go before the vote, things are looking somewhat settled. While we had always felt that Britain was likely to vote to remain in the European Union, hence why we are long the CurrencyShares British Pound Sterling Trust ETF (NYSEARCA:
FXB
), we felt it was likely to be a much closer affair in the lead up to the vote.
Due to the global financial turmoil that a Brexit would be likely to cause, we expected a close call with polls would drive the price of gold higher and higher. The reason for this is that its not just markets in the United Kingdom and Europe that are expected to suffer, the
G20 have previously warned
that a Brexit would pose one of the biggest dangers to the global economy this year. As investors seek safety from these dangers, gold was our preference for a safe haven.
With this looking less and less likely as the days go by, we feel this catalyst is fading.
But will gold drop to $1,000?
Analysts from Citi
believe there is a chance that gold will head to $1,000. Gold hasn't been to this level since as far back as 2009, but it is conceivable that it could return eventually. They expect the strengthening U.S. dollar to be the reason, saying:
"We see no reason why gold should not once more trade at $1,050/oz if US$-DXY rises back to the 100-level (now 95.3). Nor do we see anything to prevent gold falling below $1,000/oz if US$-DXY rises above the 100-level."
As the Federal Reserve raise rates we feel it is inevitable for the U.S. dollar index to at least touch on 100 due to the weakness of other currencies. Shown below is the weighting of the index.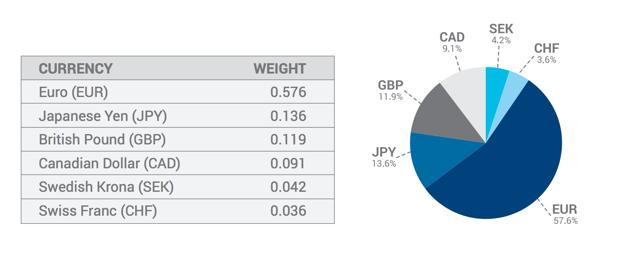 Sourced from theice.com
Exactly 79 percent of the currencies the U.S. dollar is weighted against in the index have zero or negative interest rates. The remaining 21 percent (GBP and CAD) have rates of 0.5 percent. If this remains the case then the U.S. dollar is likely to dominate these currencies when it raises rates, leaving very little in the way of the index reaching or breaking through 100 in our view.
So, if Citi believes that this will bring the price of gold down to $1,000, then we have to acknowledge it as a real possibility.
Whether it does or not, time will tell. We may have closed our position, but we certainly wouldn't bet against gold and go short with it. The Brexit vote is in 30 days and a lot could change between now and then. As well as this, rate rises in the United States are far from a foregone conclusion. If the next non-farm payroll data release is a big miss, rate rises could be thrown off the table once again.
Moving over to the UUP.
At this stage we are long the U.S. dollar through the UUP ETF. Our medium-term target is $26.00, but we do feel that it could push on $27.00 this year should rates look like they are going to periodically rise.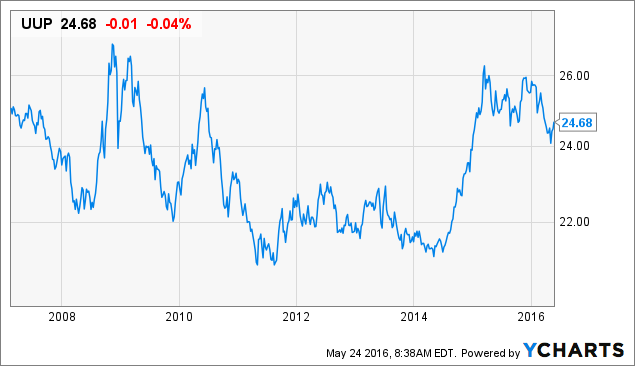 A rise to $26.00 would mean a return of 5.3 percent, and $27.00 would mean an even better return of 9.4 percent. Should economic data not support rate rises in 2016, then we would expect the UUP to drop down to $23.00-$24.00. So do bear this downside risk in mind. For us the risk/reward ratio is very appealing and we expect success from this trade.
Once again, best of luck with your trades! We'll keep you updated with any changes in our thinking.