Is Gold Heading For An All-Time High?

by: Macro Investing



- Some market commentators believe gold could be heading to an all-time high.

- This would likely be some way off, but a Brexit vote could take it there.

- Without a Brexit vote, we believe due to negative and zero interest rate policies, the gold price will make a steady climb higher over the next few months.

- Buying now, even after the recent rally, could provide investors with a 12.5 percent return.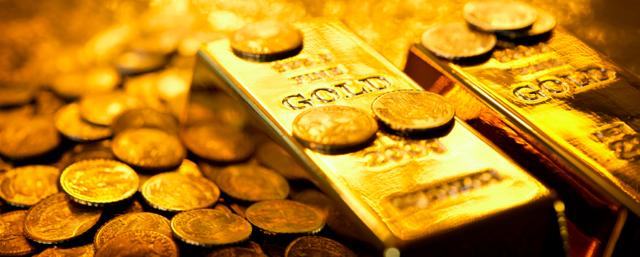 Nothing can stop gold's ascent, according to many market commentators, and we wholeheartedly agree. The U.S. dollar doesn't look likely to strengthen a great deal now until at least the September FOMC meeting, which may allow gold to start to make a move on an all-time high. Buying gold or a quality gold fund right now is a great move in our view, and we expect even after recent gains to see sizable returns over the next few months.
An all-time high may seem a little far-fetched and, let's be honest, it has a long way to go before it will get there. But
John Hathaway from the Tocqueville Gold Fund
(MUTF:
TGLDX
) has stated that he wouldn't be surprised to see it reach this level. Though he admits it would be over the space of a few years. But then again, asking the manager of a gold fund if the price of gold is going to go up may not give you the most unbiased opinion. But that aside, we think we can all agree that there's still a lot of upside left in gold today.
What are the catalysts?
There are a good number of catalysts that could send the gold price higher, much to the joy of shareholders of gold producers such as Randgold (NASDAQ:
GOLD
) and Barrick Gold (NYSE:
ABX
). Firstly, the most obvious catalyst is the prevalence of decreasing and negative rates across the world. With interest rates on savings being negative or non-existent in many places, investors need somewhere to put their money. Often people would criticize investing in gold because it offers no yield, but these days it really does look more appealing than a bank account. We think there's something of a herd mentality going on here as well, which should help fuel the gains in the gold price for a while to come. The good news with this is that if investors are indeed parking their money in gold, we believe the price level should be reasonably stable moving forward.
Do we really trust central banks anymore?
We see another catalyst being the perceived chaos in financial markets from central banks experimenting with policies with which
they don't fully understand yet.
There are many concerns over their use and what other options they have if the policy fails. We are sure these unanswerable questions do strike fear in many investors, once again leading them back to gold.
What if the Brexit actually happens?
As we have mentioned previously, the Brexit vote has all the hallmarks of being a real storm in the markets. The prospect of one occurring is already destroying consumer and business confidence in the United Kingdom, and as the vote draws closer we feel the uncertainty will lead to a lot of turmoil in financial markets. We believe gold, the Swiss franc (NYSEARCA:
FXF
) and the Japanese yen (NYSEARCA:
FXY
), will be where a lot of money heads during this time. Understandably so, there is such little knowledge of the ramifications of the vote that the chaos it would cause would be unfathomable.
If Britain voted to exit the European Union, it is believed that this could then trigger another vote for whether Scotland (and Wales and Northern Ireland for that matter) want to
remain a part of the United Kingdom
. By the end of the process, the United Kingdom could end up just being England.
According to former Greek finance minister Yanis Varoufakis, a Brexit could even
bring the curtain down on the European Union
. Economically speaking, this could potentially hold the continent back for at least a decade and lead to mass unemployment and high inflation. Imagine where the gold price would be if this were to occur.
While we still feel the United Kingdom will vote to remain in the European Union, it is looking incredibly close according to recent reports. Just today it was reported that the exit support had
edged ahead
of the remain support, and with under eight weeks until the vote takes place, we believe uncertainty will cause gold to climb higher. If the Brexit did in fact occur, then a new all-time high would certainly be a real possibility.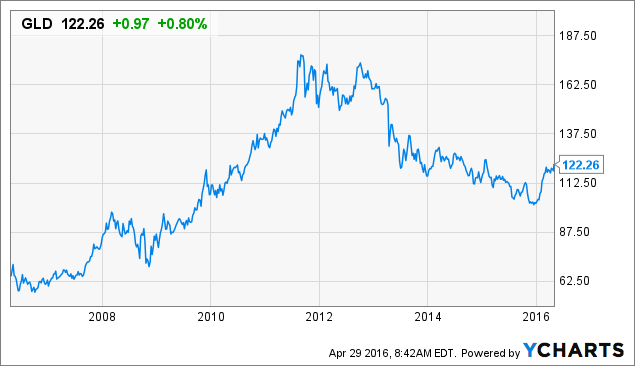 So right now, an investment in gold through the SPDR Gold Trust ETF (NYSEARCA:
GLD
) is a great investment in our opinion. We have a near-term target of $137.50, which is representative of a return of 12.5 percent. Those who are even more bullish could opt for the ProShares Ultra Gold ETF (NYSEARCA:
UGL
), which gives 2x leverage on gold price movements. Remember though, 2x the gains also means 2x the losses, so use carefully.
Like every investment, there are numerous risks. But we do feel right now that the risk/reward ratio is incredibly favorable and that downside is somewhat limited. There will be many ups and downs, but all in all we expect strong gains ahead for those holding gold.
Once again, best of luck with your investments. We will endeavor to keep you posted with our progress and any changes in views.