To Non-GAAP Or GAAP Is The Question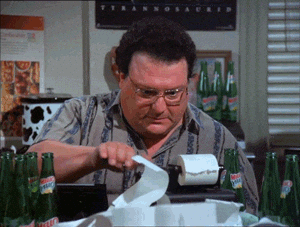 GAAP

(Generally Accepted Accounting Principles) have been tossed aside as investors lately opt for

non-GAAP

, which always appear better. The other day Pepsi (PEP) and Morgan Stanley (MS) reported a large difference between the two different measures.
Given better views for non-GAAP stocks were able both stocks were able to beat lower expected earnings allowing both stocks to rally. Pepsi warned of weakening global economy but increased non-GAAP earnings which included write-offs and one-time tax charges. This allowed analyst much lowered views as a hyped-up beat of those expectation. Morgan Stanley earnings net of DVA (Debt Valuation Adjustment) allowed the company to increase earnings substantially thus beating lowered expectations which allowed the stock to rally.
For banks, beating much lowered earnings expectations along with non-GAAP trickeration and much financial media cheer leading—nothing could be finer.
Then there's crude oil prices which laid an egg over the widespread early fears the prices would be frozen. But with no agreement from DO-HA, hah, hah meeting, crude oil should have cratered. Monday the oil market fell sharply only to rally was the day wore on due to a worker strike in Kuwait thus lowering production. A temporary condition one would think. Then Tuesday oil rallied once again, with other commodities, as the dollar fell allowing all these items to move sharply higher.
Given those awesome bank earnings, financials led markets higher once again as overseas markets were also strong.
It may not be a shock to investors that Alan Greenspan has surfaced once again proclaiming in

interview with Sara Eisen that quantitative easing did what it was supposed to do, which was to inflate stock prices and drive multiple expansion.

All of this is precisely what we've been saying all along, which is that QE has always been about one thing, and that is to take wealth from many (savers), and transfer it to a select few (asset owners).
Below is the heat map from Finviz reflecting those ETF market sectors moving higher (green) and falling (red). Dependent on the day (green) may mean leveraged inverse or leveraged short (red).
Volume once again volume was light and breadth per the WSJ was positive.
With markets overbought on an interim basis ($NYSI) and up against previous highs, selling could surely occur at any time.
Also volume remains light and may consist most from corporate stock buybacks. That's the way this market has rolled for a long time.
And, there's nothing more obvious as Greenspan's admission that the Fed's policies all along were meant to drive up stock prices above anything relative to the economy and the general public.
Let's see what happens.