What Did The ECB Do?

The Nattering Naybob



Discussion of the potential effects on equity, bond, commodity, capital and asset markets regarding:

ECB Announcement; The 3 things the ECB Did.

The 4 things the ECB Announced; Market Reactions.


The ECB did three things:
dropped the main refinancing rate to zero from 0.05%
cut the deposit rate to -0.4 from -0.3%
cut the marginal lending facility rate to 0.25 from 0.30%
The ECB announced four things:
expanded its quantitative easing asset buying to 80 billion euros ($88.7 billion) a month from 60 billion euros
for the first time, investment grade non bank debt (read euro corporate bonds) are now eligible for purchase
announced from June 2016 to March 2017 at a quarterly frequency, a new series of four targeted longer term refinancing operations (TLTRO II), each with a maturity of four years with the possibility of repayment after two years.
Draghi said that further rate cuts would "probably" NOT be necessary.
Market Reactions
Core ECB government bond yields barely reacted. Upon further review, the deposit rate cut to -0.4% makes 80% of German bunds now eligible for ECB purchase.

Above note, percentage of core ECB bonds in negative territory. Around 50% of government bonds in Europe trade with negative interest rates, which amounts to about $3.5T.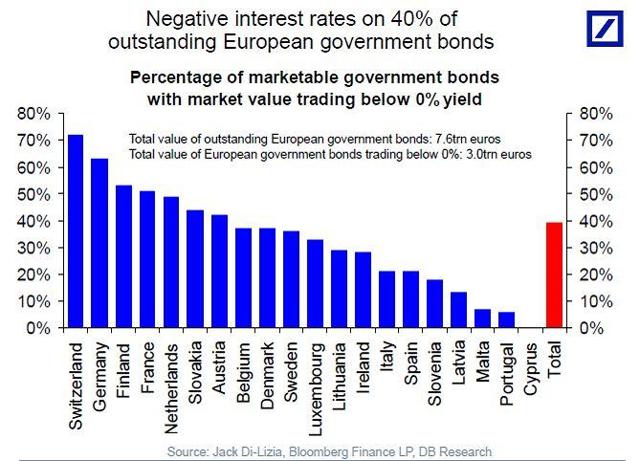 Above note, a chart from year-end 2015 showing Switzerland and other ECB countries with negative bonds.
The initial FX reaction saw the Euro plunge vs USD. Upon further review, on reduced prospects of further deposit rate cuts, the Euro reversed and advanced vs USD, as in, price the Euro for recovery?
Initially European markets surged on the news. Upon further review, with future cuts "probably" not in the cards, European markets hit the panic button and sold off into the close.
Draghi: "The amount that banks can borrow is linked to the amount of loans they have on their balance sheet, So a bank that is very active in granting loans to the real economy can borrow more than a bank that concentrates on other activities."
Upon further review, with the new round of TLTRO, four year loans being offered at the main refinancing rate of 0% (with an additional discount for more active lenders as mentioned above), which could take that rate negative, effectively banks could get paid to borrow by the ECB.
This alleviated fears of further NIM (net interest margin) compression or squeeze on bank profits. Under the radar, bank shares rallied 6%.

Above note, a workout on bank NIM's in NIRP.
On the surface, paying the banks to borrow with the stipulation that they make "real economy" loans, and put them on their balance sheet, sounds good. Upon further review,
this ECB press release
included the following advisory/disclaimer: "Further technical details of the TLTRO II operations will be announced in due course."
The definition of insanity is doing the same thing over and over again and expecting different results. QE has not worked in the US, Japan or Europe, yet central banks keep insisting on more of what has put the global economy in its current sorry state. Results of the ECB announcement TBD, in due course.
This is the 18th in a series of thematically related missives which will attempt to identify the macroeconomic forces with potential to adversely effect capital, commodity, equity, bond and asset markets.
I wish to dedicate this missive, to one of my mentor's
Salmo Trutta
, who is a prolific commenter on SA. Without Salmo's tutelage, and insistence in not masticating and spoon feeding the baby ducks, as in learning the hard way, by doing the leg work and earning it, this missive would not have been possible. To you "Proximo"... "

win the crowd and win your freedom

" - Spaniard
Since the market potential is broad in both scope and scale, our conclusion: more grief in the dollar "short" or squeeze and its associated liquidity issues, with the potential to adversely effect capital, commodity, equity, bond and asset markets. Will it happen? TBD, and forewarned is forearmed.
As for how all of the above ties into the potential and partial list of market plays below... the market as a whole could be influenced, and this would tie into any list of investments or assets. Those listed below happen to influence the indices more than most.
Would like to thank you folks fer kindly droppin in. You're all invited back again to this locality. To have a heapin helpin of Nattering hospitality. Naybob that is. Set a spell, take your shoes off. Y'all come back now, y'hear!
Investing is an inherently risky activity, and investors must always be prepared to potentially lose some or all of an investment's value. Past performance is, of course, no guarantee of future results.