Global trade: structural shifts


The fall in traffic could signal a permanent shift in the fundamentals driving globalisation
T

he Port of Charleston spent most of the early 2000s enjoying double-digit growth as an accelerating wave of globalisation — fuelled by a rising China and a US consumer boom — brought robust volumes of cargo into the seaport.
But those days are long gone. Jim Newsome, chief executive of the South Carolina Ports Authority, says he would be happy with 3 per cent growth in Charleston this year, a goal he concedes may be too ambitious. In January,
container traffic
at the port fell 5.1 per cent versus the same month of 2015, and the strong dollar is causing problems for US exporters.
"Most of the exporters that I talk to are just not doing the same business that they were a year ago," he says.
The story is repeated and amplified far beyond Charleston. Last year saw the
biggest collapse in the value of goods
traded around the world since 2009 — when the impact of the global financial crisis was at its worst. Major ports such as Hamburg and Singapore have also reported slowing growth and even declining volumes. Barring a spectacular turnround in the
global economy
, the subpar performance is likely to be repeated in 2016, making it the fifth straight year of lacklustre growth in global trade, a pattern not seen since the doldrums of the 1970s.
"It has been a very long time since trade . . . has grown this weakly," says Robert Koopman, chief economist at the World Trade Organisation.
Much of this recent feeble performance is down to the
economic slowdown in China
and the knock-on effect that its declining appetite for commodities has had on
other emerging markets
. An anaemic recovery in Europe adds to the headwinds hitting global commerce.
While these factors explain part of the weakness in global trade, some say there are even bigger factors at work.
A growing number of economists argue that the slowdown is not merely cyclical, but a sign that the forces that have driven globalisation for decades are beginning to shift. The first big transition is China's attempt to rebalance from a manufacturing and export-led economy towards one focused on domestic consumption. And some economists note that the plateau in worldwide trade in goods and capital has coincided with a surge in data flows — an indicator, they say, that the digital economy of the 21st century is starting to overturn the old order.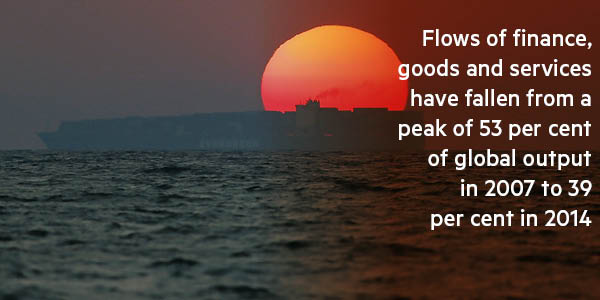 Economists at the McKinsey Global Institute point to increased automation and
new manufacturing technologies
, including 3D printing, to support the argument that the change is likely to accelerate. All of which bodes badly for the future of the global trade in goods.
"The image that many of us still have in our minds of globalisation is that picture of the huge cargo container ships taking boatloads of manufactured goods from factories in far-flung places and delivering them to markets around the world," says Susan Lund, one of the authors of a McKinsey report. "What we see in front of us is a globalisation that has morphed into a very different and more digital direction."
Welcome to the digital world
Even as flows of finance, goods and services have slowed — falling from a peak of 53 per cent of global output in 2007 to 39 per cent in 2014 — the world has seen a surge in cross-border data.
The flow of digital information around the world more than doubled between 2013 and 2015 alone, to an estimated 290 terabytes per second, McKinsey says. That figure will grow by a third again this year, meaning that by the end of 2016 companies and individuals around the world will send 20 times more data across borders than they did in 2008.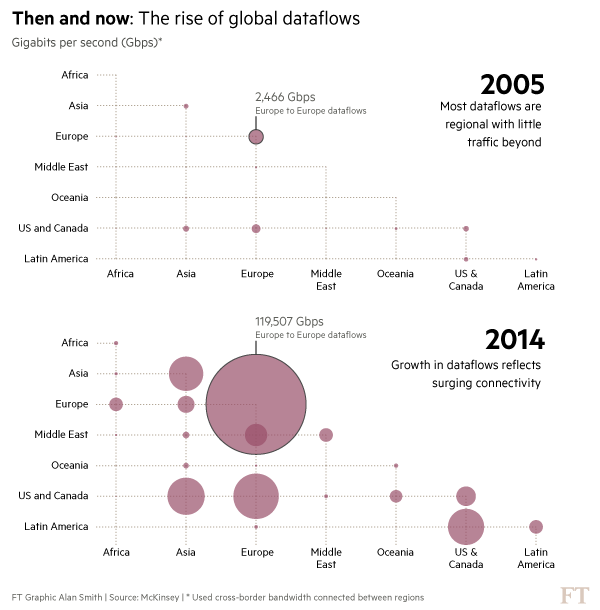 The change, McKinsey argues, goes beyond the advent of smartphones, apps, streaming services and data-hungry digital products like
Facebook
and Candy Crush Saga. It is already in evidence at
major companies
like
General Electric
, which is using 3D printers to make fuel nozzles for jet engines and expects its aviation unit to be manufacturing 100,000 parts using the technology by 2020.
Such innovations bring closer the day when companies make much greater use of the capacity to receive equipment not by container ship, but by a digital set of orders destined for a 3D printer.
The rise of data
McKinsey argues there are already signs of the economic value of that new form of globalisation. By its calculations cross-border flows of capital, goods, services and data added an extra $7.8tn to the global economy in 2014. The added value of data flows alone accounted for $2.8tn of that total, slightly more than the $2.7tn attributed to the global trade in goods.
The arrival of this digital economy has coincided with a shortening of global supply chains, a phenomenon that the International Monetary Fund and World Bank warned about in 2014.
In a report they said as much as half of the post-crisis slowdown in global trade could be attributed to "structural" rather than cyclical reasons. Among the reasons was Beijing's move to swallow up entire supply chains, which means Chinese manufacturers are increasingly producing many of the intermediate parts that they once imported for assembly.
McKinsey argues that those moves, replicated in the US and elsewhere, have had a global impact as carmakers and other companies have begun bringing production closer to home or concentrating it in bigger markets.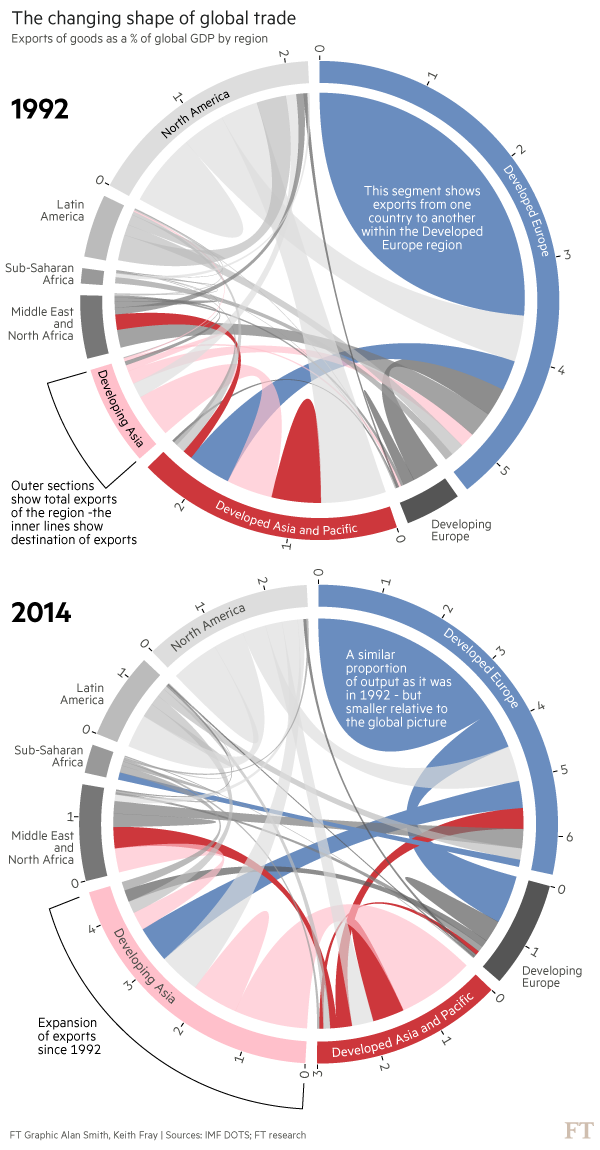 Those patterns are starting to show up in the data, with the global consumption of many finished products such as cars and pharmaceuticals outpacing trade growth in those goods in recent years, says McKinsey, while the trade in many intermediate goods like fabric and electrical parts has slowed.
Downturn's detriment
There are those who still argue that the greatest drag on trade remains an old-fashioned economic downturn.
In recent years, "we have seen whammy after whammy hit the global economy," says Bernard Hoekman, a former World Bank economist who now heads the trade and investment programme at the European University Institute near Florence. That, he argues, has an inevitable impact on trade.
Douglas Lippoldt, a senior trade economist with HSBC, says that since the global crisis, trade has lost two of its biggest drivers. "In normal times it takes at least two cylinders to get trade firing. You need consumers . . . and you need investment to be firing. And so far we haven't seen that," he argues.
Stalled corporate investment in areas like factory machinery means less trade, he points out.
Consumer confidence, meanwhile, remains fragile almost eight years on from the height of the crisis.
As trade has slowed in recent years many of the world's largest economies have engaged in a new round of liberalisation. The US, Japan and 10 other countries concluded negotiations for the
Trans-Pacific Partnership
last year, with similar efforts under way between Washington and Brussels and in Southeast Asia. But any economic benefit is likely to take years to materialise and be the subject of intense scrutiny, especially in the US.
Mr Koopman and others say the slowdown in global commerce could still be offset by another transition in China, which he says is already under way. With its "
New Silk Road
" foray to redevelop ancient trade routes in Southeast Asia, central Asia and the Middle East, Beijing is in many ways emulating what Japan did following the 1980s Plaza Accord, when a dollar depreciation against the yen triggered a move by Japanese companies to send lower-value manufacturing overseas while keeping higher-value production at home.
There should also be plenty of room for economies in Africa and Latin America and even India to take up China's mantle and feed the next round of growth in global trade, Mr Koopman contends. Whether as sources of rising demand for overseas goods or as new export powers, all could contribute to another burst of globalisation.
A surprising finding in the McKinsey study is just how concentrated world trade remains, with roughly a dozen major economies accounting for the vast bulk of global flows in capital, goods and even data. That could leave room for more countries to emerge as 21st century trading powers once the global economy refinds its footing.
The inescapable truth is that global trade has slowed and that few economists expect a rebound any time soon.
Back at the Port of Charleston Mr Newsome says his hopes for its future lie with the investment he sees around him in South Carolina and with exporters rather than with any pickup in the global economy or trade more broadly.
"That is just the new reality that we are living with right now," he says.
Liberalisation: regional or sectoral deals take the lead
The slowdown in global trade comes during a period that has the potential to be a golden age for trade liberalisation. After five years of gruelling negotiations the US, Japan and 10 other economies last October wrapped up the vast Trans-Pacific Partnership. It covers some 40 per cent of the global economy, will see tariffs fall between two of the three biggest economies and extends the 20-year experiment in regional integration that is the North American Free Trade Agreement into the Pacific Rim.
There is still uncertainty over whether the TPP will ever take force. Its ratification faces significant political obstacles in the US, where many in Congress remain sceptical and just two of the seven Republican and Democratic US presidential candidates support the deal.
Yet the TPP is far from alone as an endeavour in liberalisation.
Negotiations at the World Trade Organisation to reach an agreement to lift trade barriers to agricultural and manufactured goods have long been stalled.
WTO members effectively killed off the latent
Doha Round
of trade talks last year, opening the door, some believe, for more focused action on specific industries and sectors ranging from investment to ecommerce.
The WTO's failure has led several major economies to strike regional or sectoral agreements.
Officials from the EU and US last week gathered in Brussels for a fresh round of transatlantic trade negotiations aimed at removing tariff and regulatory barriers.
China, India and Australia are looking to wrap up discussions with the 10 members of the Association of Southeast Asian Nations on a new regional agreement by the end of this year, while in Africa talks have begun to merge regional trade zones and even
create a new continental pact
.
There are also attempts under way to free up the global trade in services and environmental goods such as solar panels.