The European Banking Crisis, Part 1

by: Peter Newell



- The cost of insuring debt has skyrocketed for two of Europe's biggest banks while investors have pulled money out of bank bonds.

- At the same time European banks are faced with falling profits and higher costs, getting squeezed from both sides.

- This squeeze might very well instigate a few defaults before all is said and done.


Unfortunately, this year has not started off great and doom and gloom outlooks are getting louder, stronger, and more frightening. A lot of these fears are justified, especially in Europe where the banking sector has been taking an incredible beating to kick off the New Year. The major driving forces behind the sell-off in European banks are: low oil prices and global recession fears. The combination of these factors has dramatically increased the
cost of debt
for these banks, debt which they rely on to finance their operations.
The chart above compares two of Europe's biggest banks: Deutsche Bank (NYSE:
DB
) and Credit Suisse (NYSE:
CS
). In this, we see that the cost of insuring the banks' debt has skyrocketed, 182% and 101% respectively, as investors prepare for potential defaults. This coincides with a sharp decline in share prices for both banks, and a sell-off in DB CoCo bonds.
As insurance on the banks' debt has jumped over the past few months, investors have been selling off European bank shares in equal measure.
And it's not just affecting DB and Credit Suisse, the entire Euro Stoxx 600 bank index is down roughly 24% this year, although DB is leading the pack with German-listed shares down nearly 33%. Amongst this market turmoil, DB co-CEO John Cryan has attempted to assuage investors' fears, referring to Deutsche Bank as "absolutely rock solid".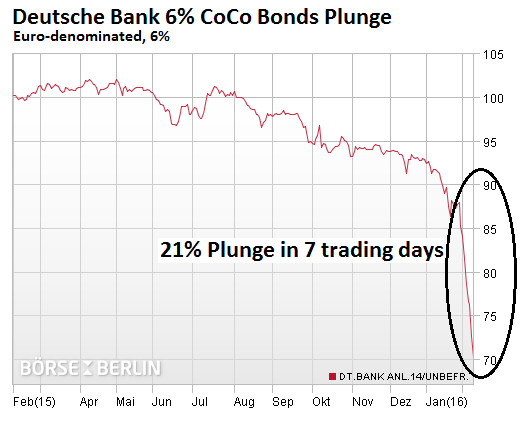 Apparently investors disagree. DB CoCo bonds plunged 21% in 7 trading days and the stock price has continued to fall. And this isn't DB's biggest problem; the bank is expected to raise more capital to fill the gaps in financing that have been created by investors taking their money back. But where will they get the money? Investors that recently pulled their money out of the company's CoCo bonds are unlikely to buy newly issued ones. And taxpayers are even less likely to O.K. an American-style bailout.
The question is: how pervasive is this problem and are defaults likely? Data is still coming in, but Europe's banks run primarily on debt because of the immense competition for deposits throughout the continent. Given the Stoxx 600 bank index's fall this year, it's probably safe to say that DB and Credit Suisse are not the only banks with this problem.
Societe Generale (
OTCPK:SCGLY
), Banco Popolare (
OTCPK:BPSYF
), and other banks throughout the EU have posted
worse-than-expected 4th quarter losses
on weak oil prices and generally bad market conditions. UBS (NYSE:
UBS
)
is freezing salaries
for many of its investment bankers amongst falling shares and profits last quarter. Clearly European banks have a lot to worry about and the overall risk in the market widespread.
How about defaults? The fourth quarter of 2015 was abysmal for all kinds of businesses, and banks are no different. Revenues, particularly on the trading side of the business, fell hard and costs have gone up. For European banks that are mostly financed through debt, the combination of increased cost of debt and negative interest rates are a double-whammy cost increase outside of the normal scope of business; i.e. capital investment, wages, etc.
This combination of falling revenues/profits and increased costs could cause some of Europe's banks to default on their debt.
Implications and Effects on the European Recovery
Should major European banks start defaulting on their debt, expect fear to propagate throughout the global markets. While these major banks don't seem to be in a position to collapse like Lehman Brothers, not being able to pay their bond coupons could be the start of a very slippery slope; especially as their U.S. and European-listed stocks continue to drop in value, these banks will find very few options to finance their daily operations.
Furthermore, it seems that neither Germany, nor Brussels, has the will to jump in and save these banks. They will be on their own and will have to make do with the financing they can get from the open markets. However, there might not be a lot of support out there if most of Europe's major institutions are facing similar situations.
The problems in Europe's banking sector are, of course, contagious. As a strong banking sector is key for an economic recovery, this banking problem comes at a time when growth, inflation, and employment are all very fragile. At best, the current situation further complicates the outlook on Europe's growth; at worse, it could spell far more trouble for everyone.