February 10, 2015 7:06 pm

Healthcare: The race to cure rising drug costs

David Crow and Andrew Ward

Critics are asking if the big pharma industry's premium pricing model can endure


S

ince contracting hepatitis C 25 years ago, Lucinda Porter's biggest fear has been that she would infect someone else with the deadly virus. "Whenever I cut myself and saw the smeared blood, I would panic," she says.
Within days of contracting the illness, Ms Porter was hit with severe fatigue, weakness and a loss of appetite. She spent most of the next two decades trapped in a "low-level brain fog", unable to concentrate and prone to severe bouts of muscle-pain and fever.
She tried two courses of treatment, both of which failed. By 2003, she had to face up to the possibility that she would die from hepatitis C, which can lead to cirrhosis and liver cancer.
"I've seen people die from this . . . it is one of the worst deaths there is," says Ms Porter, a nurse.
Ten years later, she took part in a clinical trial for a new drug called Harvoni. Within days she knew the treatment was working and after three months doctors declared her effectively cured.
Ms Porter is one of 140,000 Americans that have been treated by one of Gilead Science's hepatitis C drugs since they were launched two years ago. Harvoni and Sovaldi, an older version of the pill, are seen as "miracle drugs", offering cure rates of over 94 per cent.
But
Gilead
has become the symbol of out-of-control drug prices in the US. A 12-week treatment costs $94,500, or $1,125 a pill, attracting unwanted attention from politicians and doctors, who identify the group as one of the most hated companies
in pharmaceuticals
.
Peter Bach, a doctor and director at the Memorial Sloan-Kettering Cancer Center in New York, reflects the views of many in his profession when he accuses it of "corrupting behaviour".
"Gilead is a test case in the court of public opinion," he says. "It has become the poster child for high drug prices."
The controversy has also highlighted the broader question of whether pharmaceutical companies can defend their premium pricing model in the world's biggest healthcare market.
The evidence of recent weeks suggests it is a battle that big pharma risks losing, raising questions over the economic model of an industry that relies heavily on US profits to reward investors and finance new drugs.
After less than a year on the market, Gilead has faced a concerted push to lower the price of Harvoni. Seizing an opportunity created by the approval in December of a
rival hepatitis C treatment
from
AbbVie
, another US drugs group, the insurers and employers who fund US healthcare have forced deep discounts from both companies in return for access to patients.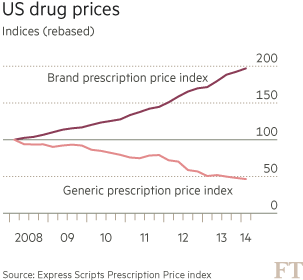 Such aggressive tactics had not been commonplace in the US, where patient choice has reigned supreme. Yet there are growing signs of similar behaviour in other areas, including treatments for asthma and diabetes, as the groups that fund US healthcare take a tougher approach to containing costs.
"Without any doubt there is pressure on price in the US," says Pascal Soriot, chief executive of
AstraZeneca
, which has been in a price battle over respiratory drugs with its UK rival
GlaxoSmithKline
. "We've seen what has happened in [hepatitis C] and insulin, we see it in respiratory; it is going to be an issue in oncology. The market is . . . more challenging than it was five years ago."
Price pressures
Direct federal government intervention in drug prices is barred under US law — testament, critics say, to big pharma's lobbying power on Capitol Hill. But President Barack Obama's health reform — the Affordable Care Act — has created incentives to control costs, while consolidation among healthcare providers has also shifted bargaining power from drug companies to their customers.
The combination of these forces could result in the US applying the brake to rising healthcare costs which, at 18 per cent of gross domestic product, far exceed those of any other nation.
Prescription medicine prices account for about a tenth of these costs and rose almost 11 per cent last year, according to the Truveris National Drug Index. This makes drug companies a prime target for an efficiency drive that many experts see as long overdue.
Gilead's hepatitis C pills proved so controversial because they combined an expensive drug with a large patient population. A pill at $1,000 each is not unheard of but very expensive drugs are usually aimed at rare diseases, as the company has to charge more per patient to recoup its costs.
The number of people with hepatitis C is huge, with more than 3m infected in the US alone. As soon as Gilead launched its new drugs, medical professionals warned that they risked busting the system.
But the return for Gilead's investors has been huge, as demonstrated by the company's 2014 profits, which more than tripled to $13.3bn.
Steve Miller, chief medical officer at Express Scripts, the largest of the pharmacy benefits managers which negotiate with drug companies, has had Gilead in his sights for more than a year after it refused to offer meaningful discounts.
A self-styled scourge of high drug costs, he set out to engineer a price war as soon as AbbVie launched its rival Vikera drug in December. Dr Miller agreed to treat Express Scripts patients exclusively with Vikera in exchange for a hefty, but undisclosed, discount. The market reaction was swift: investors wiped more than $20bn
off Gilead's market value
in a single day.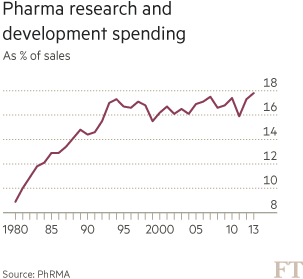 Gilead then unveiled its own exclusive deals with many of Express Scripts' rivals but this month it warned investors it was being forced to
offer discounts of almost 50 per cent
, a revelation that again sent
its shares tumbling
and prompted a sharp sell-off of other pharmaceutical stocks.
GSK has been another victim of Dr Miller's emboldened approach to negotiations. The UK group saw a sharp fall in revenues last year after its asthma drug, Advair, was taken off Express Scripts' list of preferred medicines — effectively removing it from many insurance plans. It regained access this year after offering a discount.
"You are going to see a lot more of this," says Andrew Witty, chief executive of GSK. "I don't particularly like it because I think patient choice is important but ultimately if a market is going to move in that direction we have to engage with it . . . it is definitely something which has moved dramatically over the past 18 months."
Confronting big pharma
Express Scripts and its rivals say these skirmishes are only the start of a more confrontational relationship with big pharma. The next battleground is cancer drugs — one of the most profitable areas of the industry, with many treatments priced at more than $100,000 a year.
If

we take away too much decision-making from physicians, then we start to go down a slippery slope in

healthcare
Yet Dr Miller admits it will be much harder to tame the cost of cancer drugs. In the case of hepatitis C, there was a competing product that also offered an effective cure, but "demonstrating the success of a cancer drug is much more ambiguous", says Dr Miller. "If you have a tumour shrinkage but it doesn't prolong survival, is that a good response or not?"
Then there are several cancer drugs that do prolong survival, but not by very long, such as Eli Lilly's Cyramza, which extends the life of patients with lung cancer by less than six weeks at a cost of around $24,000.
John Lechleiter, Eli Lilly's chief executive, dismisses as "hogwash" the idea that incremental improvements are not worth paying for. "If you go back to the mid-1990s, I think median survival times were nine months. But in these increments of one or two months, we've got to the point now of 16 or 18 months."
Also under fire are industry tactics that critics say keep drug prices artificially high. In December, Eric Schneiderman, New York's attorney-general, won a preliminary injunction against
Actavis
, which prevented it from instigating a so-called "forced switch" on Namenda, its Alzheimer's drug.
Actavis had stopped selling the pill and told doctors to move patients to a newer version, Namenda XR.
The patent on the older drug expires in July, at which point it will face competition from generic "copycat" versions, whereas the newer pill is protected until 2025.
"If we start to take away too much decision making from physicians to prescribe what they think their patients need, then we start to go down a slippery slope that is not good for healthcare," says Brent Saunders,
Actavis chief executive
, of the injunction.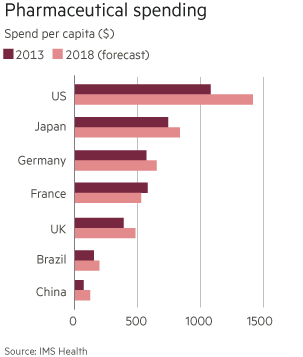 Much of the drug price inflation is down to the structure of the US healthcare system, which lacks the kind of central government negotiator seen in many of the "single-payer" set-ups that are common in Europe. The Food and Drug Administration only has to consider whether a medicine is safe and effective, not whether it is good value for money.
That decision is left up to individual insurance companies that have done a poor job of controlling prices — which cynics put down to the fact that higher drug prices are used to justify higher premiums.
Medicare, a government programme that funds healthcare coverage for almost 50m, mostly senior, Americans, is banned from negotiating any discounts on drugs.
Funding research
Pharmaceutical executives say their ability to price drugs in the US according to what the market will bear allows them to cover the considerable cost of finding new, often revolutionary, treatments; the cost of developing and winning approval for a new drug now runs at $2.6bn, according to the Tufts Center for the Study of Drug Development, compared with $802m in 2003.
If there is one thing that the pharma industry and those who foot the US healthcare bill agree on, it is that the US is paying too much relative to other western countries, especially Europe. With only 4.6 per cent of the world's population, the US is responsible for 33 per cent of global drug spending.
The rest of the world is hardly rushing to pick up a bigger share of the bill. Europe and Japan, faced with ageing populations and big fiscal challenges, are trying to contain rising healthcare costs.
Developing economies such as China and Brazil also want to keep a tight lid on drug prices as they expand still-fragile health systems.
In India, meanwhile, western drugmakers have faced aggressive patent challenges in an attempt to open their drugs to low-cost competition from local generic rivals.
If the US price premium is reduced, it will have to come straight from industry margins. With average gross profit margins of about 67 per cent, critics argue big pharma can afford the hit.
But industry executives warn that, with activist investors circling the industry in search of efficiency savings, any dent to earnings would inevitably put pressure on research and development.
Such arguments fail to sway Dr Miller, who says the status quo is unsustainable. "The US worker is being gouged to fund
innovation
for everyone. America can no longer be solely responsible for all of pharma's profits."
***
Treatment: Specialist labs and big data aid focus on pricing
Healthcare companies are experimenting with different ways of charging for treatment in an attempt to move ahead of the debate over the
rising cost of drugs and therapies
.
Medtronic
, a medical devices company, has started offering to treat patients with cardiac conditions at a single fixed price through its network of so-called "catheterisation laboratories", where doctors can visualise a patient's arteries and heart chambers and treat abnormalities.
Omar Ishrak, Medtronic chief executive, says the company works out what a cath lab patient is costing the hospital, and then offers "to reduce that by X amount, depending on the situation inside the hospital".
"We commit to that fixed price. Any benefit beyond that we share with the customer in some way. Any underperformance we have to absorb," says Mr Ishrak.
Express Scripts
is also using its trove of big data — it has claims records for 85m Americans — to guarantee that those patients deemed less likely to finish a course of treatment still take their medication.
"We have predictive models that show us if a patient is going to be adherent to a drug before they even take their first dose," says Steve Miller, chief medical officer. "If you let us fill the prescription, we will guarantee adherence and will refund the cost of any 'wasted' drugs."
Several of the companies that are developing expensive immunotherapy cancer drugs, which encourage a patient's white blood cells to attack their tumours, are also developing diagnostic tests to ensure the treatment is only given to those who are likely to benefit.
That would enable them to charge high prices but cut the overall cost to the healthcare system by reducing wastage.
Genentech, for example, has a companion diagnostic test that determines whether a patient has the right "biomarker" to respond to a drug it is developing to treat bladder cancer.