Investors Should Listen To The New Goldcorp CEO When Screening Their Gold Explorers

by: Hebba Investments


- The new Goldcorp CEO emphasizes that the new normal for gold production is flat to negative.

- This will make explorers even more valuable for investors.

- Majors are cutting greenfield exploration and pursuing strategies of seeding explorers.

- Investors should be looking at gold explorers with "seed" investments from majors.

We think it is critical for precious metals investors to listen to what PM CEO's are saying as ultimately they are the ones with a ground floor view of the industry. David Garofalo, 50, will become chief executive of Goldcorp (NYSE:
GG
) next April, when Chuck Jeannes retires and he is leaving his current role as CEO of HudBay Minerals to take the Goldcorp job.
In a recent interview
, he gave a brief view into the industry and spoke about what would make a quality acquisition for Goldcorp.
This is very important stuff for investors and we believe that there are key takeaways that can help precious metals investors improve their portfolios and buy the explorers that gold majors are going to be the most interested in.
Flat is the New Normal for Gold Production
The first thing that came up in the interview was the fact that Goldcorp is preparing itself for a low-to-negative growth environment for gold production. "Flat is the new growth in our sector", Mr. Garofalo mentions and even that we think is optimistic
as we think declines in production is the new normal for most gold companies
.
In fact, gold reserves have declined significantly over the past three years.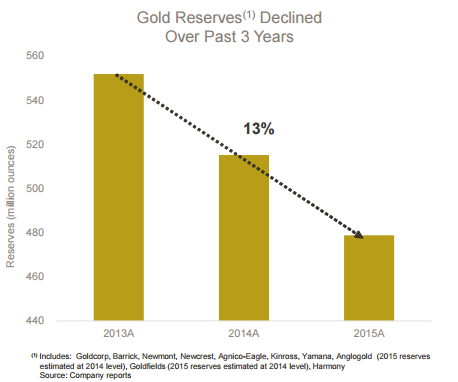 Source:
Goldcorp Investor Presentation
Investors need to remember that as miners mine reserves they will naturally go down, but in the past miners were able to replace these reserves - that's no longer happening. There is some lag between declining reserves and declining production, but the chart below shows we may be at that inflection point where the lack of past discoveries directly influences current production.

Source:
Goldcorp Investor Presentation
The point here for investors is that as production declines and flat or negative gold production becomes the new normal, majors will be forced to acquire deposits. That's very important as that means that explorers that have good assets (or even mediocre ones) will become even more valuable.
That means the right explorers will provide much better returns than the mid-tier and major gold producers - it will become a seller's market for good assets.
Majors Are Seeding Explorers Rather Than Exploring Themselves
That brings us to the second takeaway from the interview - Goldcorp is seeding explorers rather than conducting the expensive Greenfield exploration that it has conducted in the past.
As Garofalo emphasizes, "We are diversifying our grassroots exploration risk by proxy through existing junior vehicles and make a portfolio push towards what is the highest-risk part of the value creation equation and then, when they've sufficiently derisked the projects, we marry them with our strong balance sheet, mine construction and operating experience and expertise."
Essentially, Goldcorp wants to outsource the riskiest part of the process to explorers and then buy projects that are shovel-ready and just construct the mine - which isn't new. But what is new is the degree to which this is being done by Goldcorp and the rest of the industry. Capital budget cuts have been killing Greenfield exploration budgets and are making explorers (and JV's with explorers) virtually the only source of Greenfield exploration.
That's another reason to be bullish on the right explorers as majors really have no other source of new deposits - which is even more important to the miners with lower reserves. To solve this problem, Goldcorp is embarking on seeding these explorers with JV type investments - and we don't think they are the only one.
That means investors should pay much more attention to explorers that have significant investments by majors - much more so than they have done in the past. That is why we are focusing on
these types of exploration companies as we have outlined in a previous piece
where we outlined three explorers with investments from majors.
Two Important Characteristics Goldcorp is Looking for in Deposits
Finally, Mr. Garofalo also provided us with the important characteristics that he looks for in Greenfield exploration plays - a minimum of five million ounces of potential production and in stable jurisdictions. While this may be specific to Goldcorp, other companies are probably thinking and screening for the same thing.
Unfortunately for investors, these two criteria are extremely rare in deposits that are economic at current gold prices. So we think prudent investors should think a bit more liberally and focus on deposits that have 3 million potential ounces in stable jurisdictions - a bit easier but still very few qualify for even these lesser standards.
Conclusion for Investors
We are focusing on these types of exploration companies and plan future pieces outlining explorers that fit this bill, but we would love to hear from investors in the comment section on their favorite companies that have a minimum of 3 million potential ounces, are in a stable jurisdiction, and have a project that is sufficiently economic at current gold prices.
Ultimately, the interview with Mr. Garofalo highlighted that gold production from the industry five years from now is going to be quite different than it currently is - much lower. Thus investors need to prepare for this new normal in gold production and purchase the explorers that the gold majors will want to purchase as future production drops.